Designed in a collaboration between OFIS Architects and students of Harvard University Graduate School of Design, this small alpine shelter is set on one of the peaks of Skuta Mountain in Slovenia. Dubbed the Skuta Mountain Cabin, it's intended to be used by mountaineers as a refuge from the weather.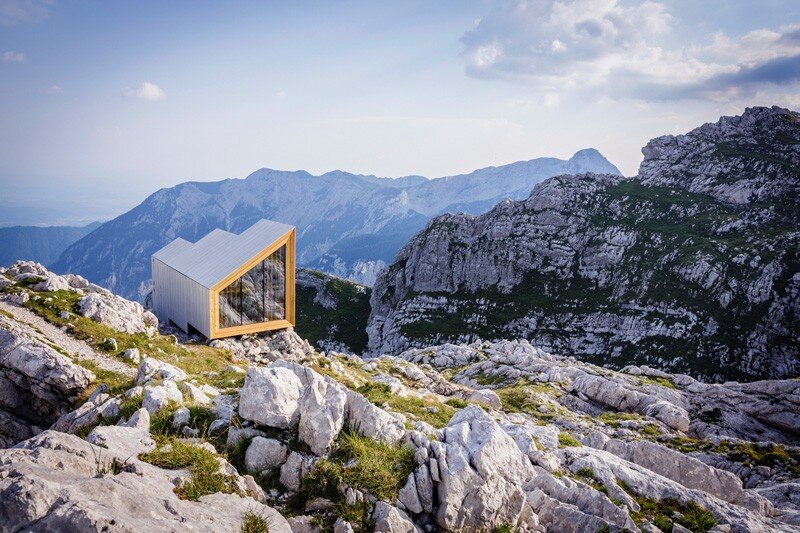 The design of the cabin is based on the vernacular architecture of Slovenia. Originally the students were responsible for producing twelve proposals that would meet the site conditions and needs of the inhabitants. The ability of the cabin to resist the extreme weather, temperature shifts and terrain was central to its development.
The cabin replaces an existing shelter that had been constructed some 50 years ago. Due to the limited access the cabin was built in several small sections in a nearby factory. It was then transported in parts to the site where it was reconstructed and braced.
Thanks to its small footprint and modular construction, the designers were able to use a less invasive foundation, helping to reduce its impact on the immediate environment. With the use of a helicopter they were able to transport and install the cabin in a single day.
The structure features an outer shell composed of a "thin glass fibre and skin concrete" that allow it to withstand the harsh weather conditions. The glazing is composed of a triple pane system that's capable of resisting the estimated wind and snow loads.
On the inside the space has been divided into three areas. The first serves as an entryway with storage and a dedicated food preparation area. The second provides a space for both sleeping and socializing, and the third is entirely dedicated to sleeping with several bunk-beds.
For more cabins check out this small A-frame retreat set in the woods of Skykomis in Washington. Or, Cabin Laksvatn, a tiny retreat that's designed to accommodate up to 9 people. See all cabins.
Via Contemporist
Photos: Anze Cokl