This Japanese apartment, called Fujigaoka T, recently underwent a revamp by architecture studio Sinato. Set in Kanagawa, the owners of the apartment approached the architects to help them make better use of the small space available to them.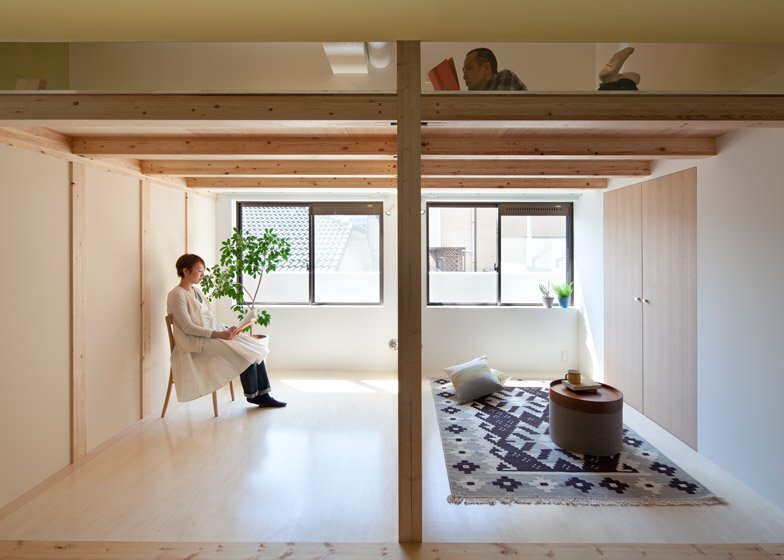 Sinato was able to incorporate a lofted space into the redesign. After studying the buildings plans they realised that the original 7.8 foot (2.4 meter) false ceiling height was largely due the presence of services in some areas. However, not all areas of the apartment's ceiling contain services, and it was here they were able to create the extra room.
The addition of the loft (now used as a reading space) brings the total square footage of the Fujigaoka T apartment up to 732 square feet (68 square meters). The timber post and beam framing that supports the loft also helps to define the two bedrooms on the lower floor.
The mezzanine is mostly boxed in but it does have a small opening, visible from the main living area that "peeks" into the space. This opening also helps to promote air circulation between the lower and upper floor. The mezzanine has a head height of about 4.6 feet, or 1.4 meters (hence it's use as a reading room).
The other rooms include a small kitchen, an open plan living and dining room, a nook that's used as a study, two bedrooms, storage space, and a separate washroom, bathroom and toilet. The finish throughout is simple, with a mix of wood, and white and green-painted walls.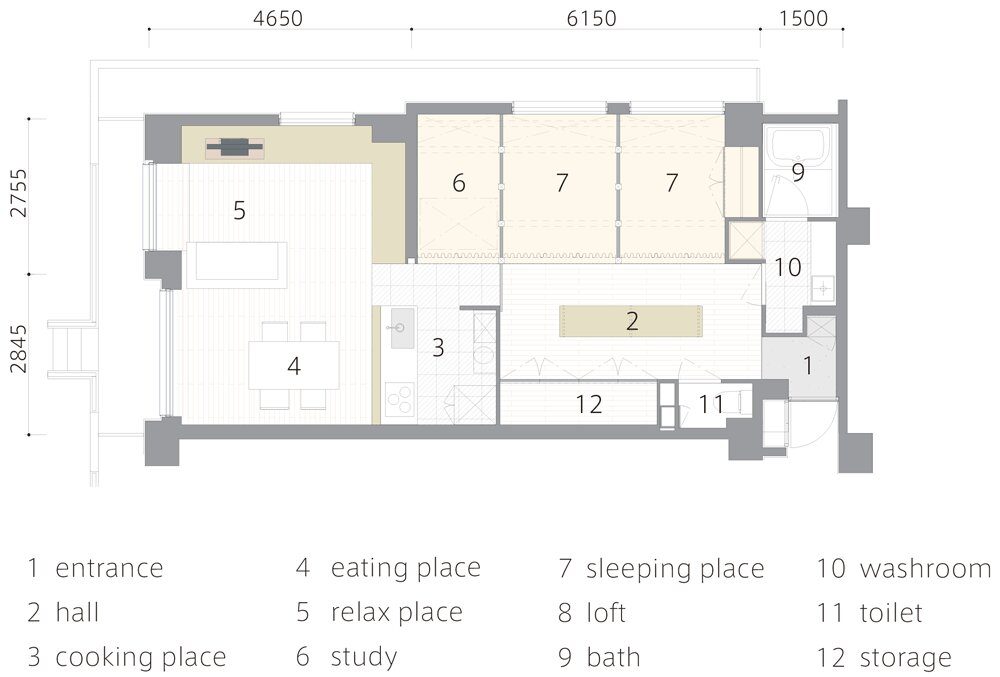 Fujigaoka T is a modern family home that addresses the need for both shared and separate living areas. From the architects: "We are hoping that the space connected by this strange shaped plan and section can function as an environment that accepts the various distances of the family's everyday life."
For more apartments check out the POP-UP House which features flexible furniture units to form rooms. Or, this 87-square-foot apartment in Paris by Studo Kitoko. See all apartments.
Via Dezeen
Photos: Toshiyuki Yano.