Set on a crop of land in Jutland, Denmark, this small cabin takes inspiration from Scandinavian design to create a cozy, bright home. The cabin was designed and built by architect Simon Steffensen over the course of 8 months.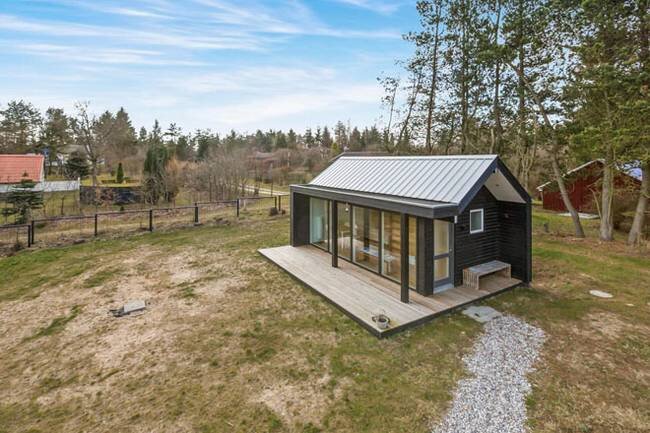 The getaway has a footprint measuring 20-by-11 feet (6-by-3.3 meters). Steffensen states the project was an experiment into small, simple living. The contemporary exterior form and finish have been achieved with seam metal roofing. On the inside the tone is softened, with woods replacing the metal.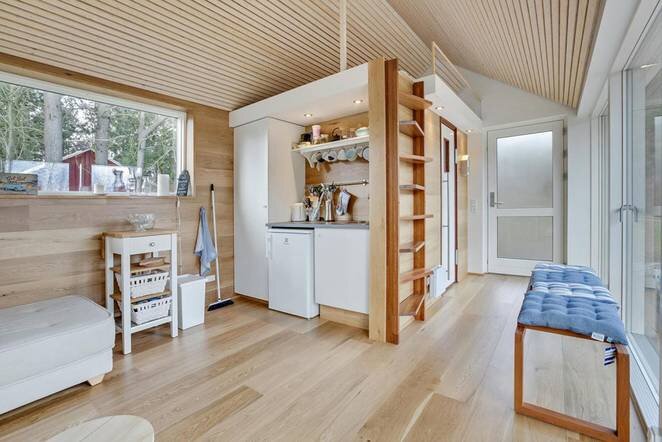 The interior has been designed as a single open plan space, bar the bathroom. Windows run along the length of the home providing outward views of the countryside, while also drawing in plenty of light. The windows are also operable, allowing Steffensen to extend his living area outwards onto the exterior decking.
The left-hand-side of the unit serves as a dining area/living room/sleeping space depending on the time of day. A small kitchenette has been added onto the end of the bathroom, simplifying the plumbing. A set of funky alternating ladders leads up to a secluded loft bedroom, although they do look quite awkward to climb.
I think a key element to any tiny house is how it integrates with the outside environment. With a tiny house on wheels you usually don't get to have much of a porch. Being built on a permanent foundation has allowed this home to have a large exterior living area, that's perfect for entertaining guests or just relaxing on and soaking up the views.
If it sounds like your cup of tea, the cabin is currently on sale and costs around $74,000 USD (£51,000). Visit Nybolig for more info.
For more cabins check out this tiny little project that can rotate to follow the path of the sun and stars. Or, Casa Caldera, a quiet retreat set among the hills of the San Rafael valley. See all cabins.
Via TreeHugger
Photos: Faerch-Co