Created by the Canadian company, Güte, this rustic shepherds hut serves as an off-grid getaway (or a full-time home for the really dedicated). Set in Maxwell, Ontario, the company is one of many who have been bringing about a revival in these tiny shelters.
Shepherd huts where once a common sight in northern England during the late 19th century, and they seem to be coming back into style for use as retreats, home offices, or just as an extra, albeit quirky, living space. The offerings from Güte come in two main sizes, 12-by-7 foot, or 16-by-7 foot.
There have been a number of these little structures popping up recently, however the finish and quality of the huts by Güte is among the best I've seen. The exterior and interior are detailed in a fashion that harks back to the structures traditional roots, with a contemporary rustic finish.
The interior is relatively simple in layout. Towards the front you have a kitchen unit that features a hand-operated water pump and a brass sink that's forged by a local smith. Next to the sink you'll find the huts source of heat, a small but more than adequate wood-burning stove.
The opposite end of the hut contains the living area, which also doubles as the sleeping space. Between the front and the back of the hut you'll find a small fold-down table for dining, or working. With 3 windows and a Dutch door, the interior is a light and airy space.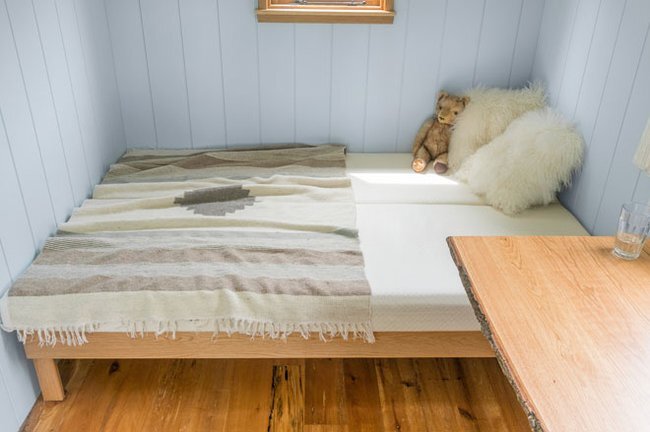 The units can also be kitted out with solar panels, and if off-the-shelf models aren't for you, Güte can build a custom model to meet your needs. The shepherd's huts are perfect for those that prefer the chocolate box tiny house over the minimalist tiny house.
For more tiny houses check out the Billboard Home created for homeless people by DesignDevelop. Or, the Mini House 2.0 by Jonas Wagell and Sommarnojen. See all tiny houses.
Via TreeHugger
Photos: Güte