Salva46 is an experimental apartment designed by Miel Arquitectos and Studio P10. The apartment explores the feasibility of shared micro-living. Set in Barcelona City, Spain, the apartment is just 65 square meters (699 square feet) in size.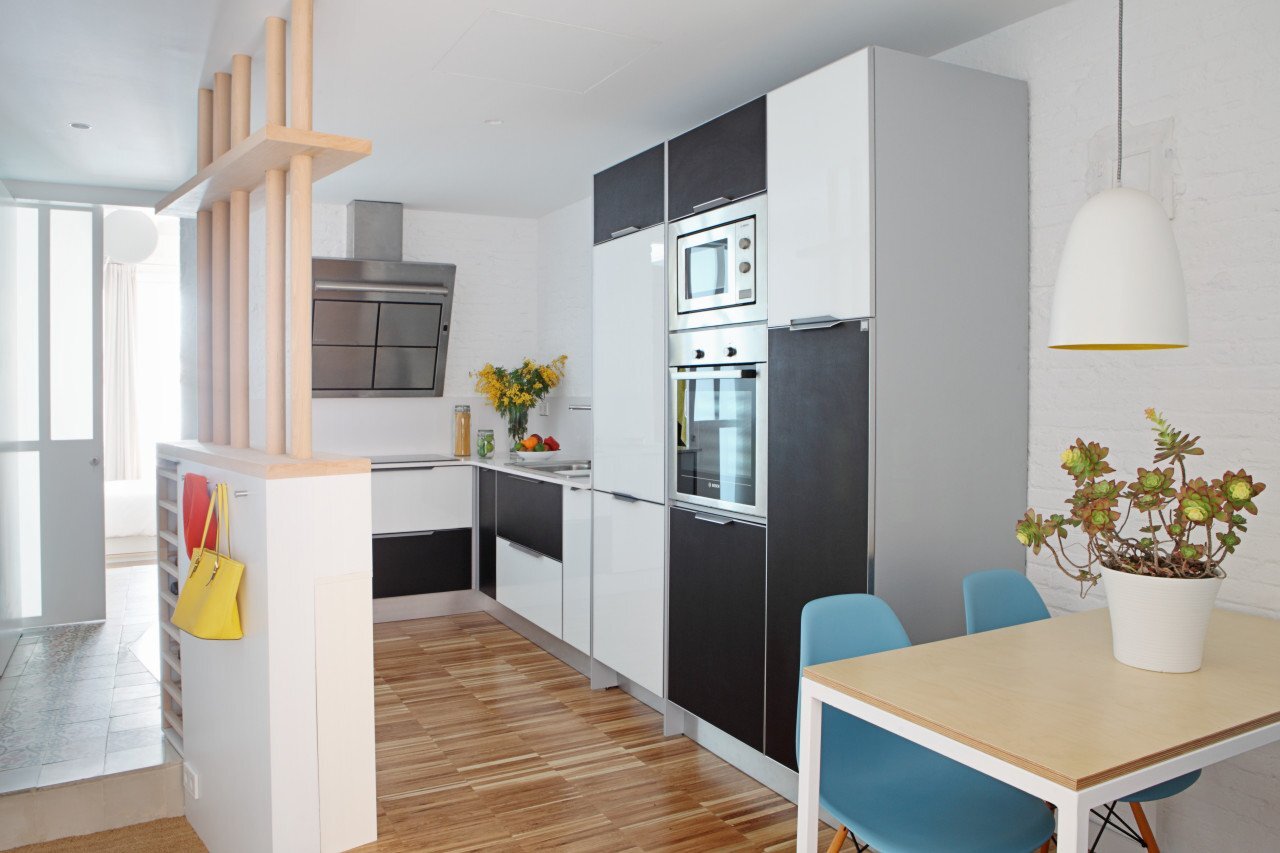 The apartment has been divided up according to three main functions: living, working and sleeping. To accommodate shared living, it contains a private unit at either end, with a shared living room, kitchen and dining room found in between.
The private units are predominately used as bedrooms, but also feature their own bathroom, a small desk, and storage space. The high ceilings allowed the architects to create an additional space above the double beds; a little getaway that can be used as a reading nook, or a retreat. The hideaways are accessed by wooden ladders and are separated from the bedroom below by shelving used for the storage of books.
The concept for shared living was driven by the idea of a hybrid living space, one which isn't unlike staying in a hotel, or renting a room from AirBnB. The architects aimed to create a functional home that was also affordable, given the location.
The interior has been modernised, however there are still elements of the apartment's original features on view, like the brickwork. As with a lot of modern builds and renovations, the walls and ceilings have been finished in white, with the flooring, furniture pieces and fixtures adding some vibrancy to the space. Traditional Spanish materials have also been incorporated, like the floor tiles.
Each end of the Salva46 apartment contains large windows to draw in as much natural light as possible. The light then travels through the translucent bedroom dividers to the central living areas. It's a smart layout and it would be interesting to find out how well shared living works on the small scale.
For more apartments check out this one in Japan that makes use of clothing as partitions between different rooms. Or this small and stylish apartment in Barcelona by Sergi Pons. See all apartments.
Via Dornob
Photos: Asier Rua