From the creative minds of Matthias Prüger, Manuel Rauwolf and Ulrike Wetzel comes this rather ingenious tiny retreat. Called Seelenkiste, which translates as "Soul Box", or "Spirit Shelter", the retreat is designed to rejuvenate the occupants by providing a stress-free escape from day-to-day living.
The trio are part of a small design studio called Allergutendinge, which creates a variety of dwellings and sculptures with a focus on sustainable building practices. Seelenkiste itself is a relatively simple timber frame structure in which sections can be prefabricated, flat-packed and transported to the owners site. A small team is then able to assemble the different components to create the tiny retreat.
The building is composed of three main components or levels. The first being the entrance/ground floor living area. Next up is the sleeping quarters which cantilevers out the back of the structure to minimise its impact on the living area below. The final level acts as a small study space accessed by the recessed steps built into the side wall.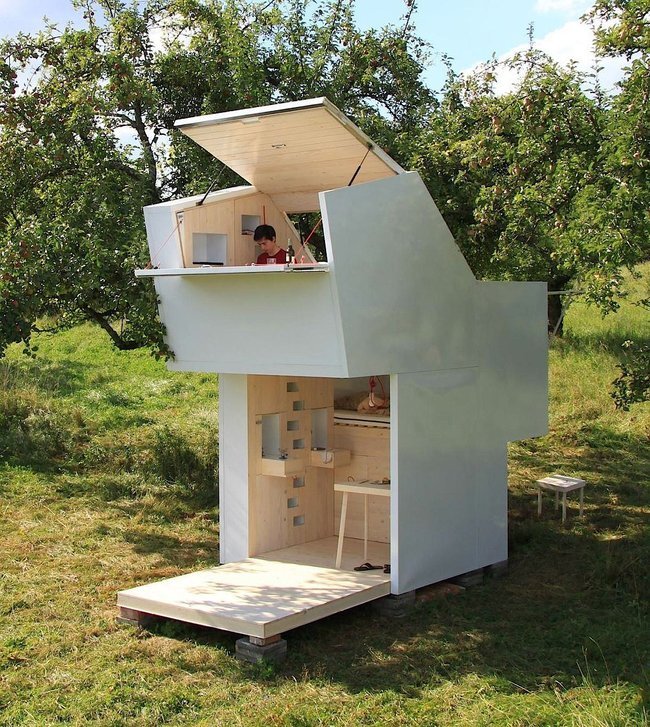 The exterior is clad with fibreglass reinforced plastic panels, whereas the interior has been mostly finished in with a light wood siding and sheets. Perhaps my favorite aspect of this tiny dwelling is that it doesn't feature windows, but wall openings that can be easily adjusted according to the weather or the user's needs. It also allows the structure to be closed up when not in use.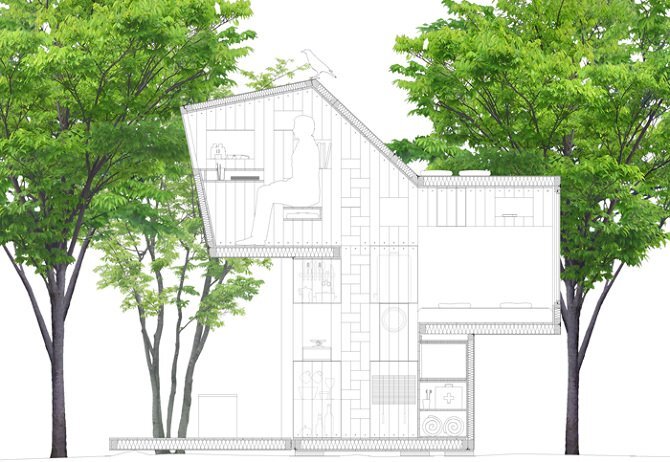 Due to its size, it looks like the entire retreat can be supported on a simple foundation consisting of concrete tiles and brick, although this may have just been for the photographs, I'm sure most people would rather tie the building down a little more thoroughly.
For more retreats check out this minimalist forest retreat in Czech Republic by Uhlik Architekti. Or these sustainable "Swamp Huts" on the outskirts of Boston that were designed by Moshow Lin Architects. See all retreats.
Via Treehugger
Photos: Allergutendinge