This cosy getaway was once a dilapidated auto repair garage, but thanks to the efforts of SHED Architecture & Design, it was transformed into a comfortable tiny house. Set in Seattle, the garage was originally built in the 1920's and was in a poor state of repair after decades of use as a mechanics shop.
The entire building was supported by rotten wooden posts, and was leaning to one side. According to SHED architect, Thomas Schaer, "it had a dark and creepy vibe", and was so unstable a "tremor could have easily toppled it."
But Schaer was able to see through the issues, and set off on an ambitious design-build project to restore and transform the garage. Over the course of three years, he carried out works intermittently, sourcing reclaimed materials from construction sites to save costs.
The result is a 320 square foot (30 square meter) tiny house that features a mix of old and new: "We sought to interweave new and old so that one wouldn't quite know where the old stopped and the new began." The approximate cost of the works came to $35,000 (excluding labor).
The house, like most small spaces, contains an open plan interior. The living room, dining room and kitchen can be found to one end of the house. A central partition encloses the bathroom, with a study space behind it. The loft serves as a snug spot for sleeping, and according to Schaer, "increases the perceived size of the interior."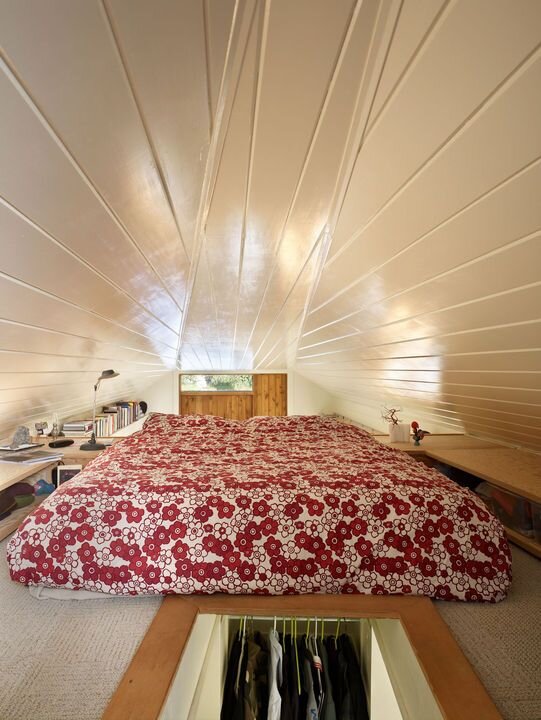 The building is lined with windows on one side that provide ample natural light, which, with the white finish of the interior, helps the space to feel larger. The garage now serves as an energy-efficient studio rental (although I didn't find any information on the energy-efficient part).
For more tiny houses and studios check out Simple Home, a tiny house that features its own set of legs. Or, the worlds thinnest house. See all tiny houses.