Portland, Oregon is probably one of the most progressive cities with regard to the tiny house movement. Its home to Tiny House Hotel, great companies like PAD Tiny Houses, and also this eclectic tiny house that's currently available for renting through AirBnB.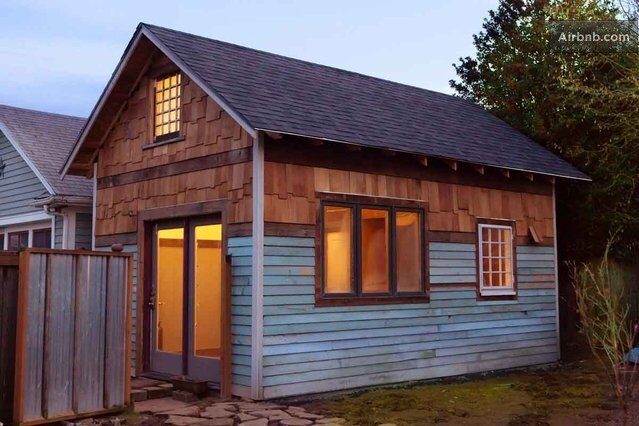 The house looks to be about 12-by-18 foot, and whilst not stated on their AirBnB page, the usable square footage is probably in the range of 300 square feet when you include the loft. The house is a pet project of DIY enthusiasts, Jenny and Michael, who built the home from as many recycled and repurposed elements as possible.
The exterior of the house is finished in a mixture of cedar shake shingles and feather edge siding. The shingles were acquired from high-end construction projects. The windows, which are an assortment of different shapes, sizes and finishes, were salvaged from a horse farm in the nearby countryside.
The interior of the tiny house has been finished with a modern-rustic feel. The main living area is open to a cathedral ceiling. The rear of the first floor is dedicated to the bathroom and the kitchen, which features a small breakfast bar. A quirky mix of furniture pieces is scattered throughout the home, helping to create a homey atmosphere.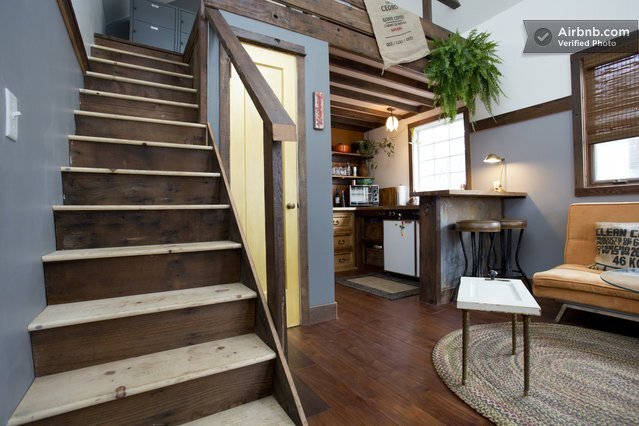 The second floor of the house contains the sleeping area, accessed by the living room staircase. The head height in the loft is reduced slightly due to the sloped ceiling, but I think it also adds a sense of coziness to the space. There's enough space in the loft for a bed and some storage units.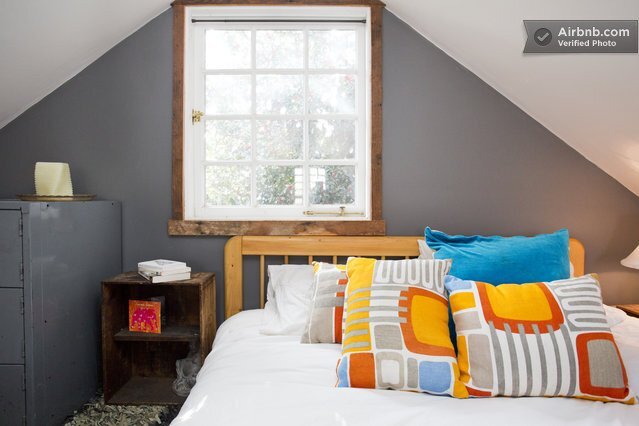 Other green aspects of the build include trim, shelving and teak flooring created from reclaimed and salvaged wood, and the kitchen stove/refrigerator were sourced from Hood River History Museum. The house is currently available for rent through AirBnB for £61/$104 per night and can accommodate up to three guests.
For more tiny houses check out this boiler room conversion to a cozy tiny house by Christie Azevedo. Or Pavillon d'été in France which has been transformed from a run down shack into a modern tiny guest house for two. See all tiny houses.
Photos: AirBnB