The Romania architecture and design firm, In Situ, introduced a lofted sleeping space to their clients home in Bucharest. The owner of the property was seeking to introduce a study/workspace without having to remove one of the existing bedrooms.
The designer's solution was relatively straightforward – to open up the roof loft and take advantage of the unused space. The ceiling joists and other elements of the structure were removed to create a single open space between the two levels.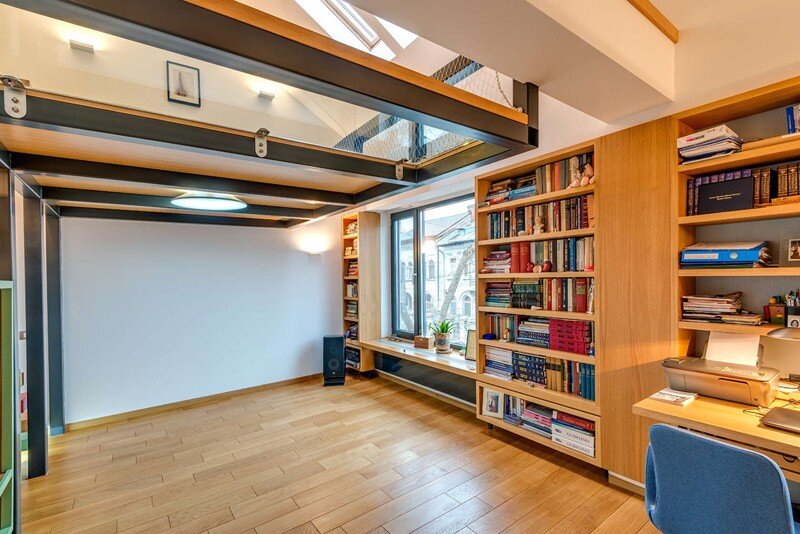 Some of the existing structural elements were replaced with a composite steel and timber frame that supports both the roof and the loft. The design has been kept as open as possible, with voids and glazing between the two levels allowing light to filter down to the study below.
Two skylights were included in the renovation to ensure the loft would be brightly lit. The area under then bed contains a solid wood floor. Beyond this area you'll find a glass floor, which is an attempt by the designers to keep the both spaces light, bright and airy.
The studio space has been finished in a mix of warm woods. It has floor-to-ceiling bookshelves and storage cabinets, with a single desk set at one end of the room. The rest of the room is open for use as the owners see fit.
An open tread staircase leads up to the loft. Its underside has been used to accommodate yet more storage. In the loft, a simple net provides a measure of safety without blocking light.
For more studios check out this writing pavilion from Brooklyn that's set in the owners backyard. Or, Wood Studio House from Barcelona which has a host of green features. See all studios.
Via Contemporist
Photos: Dan Samoila