This property from Athens, Greece, has seen a recent overhaul as part of an intervention into unoccupied buildings in the country. It involves a low-cost approach to upgrading living areas in an attempt to make them more desirable.
The project, titled POLYTOPO, was undertaken by a local architects firm called Z-level. They hope that the revamped apartment will help stimulate other professionals to make efforts with regard to disused housing.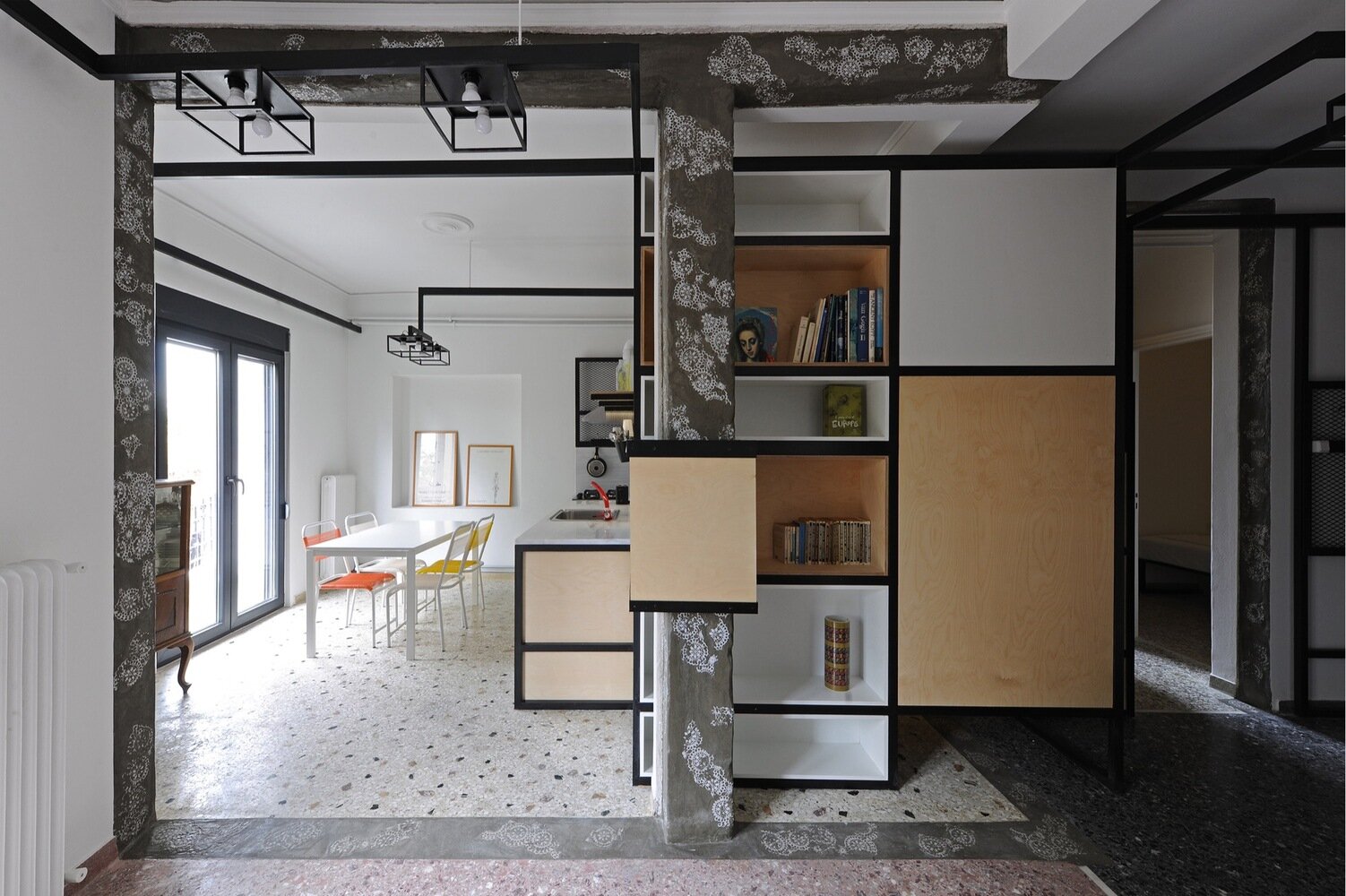 POLYTOPO is found in a Greek "polykatoikia", a form of residential building in Greece which fuses European style construction with local traditions. 44.7% of all residences in Greece are formed of this building type, however only 64.7% of them are occupied, making them the largest proportion of empty buildings in the EU.
This particular apartment contains a total of 646-square-feet (60-square-meters). Being a low-cost solution, much of the renovation involves working around what's already there. The apartment shell was maintained, along with a few of the internal walls. The areas that needed the most attention were the bathroom and kitchen.
The interior makes use of modular construction. Metal units have be placed throughout the home and function as storage, shelving and dividers. Being modular, it will also allow the owners to change things around, if needed, in the future. This idea of "future use" was an important aspect of the project.
The interior is finished in a mix of colors, the most prominent being the black metal, white offset and wood paneling. It looks as if the floors have been largely left as-is. It's possible to see the lines of demolished walls in the floor, allowing you to trace back the homes original, and much more segregated, floor plan.
POLYTOPO now contains a semi-open plan kitchen/dining area with a living room, a decent-sized bathroom set to the back of the kitchen, and two bedrooms; one master bedroom and a second that's split in half with two single beds. The front end of the apartment also features a small balcony accessible from both the kitchen and living room.
For more apartments check out The Green House, a historical property from Porto gets a modern makeover. Or, this apartment from Vilnius that features Scandinavian design. See all apartments.
Via ArchDaily
Photos: Charalabos Louizidis