This lakeside tiny house has been designed by architect Jeffery S. Poss. The house has been constructed for use as a guest house and as a sculptor's studio. Dubbed the "Polygon Studio" by the architect, it boasts views over George Lake.
The house is set on the highest elevation available on the site, and sits adjacent to the access road. According to the architect it's only 130 steps from the edge of the lake, and the distance between the two is connected by a series of exterior staircases and paths.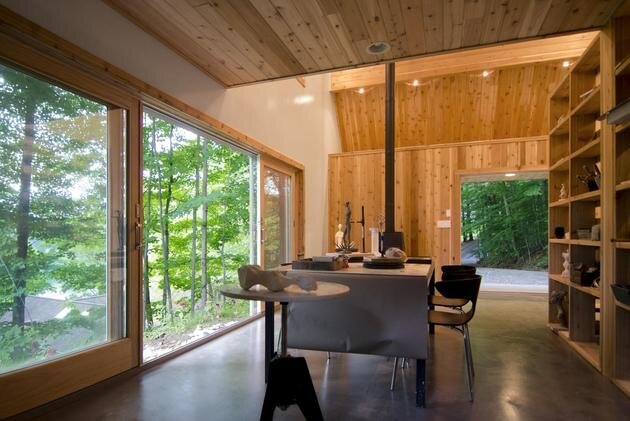 The exterior of the Polygon Studio features a crisp, contemporary finish. The front of the house is clad in galvanized steel, while the other sides contain red cedar siding obtained from local mills. The most striking element of the exterior though is its double pitched roof.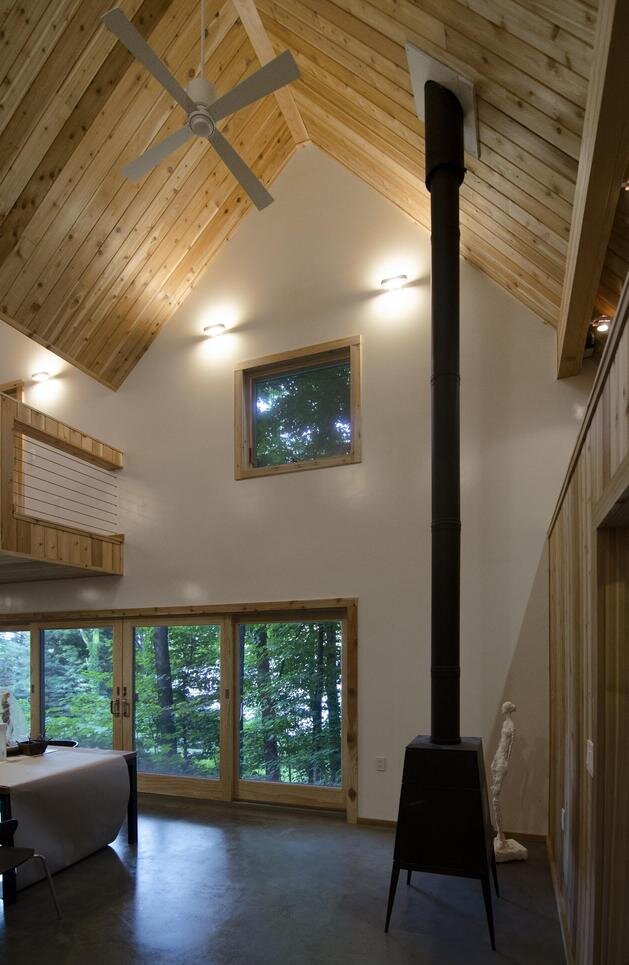 To the rear of the property there's a car parking space. The entrance can be found to the front, under the roof overhang. On the inside the ground floor has been dedicated to functioning as the artist's sculpting workspace, and the upstairs serves as the guest bedroom.
Windows and patio doors have been installed along the length of the wall facing the lake, providing spectacular views from both floors. The floor of the lower level looks to be finished with a polished concrete. The walls have been finished in either white-painted drywall, or clad with knotty cedar.
The Polygon Studio is heated by a large wood-burning stove, keeping the house warm in the winter months. During the summer it can be cooled by opening up the large patio doors and making use of the overhead fans. There's a simple kitchen set-up to the rear and an open tread staircase leads up to a spacious guest bedroom, with yet more views overlooking the lake.
For more tiny houses and retreats check out this holiday home set on the Dutch island of Vlieland. Or, this series of small housing units in Portugal. See all retreats.
Via Trendir
Photos: Jeffery Poss