This lightweight, open air, pool house comes complete with everything but a bedroom. The project, dubbed Pergola Pavilion, is from Lo Barnechea in the Santiago Metropolitan Region of Chile.
The owners of the property contacted local architecture studio, PAR Arquitectos. Together, they created a retreat that would take advantage of the mountain range scenery.
The house is spread over an area of 559.72-square-feet (52-square-meters). The project title, refers to its light structural frame, a pergola. They chose the steel frame because it would allow for large uninterrupted and open spans: "light and autonomous frame as an integral support of nature and multiple activities."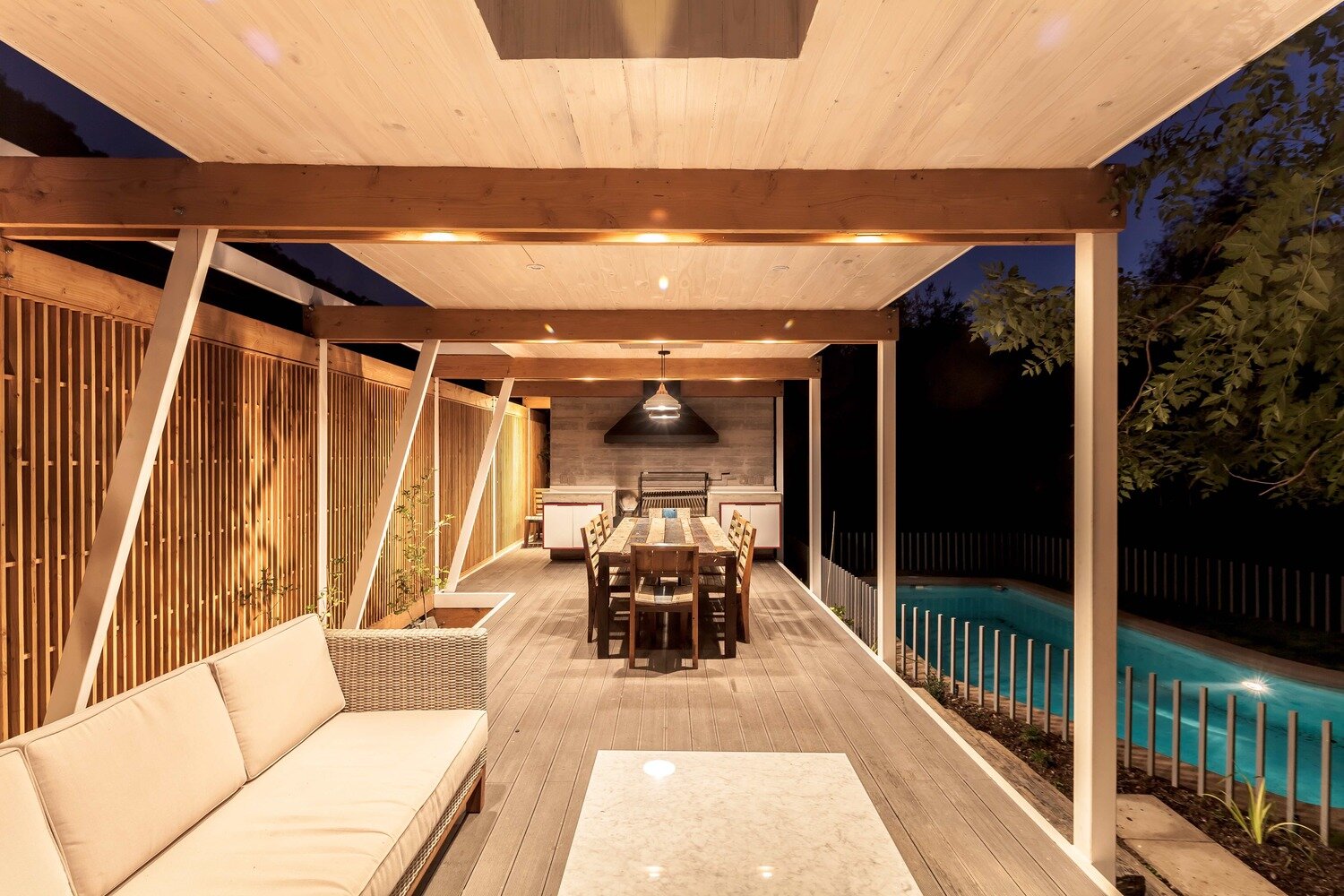 There are two programmatic areas in the house, divided by a concrete wall. The larger of the two is an open plan lounge and dining area, while the much smaller area houses the kitchenette, toilet and a bodega/wine cellar. There's also a large grill set along the dividing wall between the two spaces.
To provide shelter from the sun, 1×4 inch louvers of Oregon pine enclose the rear of the structure. The roof features a few skylights over the living and dining room, ensuring the light levels are maintained, and with so much of it being exposed to the open air, natural ventilation isn't a problem.
Thought has also been given to the buildings future use. The flexibility of the simple frame allows it to accommodate a number of functions: "a certain flexibility is established in the future composition of the pavilion, which by the repetition of the structural framework, can constitute a new programmatic unit of a playroom or spa".
In terms of finishes, they've opted for hardy, robust materials that should be low-maintenance. Any wood has been dried, dressed and treated with a colorless varnish, and the floor is composed of WPC gray deck. Other elements like the steel, are powder-coated and should last a long time, particularly with the hot dry weather.
For more spaces, check out this garden house that's inspired by the wings of a dragonfly. Or, this mirrored shelter that's set along the Longxi River in China. See all spaces.
Via ArchDaily
Photos: Diego Elgueta