This quiet tiny cabin can be found among the woods of Devon in England. The cabin has been created by designer-maker Rupert McKelvie, who established a small company called Out of the Valley. Out of the Valley functions as a workshop dedicated to the creation of sustainable, off-the-grid, aesthetically pleasing cabins.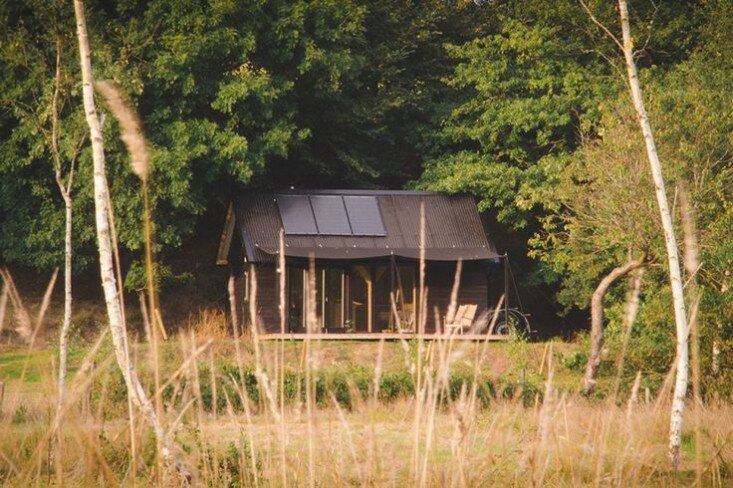 McKelvie was trained as a classical wood boat builder, but went on to study 3D design and sustainability at Falmouth University. Combining his practical experience with his education, he worked in London as a product and furniture designer before making the move to the countryside to start Out of the Valley.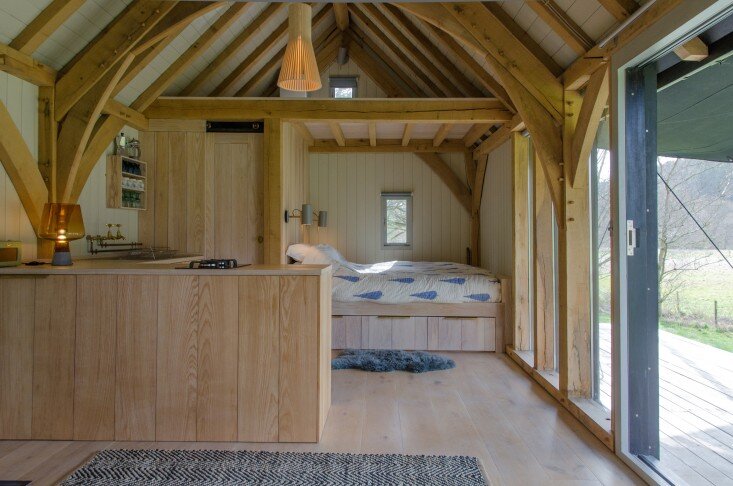 The cabin itself is a solar-powered retreat set on the banks of the River Teign. It overlooks a former farm field that slopes gently down to the river, and the surrounding forestry forms part of the National Trust Woodland. The exterior features a black corrugated roof, while the walls have been finished in a Japanese technique called shou sugi ban – the charring of timber to make it weatherproof.
The interior is quaint and almost church-like. The open plan space is partitioned loosely by the timber frame, and the entire roof structure – ridge beam, rafters and cruck – have all been left exposed, dousing the interior with fairy-tale charm.
The right-hand-side of the cabin is dedicated to the sleeping area and bathroom. The mid-section contains the kitchen, and the left-hand-side is dedicated to the living and dining room. To keep the cabin warm on cold winter nights, there's a rather modest wood-burning stove (adding yet more character).
All of the furniture pieces and built-ins have been designed by McKelvie, and are made from oak and ask. The front entrance also features a small deck that's furnished with Net Chairs by Mark Product, a company based in nearby Cornwall. The overall effect is that of an idyllic other-worldly getaway. If you'd like to check it out for yourself, the cabin can be rented for £130 – £160 ($193 – $238) depending on the season.
For more cabins check out Vega Cottage, found in the Norwegian Archipelago. Or, Woody35, another modest Norwegian cabin designed by Marianne Borge. See all cabins.