At 112 square meters (1200 square feet) this house isn't the smallest, but it is interesting and features a relatively compact main living area. Called the Origami House and designed by TSC Architects, this modern Japanese house has been created for a young couple in Japan's Mie Prefecture.
The most striking element of this design is its origami-like roof structure that encloses the building. The roof serves as an exterior shade, preventing too much solar energy passing through the large glazed sections of the house. The Origami House is also positioned to take advantage of the nearby mountains prevailing winds for natural ventilation.
The clients asked TSC Architects to produce a home which would be modern, but still in-keeping with the more traditional surroundings. While the house's form may be a departure from the norm, it's height, and material types and tones are reminiscent of traditional Japanese construction, perhaps most notably, the interior timber post-and-beam structure.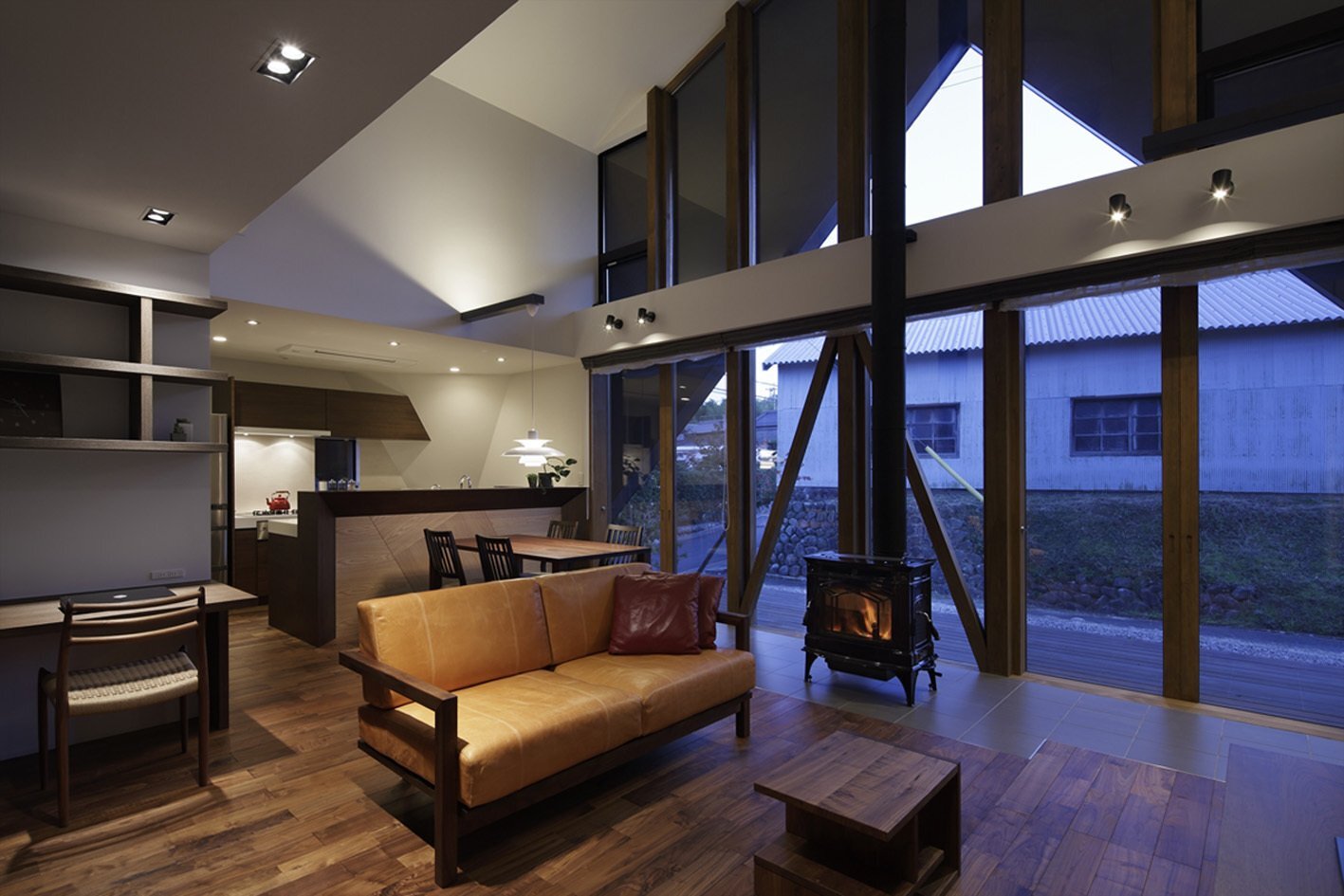 The ground floor features a small (compared to the overall size the house) open plan living area. The living area contains a compact kitchen and a space for dining. There's also a large wood-burning stove placed to the side of the "living room". This entire section of the house is open to the vaulted roof above, with floor-to-ceiling glazing along its entire front façade.
The remaining parts of the home are divvied up between a Japanese-style room, a bedroom, a bathroom with a separate toilet, and a large storeroom. There's also a large exterior deck that can be accessed from the main living area. The second floor features three more storage spaces, another bedroom and a "free space" that looks down on the living room below.
From the architect: "Japanese housing has to adapt to the passage of the four seasons. The wood stove in the living room is the meeting space for the family, and temperature throughout the house in the winter… In the summer, the wind blows through the windows from the south to the north, cooling the place. The architect designed the house so that its inhabitants ORIGAMI feel the environment around them, from within."
For more Japanese houses check out this small house in Chibi that features a light timber structure interior and mixture of private and public spaces. Or this Tokyo house by Atelier Tekuto that contains a huge skylight that frames the sky. See all Japanese houses.
Via Platforma Arquitectura
Photos: Masato Kawano