This modern Japanese house, dubbed OH! House by the architects, is located on a small site in Niigata. The house was designed by Takeru Shoji Architects on the behalf of a family, who had three simple requirements: a garden space, plenty of bookshelves, and a closed-off kitchen.
OH! House contains approximately 1,152 square feet (107 square meters) of living space spread over two floors. It's set in a subdivision of Niigata that was given the green light for high-density housing development, and so the designers had to balance the constraints of the plot with aspects like privacy, and natural daylighting.
Completed in 2013, the façade is a deliberate attempt by the architects to separate the house from the surrounding buildings, which are "identically blurred". The front end of the building features a small garden space between the outer and inner walls of the building; in some places the trees even extend up to the second storey.
The ground floor is used to house the more private spaces, like the bedrooms, a bathroom/washoom, and a walk-in closet off of the master bedroom. The second floor contains the living room, kitchen and dining room, each in a separate room. The right wall is also lined with a 39 foot (12 meter) long bookshelf.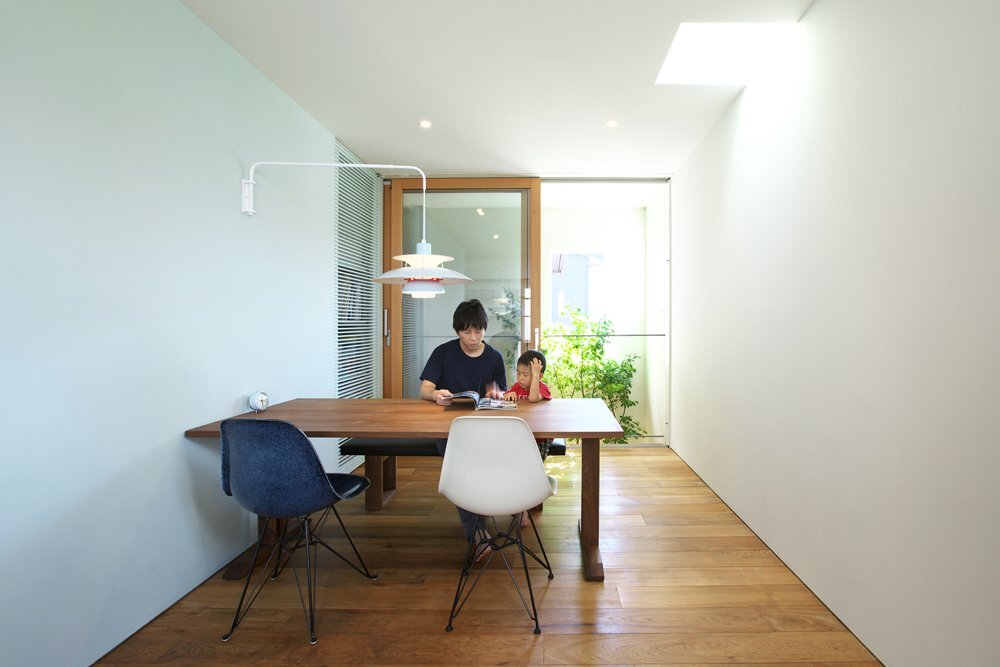 An upstairs toilet can be found next to the kitchen. The kitchen also contains a small terrace that overlooks the garden space below. At various points throughout the home, windows and openings are positioned so as to take advantage of the sheltered garden, like in the living room, which features a corner window that can be fully retracted.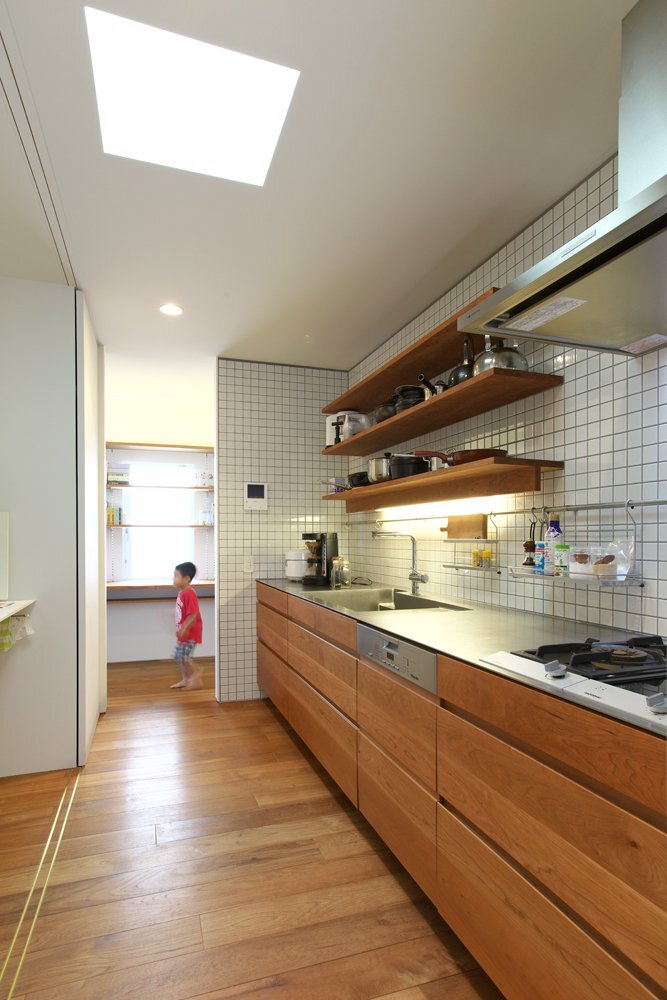 Windows on three of the buildings sides help to make the interior a bright and airy home. The finish is a mix of white, and complimentary woods. In OH! House, Takeru Shoji Architects have managed to create a fun, functional, family home.
For more Japanese houses check out the polygonal Bud House with split levels that help to maximise floor area. Or, the Montblanc House which features a large sheltered roof terrace. See all Japanese houses.
Via ArchDaily
Photos: Koichi Satake