This contemporary tiny house on wheels acts as a home for a family of three. It's been designed as a comfortable minimalist home for those that wish to wander, and as such has been suitably named Odyssée.
The Odyssée was designed and built by the French tiny house company Baluchon. The company is one of the many relatively new start-ups popping up across Europe.
The tiny house contains a total of 217 square feet (20 square meters). The layout, like most tiny houses, is efficient in terms of space and tailored to the needs of the owners. The exterior looks to be clad boards of cedar siding, while the roof is finished in metal corrugated sheeting.
The inside contains an all-wood finish, from the floors and walls to the ceiling and furniture pieces. The entrance is flanked by a small bathroom and storage closets. Beyond that you enter the main living space, which is composed of a kitchen/dining area, a snug/bedroom and a raised living room.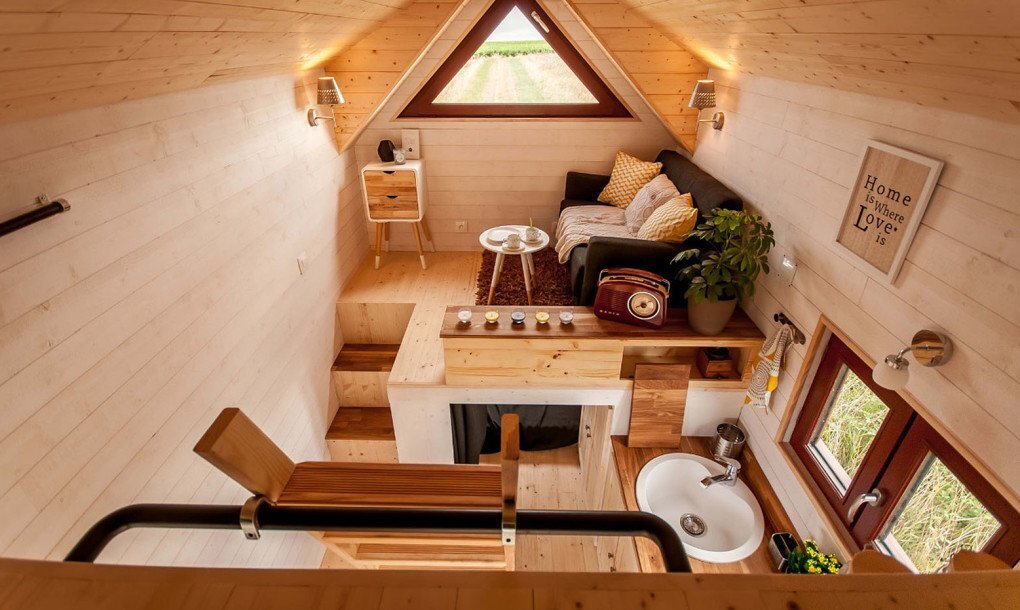 They've incorporated a first floor bedroom under the living room. It's a little unusual but provides a separate bedroom for the child of the family. It's also nice for them to have their own little space – it's a good solution that creates a degree of privacy, which can be a rarity in tiny homes.
The kitchen is split between two areas – the sink is set along one wall and the stove on the opposite. A table can be pulled out to create a dining area or it can double as extra counter space for cooking prep. A series of steps leads up to another rather snug living space – the living room. It looks capable of accommodating two people at most.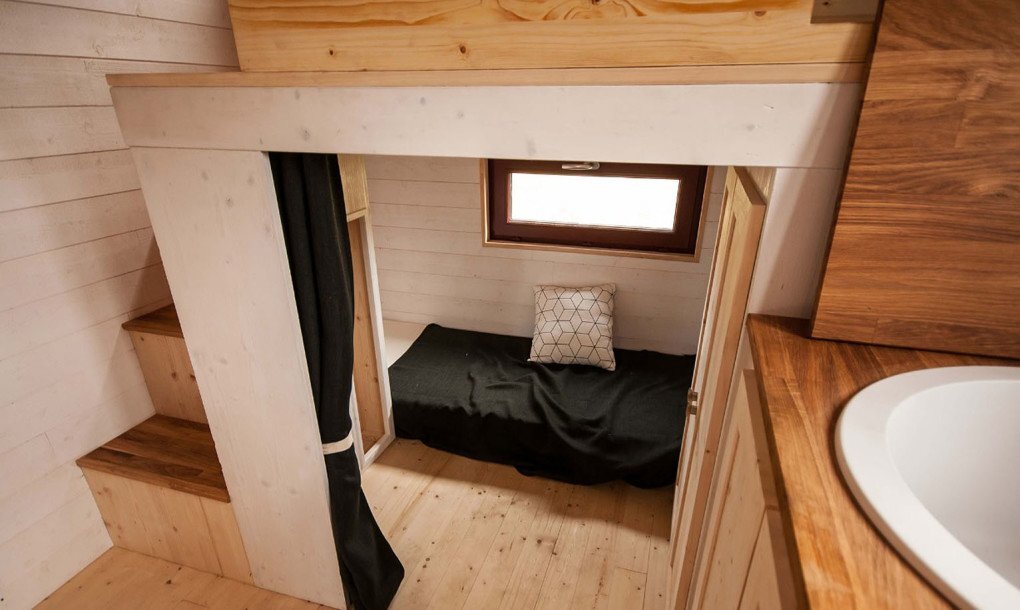 The Odyssée costs $49,800 fully furnished, which seems to be considerably cheaper than their American counterparts. Over the course of the last year, I've frequently seen price tags ranging from $60,000 to $90,000 for tiny houses in the US.
For more tiny houses check out SHED, a self-built tiny house that strives for simplicity. Or, Kokoon, a prefab tiny house concept that aims to address Finland's housing needs. See all tiny houses.
Via Inhabitat
Photos: Tiny House Baluchon