It's always great to see designs go from concept to reality, and following on from their successful KickStarter campaign, NOMAD Micro Homes have been working steadily on their first full-scale prototype.
The picture of the house still under construction with one of the walls still be to installed, shows just how much NOMAD manages to fit – rather elegantly – into such a small space. The house walls are composed of Structurally Insulated Panels (SIPs). SIPs are usually composed of two sheets of OSB and a foam-based core, providing both resistance to loads and insulation.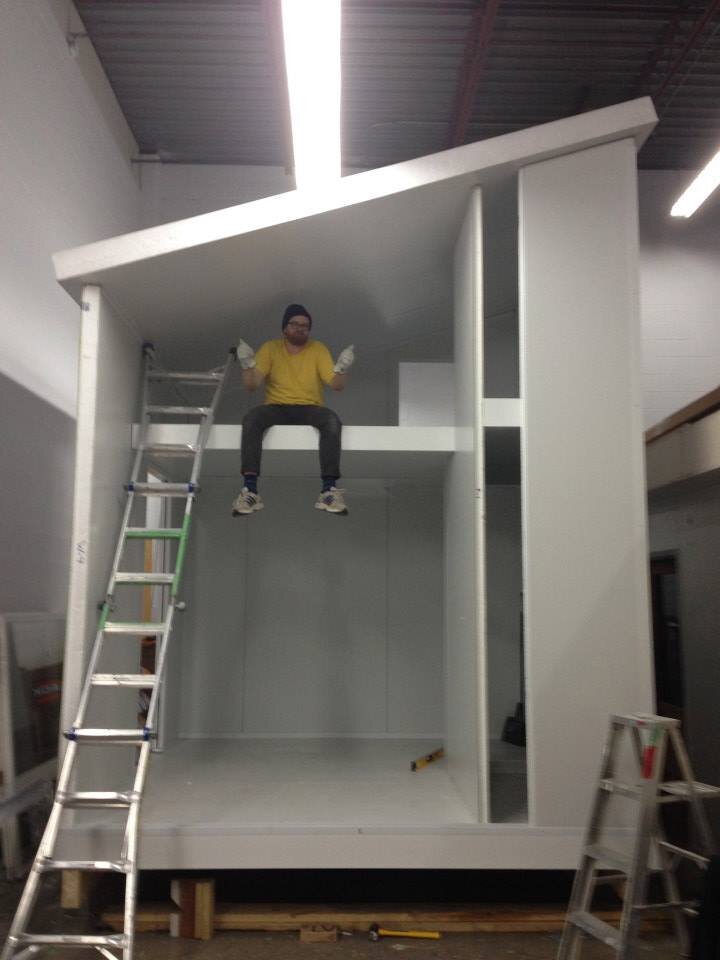 However, looking at the wall profile it appears that the NOMAD makes use of SIPs faced with metal sheeting. Certain metal SIPs can use a "snap-lock" system which reduces the amount of cold-bridging compared to timber-based SIPs. Although I'm not sure if that's being used here.
According to their Facebook, a four-person team were able to disassemble and flat-pack the house in just 3.5 hours (including the appliances and the toilet). That's pretty amazing, and it's within the same kind of time frame that modern transitional shelters adhere to, despite its much more permanent nature. Rebuilding the structure took a little longer, about 12 hours.
The interior of the prototype is also starting to take shape. The downstairs level is occupied by the kitchen, living room and bathroom. The large 9.3 foot double glazed window provides more than enough light for the snug home. But the real winner here (for me) is the staircase, which combines shelving, worktop surfaces and, of course, stairs into a single component, while also being super sleek.
For more tiny houses check out this 93 square foot boiler house that's been transformed into a tiny house by Christi Azevedo. Or this micro-house that's been specifically designed for students by Tengbom Architects in Sweden. See all tiny houses.
Photos: NOMAD Micro Homes