This tiny cabin, called NEST, comes from the same designers of the EDGE cabin. Bill Yudchitz of Relevations Architects and his son created this smaller and much more affordable cabin not far from the original. Both units are set on the same wooded plot with views overlooking Lake Superior's Chequamegon Bay in Wisconsin.
The original EDGE cabin cost in the region of $100,000 – a figure which Bill attributes to the precision of its construction: "It cost at least $100,000 to build because the materials were crafted to within .002 inches". The NEST is an experiment to produce a similar dwelling but on a smaller footprint and budget.
The NEST has a footprint of just 90 square feet (8.4 square meters) measuring 9-by-10 foot (2.7-by-3 meters). It stands at a height of 12 feet and was constructed largely by Bill and his son. Work started on the unit in July of 2013 and was completed a year later after working only on weekends.
Bill estimates that the cabin would cost in the region of $15,000 – $25,000 for others to self-build. The unit is southward facing and overlooks the lake. The exterior is clad in a mix of wood siding and standing seam metal. On the inside, the cabin has been left bare – the plywood sheathing and timber studs are on display.
The lower section of the NEST contains a multifunctional living area that serves as a space for cooking, eating, relaxing and sleeping. In order to accommodate its varying functions, the room makes use of folding furniture pieces and a Murphy bed that rests against the back wall.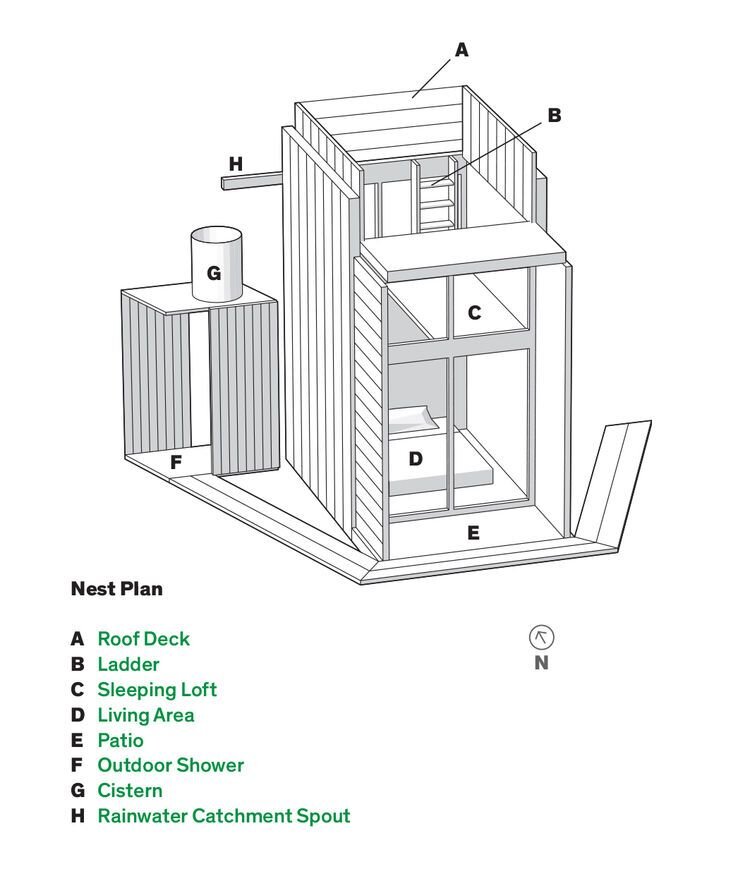 The upper level contains a lofted sleeping area that's accessible by ladder. The ladder continues on up to a small roof deck. There's also an outside shower, solar lanterns, and a rainwater catchment system. According to Bill, the family now use the getaway 3 weekends a month from spring to fall.
For more retreats check out these contemporary cabins that hang over the sea in Manshausen Island. Or, this stilted retreat on the Belearic Islands. See all retreats.
Via Dwell
Photos: Revelations Architects