This odd looking tiny house has been created for a client who needed a garage large enough to fit an SUV, and didn't want to be disturbed by onlooking neighbors. The house is set in a residential area of Hyogo, Japan, and has been designed by Hiroki + Tomoko Sekiguchi Architects.
Dubbed the Mountain House thanks to its unusual shape, it's set on a tiny plot and is sandwiched between three adjacent houses. The gently sloping walls are clad with the same material as the roof (some sort of tile; they haven't said exactly what).
An exterior cantilevered metal staircase leads up to the home's entrance and into the living quarters. The interior is clad entirely in wood, from the floor to the walls and ceiling. Personally, I think it's overkill and makes the space feel a lot smaller than it is.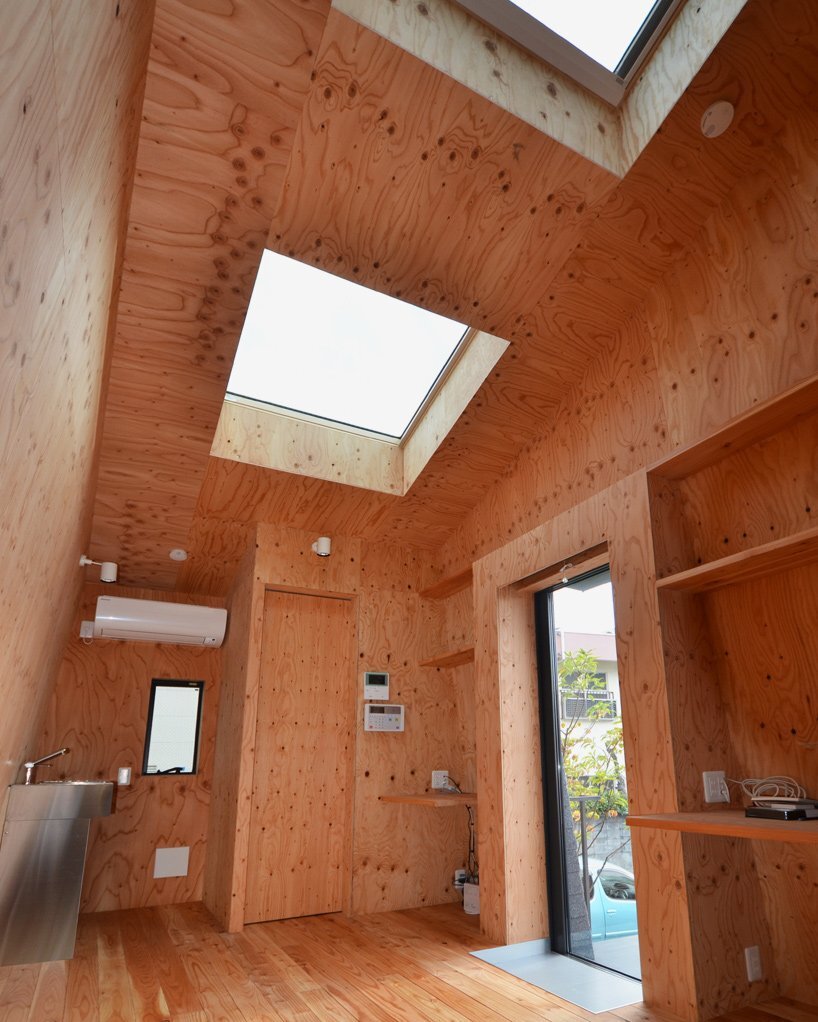 There's really only one room, an open living area with a kitchenette and bathroom to one end of the home, and a living room/study/bedroom at the other. There's not much space to work with, but the architects have included some built-in storage in the form of shelving that lines some of the walls.
To maintain the inhabitants privacy, windows have been kept to a minimum. There's a window in the entrance door and a small picture window at the end of the kitchen. Instead the majority of natural light is supplied by two large skylights – you certainly need it to combat the wood.
For more Japanese houses check out this small family house that features flexible living spaces and a large roof overhang. Or, Kamo House, another family home that's located in Gigu and designed by A-Un Architects. See all Japanese houses.