Called the Montblanc House, this small building is home to a family of four in Japan. Set in Okazaki, Japan, the house has been designed by architecture firm Studio Velocity for a young couple, their 3-year-old daughter and their newborn.
Montblanc House, like several of the other Japanese houses I've featured, contains a residential, and a commercial section. The front end of the first floor is taken up by a beauty shop. The family's living spaces are found behind and above it.
The building itself is surrounded by neighboring houses on three sides, and is set in a dense residential neighborhood. The majority of the houses in the area are two-storey dwellings with views of the nearby mountains. The architect wanted to keep the building height in line with the others, but also add another storey to the building.
The solution in this case was to add a long, steep roof to the house, allowing them to incorporate a third floor with minimal disruption to the neighborhood ridge line. Due to its close proximity to the adjacent buildings, and hence it's limited views, the roof is designed to act as a viewing platform with no less than five large openings that look out over the surroundings and the mountains in the distance.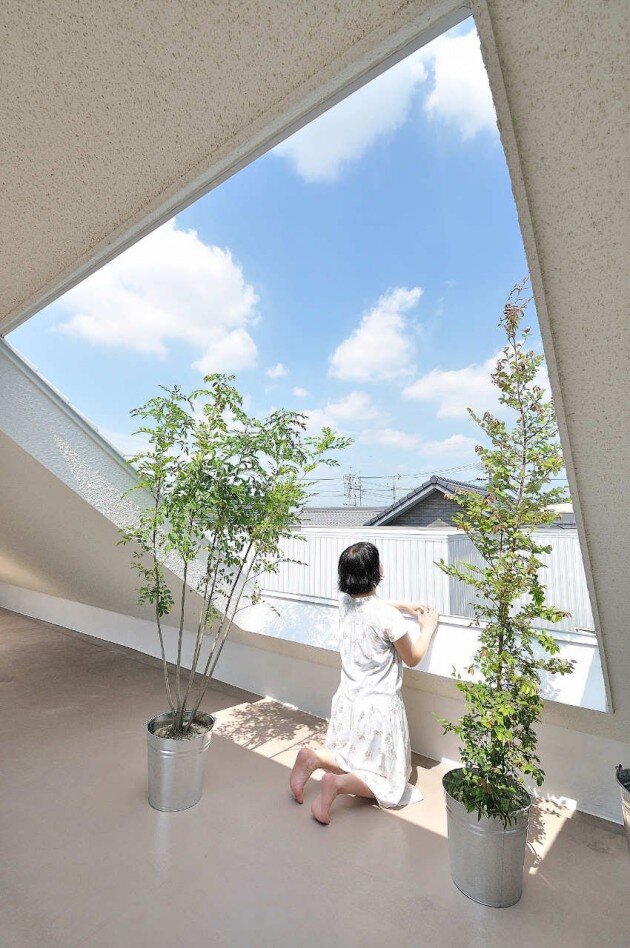 In terms of layout, the first floor is split between the shop and an open plan kitchen, dining and living room. A small washroom/bathroom and separate toilet are set at opposite ends of the living area. The second floor contains the two children's rooms, the master bedroom, a terrace, a toilet, and a tiny library. The third and final level of the home contains the roof terrace.
From the architect: "I hope to create a diversity of 'exteriors' with the various angles and heights of the site, appropriately hiding away the views from the neighboring sites, as well as a sense of the neighboring houses' existence."
For more Japanese houses check out Todo House that's raised off the ground on columns to provide privacy and protection. Or, this small house that's actually a studio, cafe and gallery all rolled into one. See all Japanese houses.
Via Contemporist
Photos: Studio Velocity