This modern cottage can be found overlooking a lake in Kapuvár, Hungary. It's been designed by a local firm called Toth Project Architecture Office, who were hired by the clients to create an idyllic getaway on a small footprint.
The exterior of the cabin is clad entirely in larch, and the main hub of the retreat features floor-to-ceiling windows that look out over the lake below.
There are two main zones to the building: the interior space that contains the more private living areas, and the exterior sheltered patio that doubles as a dining area. The side wall adjacent to the sheltered patio is composed of firewood, and encloses a storage space.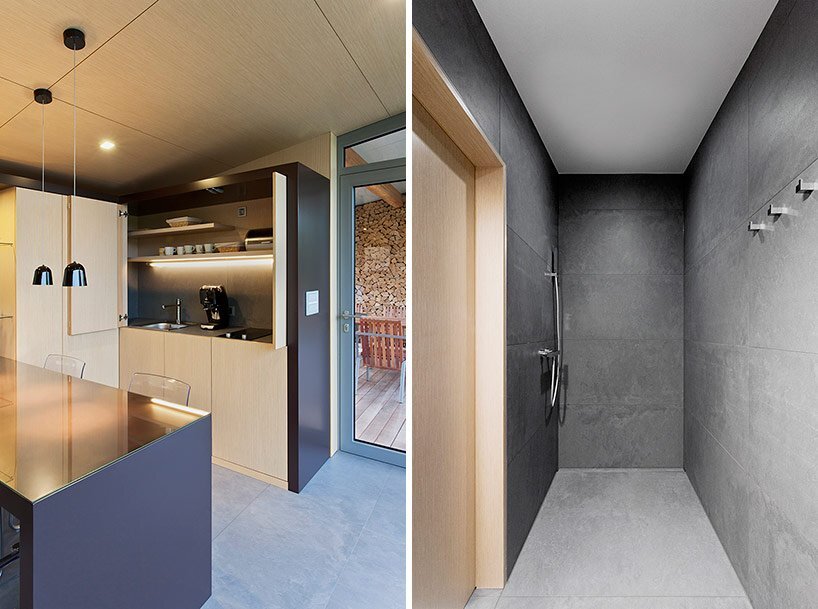 The inside of the house is finished with concrete floors, plywood walls and ceilings and contemporary furniture pieces. The space is mostly open plan with the living room (which is used as a bedroom at night) is found on the left-hand-side, whereas the kitchen and dining areas are set on the right-hand-side.
The kitchen can also be "closed up" to help maintain a minimalist, uncluttered interior. The home's bathroom is accessed through a door in the living room, and contains a shower, toilet and sink. On the outside, a series of mechanized blinds can be used to shut out the light, and help control heat gain.
Given its lake shore location, a generous decking area/dock is located to the front of the property, and is set on the very edge of the water.
For more cottages and cabins check out the Woody35, a modest Norwegian cabin by Marianne Borge. Or, this small weekend cabin that was inspired by fairy tales. See all cabins.
Via DesignBoom
Photos: Tamás Bujnovszky