A set of five nature shelters have been designed by the Danish architecture firm Lumo. The shelters have been placed at 19 different locations along the islands of the South Fyn Archipelago. The islands are known for their natural beauty and the shelters can now be found on their various campsites.
The shelters offer visitors the chance to immerse themselves in the rural landscape from the relative comfort of the wooden huts. Each hut is capable of accommodating a different number of people, and features a distinctive asymmetrical form.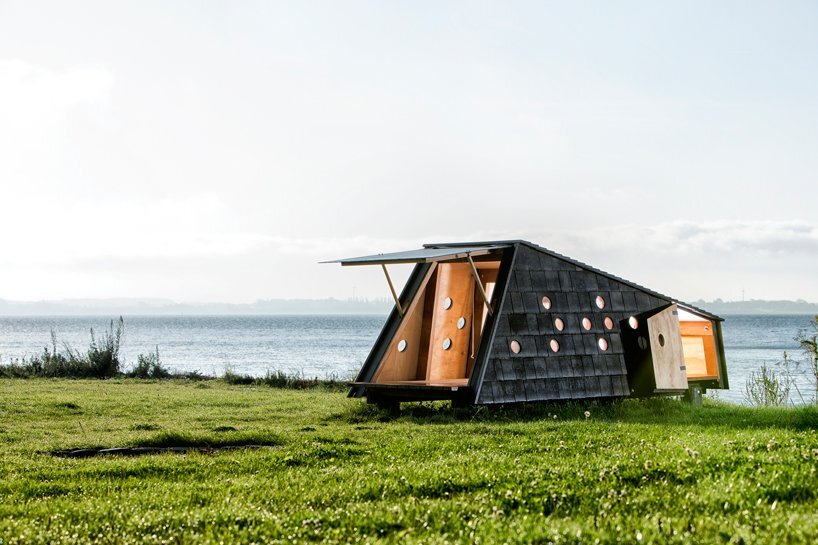 Their design has been inspired by the traditional fishermen huts that were originally used to store their catch. Each shelter has its own name that's drawn from its traditional origins: "Monkfish" features three levels and comes with a bird-watching lookout, "Garfish" can sleep up to 7 people and can be used as a picnic table…
"Lumpfish" sleeps up to 5 people and features a dedicated sauna, "Flounder" sleeps up to two people, and "Eelpout" serves as a lavatory. The variety sleeping accommodations and functions makes the shelters extremely flexible, allowing the campsites to incorporate them into their existing arrangements with ease.
The angular exteriors are clad with large wooden shingles that are treated with black wood tar oil. The interior spaces give way to the much lighter warm tones of the wood framing. Openings have been introduced seemingly at random, providing glimpses of the surrounding landscape.
The project hope to attract more visitors the to islands of Skarø, Drejø, Birkholm and Aerø, while at the same time improving outdoor facilities, and helping to maintain the grounds. From the architects: "It [allows] it to be become a… coastal landmark that will inherently blend with the scenery and offer people with a glorious sense of isolation."
For more unusual spaces and shelters check out these whimsical single-person abodes by Gregory Khloehn. Or, this house that's been created from wood pallets. See all shelters.