Called "Minima Moralia", this small rooftop structure in London acts as a studio space for artists, designers, musicians and anyone else involved in the creative fields.
It's been designed by London-based architects Jonas Prišmontas and Tomaso Boano. The project has arisen out of a need for separate home and work spaces, which is usually something of a luxury for self-employed designers.
Rising property costs has seen an increase in the popularity of garden houses, backyard studios and now, rooftop work spaces. The studio is made from a steel frame, which they've clad with poly-carbonate sheeting. The overall effect is a sort of translucent box that indistinctly reveals its interior (or exterior from the inside).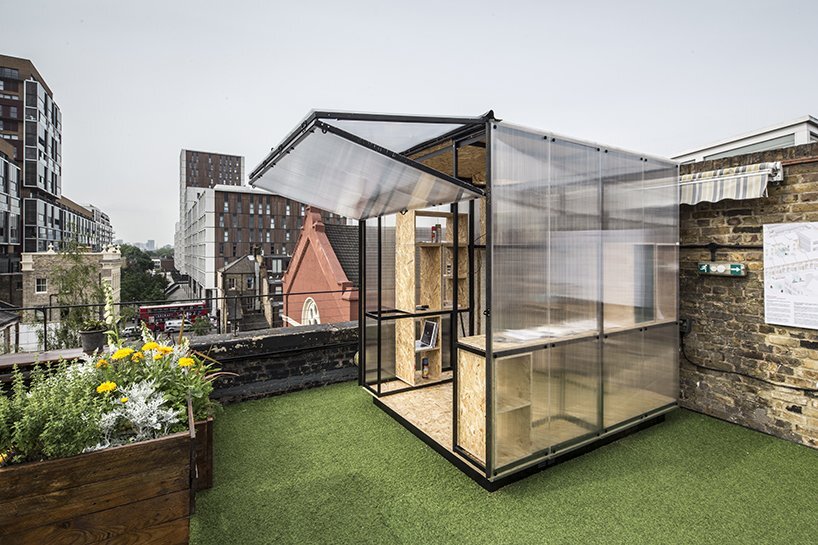 According to the designers, it makes use of modular steel construction. This allows Minima Moralia to support a variety of configurations. Its interior layout can be customized to the needs of a specific person or activity.
It's accessed by a large "folding wall", that forms a small porch-like overhang when raised. The opposite end of the structure features a second opening – an operable window that's set in front of the desk. A second "window" is found in the ceiling – a simple cut-out in the OSB sheeting forms a skylight.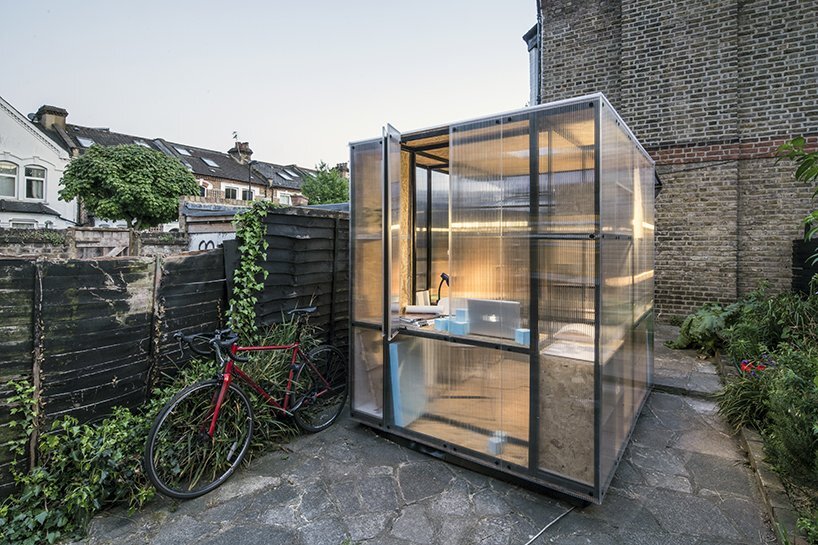 The inside is kitted out with OSB components that help form the shelving, desks and storage compartments. With all its translucent sheeting, it's bathed in natural light. However, if you want to work late into the night, it's also equipped with artificial lighting (and curtains for privacy).
From the designers: "Minima Moralia investigates the process of inhabiting a space. Each artist will bring their tools and have the opportunity to reveal, if reckoned, the secrets of their craft. The tight space will filter out the unnecessary. Only what is essential to produce their art can be hosted and used."
For more studios check out this cork-clad garden house in London by Surmon Weston. Or, Nano Studio, a 140-square-foot micro-apartment for students. See all studios.
Via DesignBoom
Photos: Minima Moralia