Originally a miner's residence, this tiny structure has been transformed into a micro retreat by designer David Frazee. Set in the Arizona desert, and dubbed Miner's Shelter, the structure dates back to the 1980's when copper was being mined, and its new look takes inspiration from work of the American architect, Frank Llyod Wright.
Back in 2011, Frazee took part in a shelter-building programme while studying at the Frank Lloyd Wright School of Architecture. To create the retreat the existing walls had to be pulled down. The blocks themselves where then used to level the site, and to build a small patio area.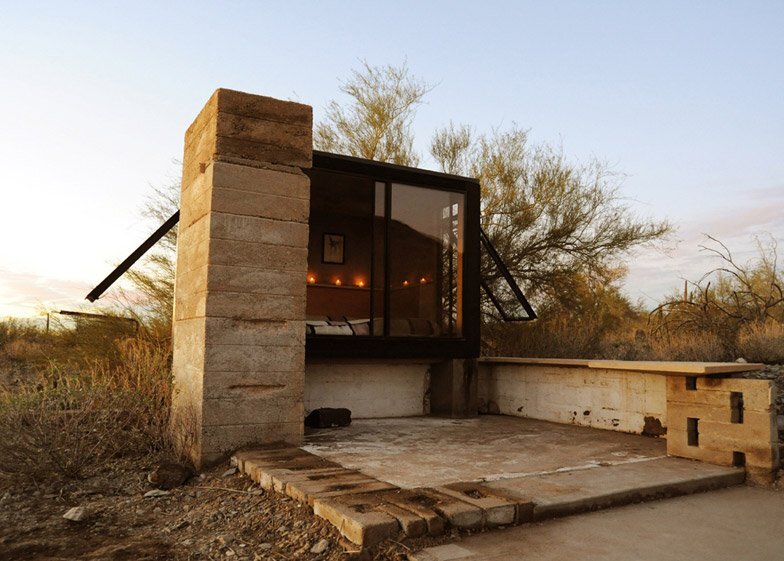 The new structure was built on top of a 20 inch-high (500 mm) concrete boundary wall. He also made use of the original chimney stack, which now acts as an exterior fire pit/hearth. The facade is finished in weathered-steel panels and ebony-stained redwood. The redwood is a reference to Frank Lloyd Wright's final house, Taliesin West.
The retreat contains a ventilation gap between the actual structure and the cladding. This helps to reduce the heat load by allowing hot air to vent up and away from the building. From Frazee: "The rusted steel was used to pay homage to the desert's rich mining history. Over time the panels acquire a patina similar to that of the desert mountain range."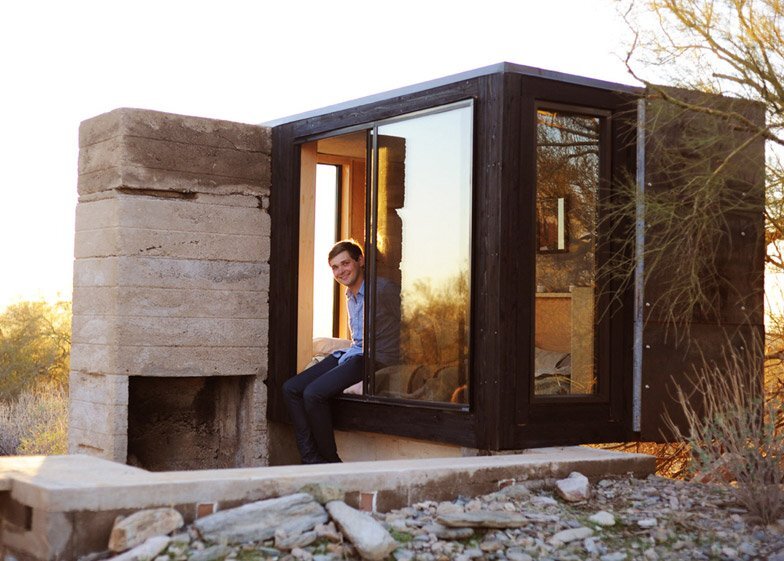 On the inside the space is finished in plaster and pale birch plywood. A wooden plinth is set in one corner of the room to provide a space for displaying/storage of small objects. The retreat is accessed by two tall, narrow windows found at the foot and head of the bed. They also provide views of the McDowell mountain range, and Phoenix Valley.
At night, residents can open up the windows and draw in some of the heat from the adjacent fireplace (the same is also true on warm nights, minus the fire). From Frazee: ""The cold colour of the plaster creates a cave-like experience, and the intersections of the birch plywood provide a place to set a book or a few candles for night-time visibility".
For more retreats check out this stilted getaway set on the Belaric Islands. Or, the Observatories, a portable artists residence in England. See all retreats.
Via Dezeen
Photos: Nathan Rist, Frazee