With it's sharp edges and streamlined form this modern home wouldn't look out of place on the set of a sci-fi movie. It's located in Christchurch, New Zealand, and has been suitably titled Megatower by the designer.
The client enlisted the help of local architect Thom Craig. Together they transformed his vacant lot into a slick tiny house. The result is a four storey tower with a living area set on each floor.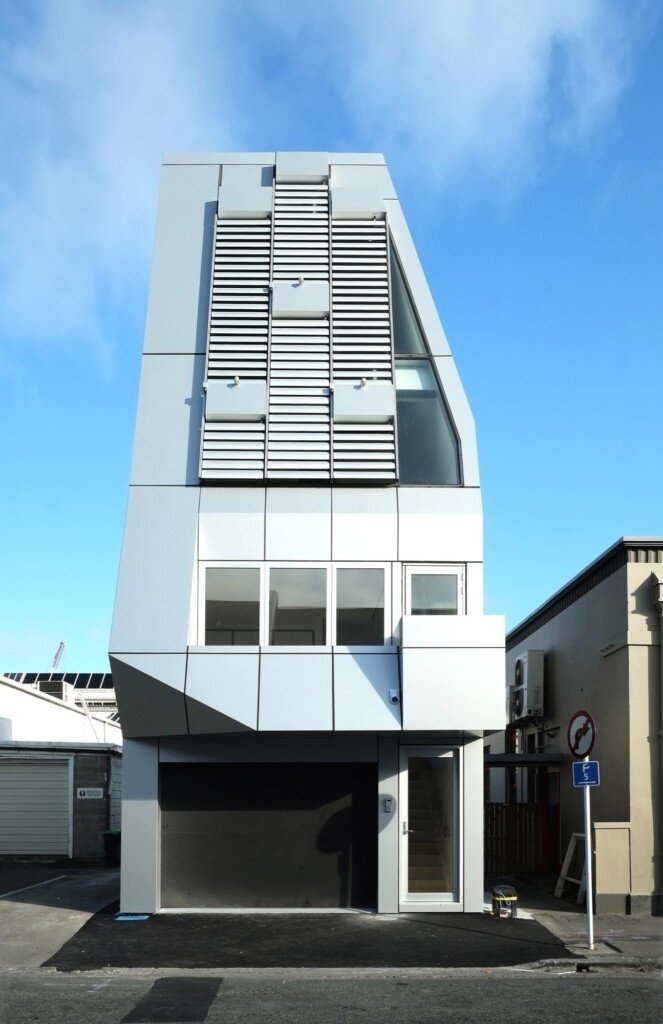 After the Christchurch earthquake of 2011, the re-building of the City has provided people with the opportunity to create new, revitalised urban spaces. The client's build falls into that bracket. It's set on a small site that measures just 16-by-16 feet (5-by-5 meters) with the building having a footprint of 258 square feet (24 square meters).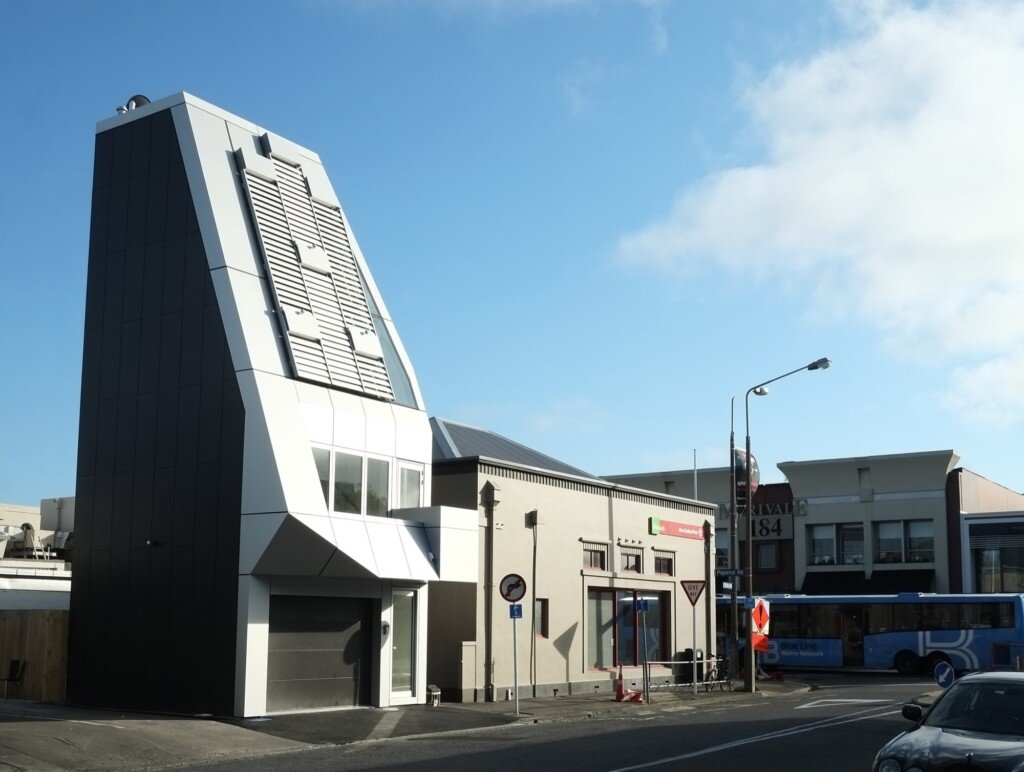 The tower tapers over its height because of a restriction based on a plot ratio, although I think it makes for a more interesting shape than just a plain old cuboid. Natural light is drawn in from the south side of the building only. The expansive windows are covered with louvres to help regulate the light levels, temperature and privacy.
The first floor of Megatower is taken up by a garage and laundry area. A staircase leads up to a shared living room/office and kitchen. There's also a tiny single-person step-out balcony at this level. On the third floor you'll find the bedroom, complete with an en-suite (shower, sink and toilet only – no bath).
The fourth level of the house is a mezzanine that looks down on the floors below. It serves as a quiet retreat from the rest of the home with a small library along the back wall. Both the bedroom and mezzanine step back from the outer wall allowing the rooms to maintain a connection throughout, regardless of which level you're on.
A ladder in the library takes up to the final level of the Megatower – a small roof terrace that features 360-degree views of the city.
For more small houses check out Uni, an idyllic home set along the cliffs of Jardim do Mar in Portugal. Or, Koda, a prefab house that mixes design and technology. See all small houses.
Via ArchDaily
Photos: Thom Craig