This tiny woodland cabin was designed and built by architect Mason St. Peter, with the help of a few friends. After visiting a friend's cabin in the Topanga Canyon in California, Mason was inspired to build his own. The retreat is constructed from reclaimed wood and materials that were left over from the construction of other cabins in the area.
After talking to a local landlord, Mason decided to make his dream surfers retreat a reality. Once the site was cleared, he and his friends were able to start creating the base for the structure; a timber deck supported by round wood posts that provided a flat surface for the main building.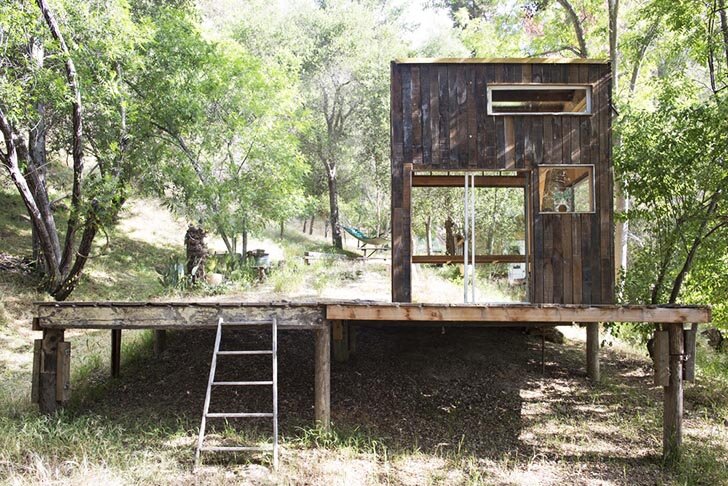 Using posts and raising the structure off the ground level allowed Mason to reduce the buildings impact on the surrounding environment. Being constructed wholly from recycled and reclaimed materials, the retreat slots into the forest setting.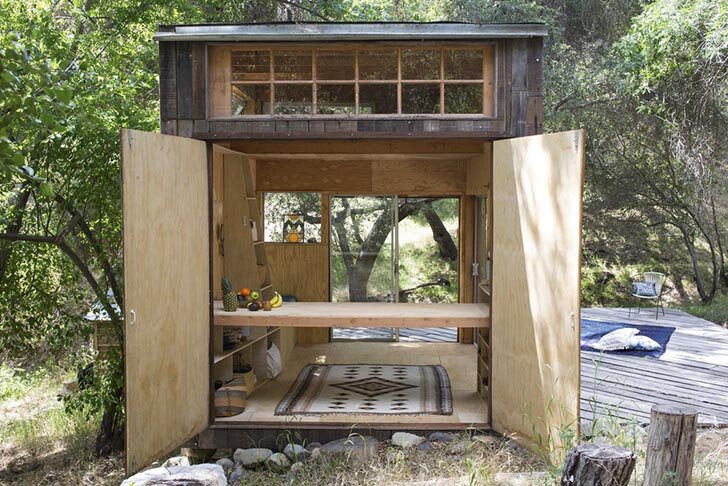 The main structure of the cabin is simply a cuboid. There's a pair of glazed sliding patio doors that lead in to the main and only living space. On the rear wall there's another set of doors (that form part of the wall) that can be opened up to bring in more light.
The living space is furnished with custom-built pieces. The back wall features a desk from which Mason can work and look out upon the forest. The only wall that doesn't feature windows or doors has been used to provide storage for clothing and other items.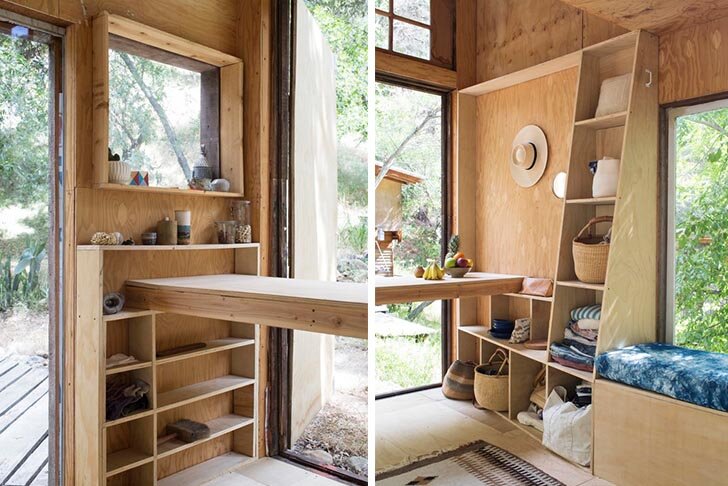 Above the main living space you'll find a small but cozy sleeping loft that's flanked by two windows. The interior finish, like the exterior, is made up of reclaimed wood, but instead features plywood panelling. The cabin provides a place for Mason, and his friends to get-together, reconnect, and soak in the forest views.
For more cabins check out this modern take on the classic rustic cabin called the Wedge. Or, this small retreat that's set on a lake in the Netherlands. See all cabins.
Via Inhabitat
Photos: Mason St. Peter