This amazing tiny apartment can be found in the bustling city of Rome. Set not far from Pantheon, the apartment was redesigned by architect Marco Pierazzi, and features a host of small space ideas that make it one of the most liveable tiny homes out there.
On entering the apartment you walk directly into the kitchen and dining area. It contains a kitchenette with a 2-burner cooktop and a small sink. Storage for cutlery and cooking items is kept both above and below the sink and extractor fan.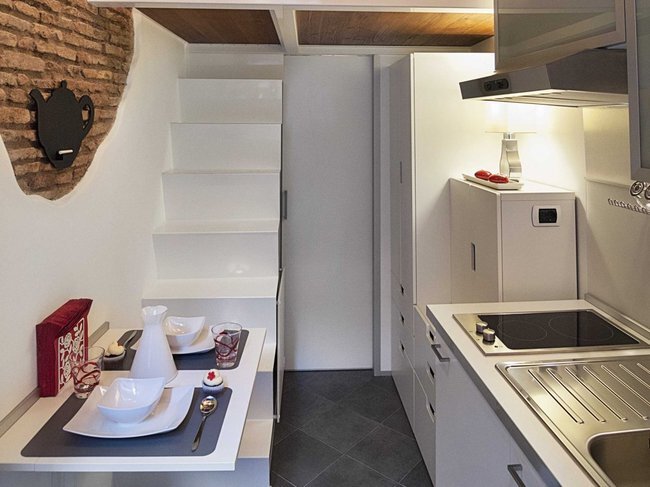 Opposite the kitchenette there's a small fold-down table that provides dining for two, followed by a staircase that leads up to the loft living/sleeping area. The back end of the ground floor is dedicated mostly to storage cabinets and a closet.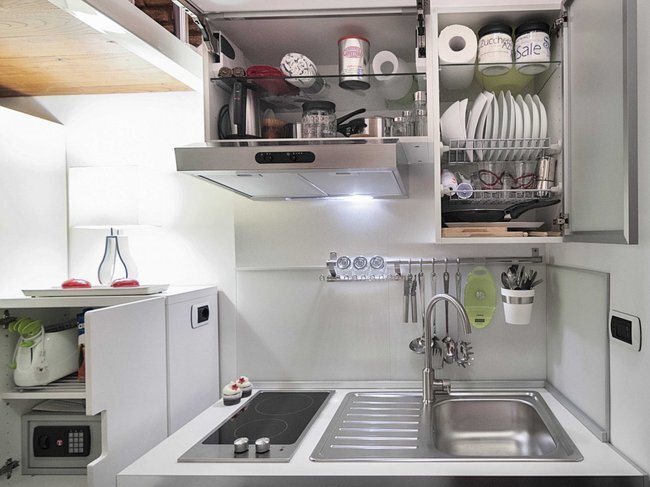 The loft contains a sofa-bed with a TV opposite. The floor opening for the staircase can be closed off with a trapdoor, maximising the floor area. Back on the ground floor, a door to the back of the apartment leads through to a small, functional, and stylish bathroom. It contains a toilet shower and sink – what more do you need?
Some people, like David Friedlander of LifeEdited, think it's too small a space to live in for an extended period of time. I think it's a good layout for anyone living there on a short to medium term, say students, or young professionals making the transition into the housing market.
The designer and owner, Marco Pierazzi, now has a child, and has since moved on as it's a little bit tight for him and his family. The good news is it's now available for rent, so you can experience tiny living, and Rome in one go.
For more tiny houses check out these quirky, cozy shepherds huts by Canadian company Gute. Or, this prefab tiny house called Vivood that's powered by solar panels. See all tiny houses.
Via TreeHugger
Photos: Marco Pierazzi