This ingenious small apartment in Madrid has been given a makeover by Beriot, Bernardi Arquitectos. The architects are no stranger to the design of confined spaces. In fact, I've featured their work a few times in the past (which you can check out here and here) for their smart layouts and inventive use of space, and this home is no exception.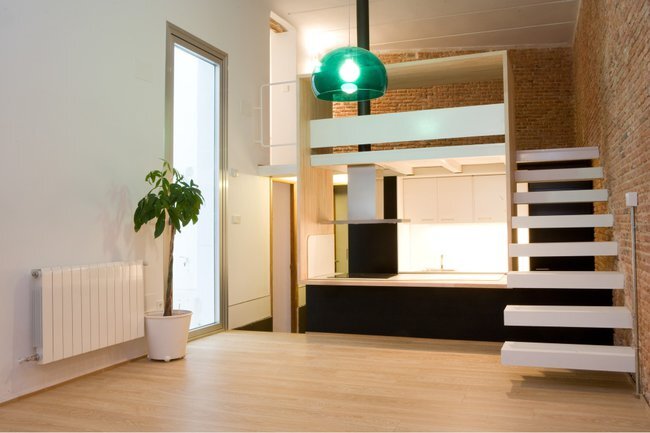 The apartment is set on the ground floor of a block of flats in Madrid. Unfortunately the original ceiling wasn't high enough to allow the architects to introduce a lofted sleeping space. To overcome this they dug down sixteen inches, providing them with the required space to incorporate a small kitchen and bathroom under the loft.
The loft is accessed by a steel cantilevered staircase, whose open rise lightweight aesthetic allow the staircase to have a minimal impact on the space. Unfortunately there's no handrail which is a big no-no for some, but at least the sides are closed in from the fourth step onwards.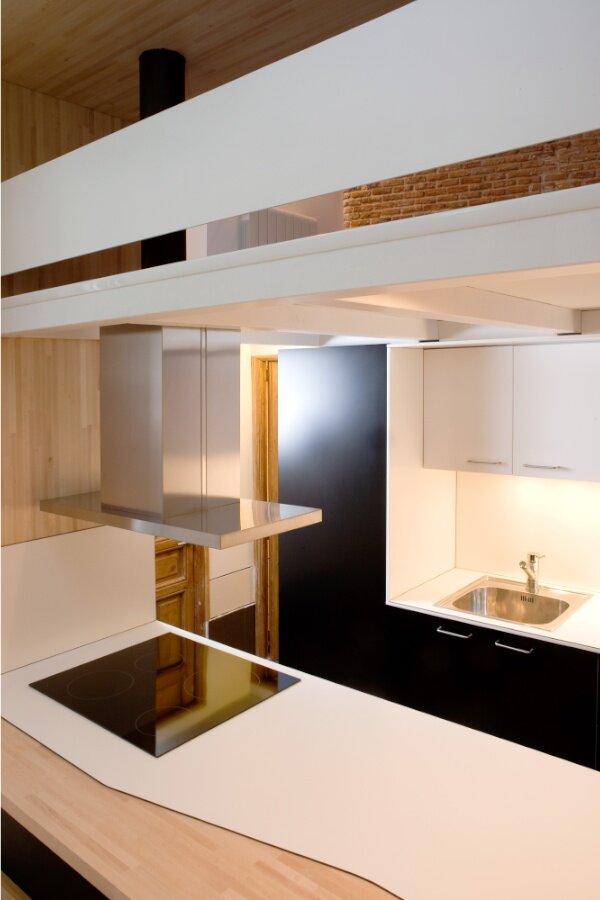 The apartment has a total floor area of 400 square feet (37 square meters), and for such a small space there's quite a lot of rooms/spaces. On the ground floor you'll find a kitchen, bathroom, living and dining area, two patios and a guest bedroom. The loft serves as a bedroom, and also features a small study desk and a walk-in closet.
As pointed out by Lloyd Alter of Treehugger, some may wonder why they didn't install the bathroom in the loft instead of the walk-in closet, but I think it makes sense. If you do have guests over, having them walk upstairs and pass through what is effectively your bedroom, usually isn't ideal. On the other hand, if you need to use the bathroom at night, it's slightly less convenient.
The most interesting part of this renovation project is the laminated wood panel component. It appears not only to serve as a visual divider between the kitchen and living area, but also as a worktop, a desk in the mezzanine and as the structural support for the loft itself.
For more apartments check out the Closet House, a sophisticated small apartment with embedded technology features. Or Maria Badiola's small apartment conversion on a limited budget in Spain's most expensive city. See all apartments.
Via Treehugger
Photos: Yen Chen