Russian architecture firm Ruetemple are no stranger to loft conversions (previous projects include this family loft). The project required them to create a number of living spaces in the loft of this Moscow-based property.
The loft had to act as a multifunctional space, catering for a living room, lounge, a TV area, and a small spot for relaxation.
Simply dubbed "Living Space" by the architects, the loft floor contains a total of 517-square-feet (48-square-meters). It's been finished in such a way so as to create a calming, relaxing atmosphere. White, wood and touches of plants help form a pared-down, minimalist interior.
Another key element to creating a relaxing atmosphere was light. Skylights and big windows in the mansard roof help to keep the space bright and airy. From Ruetemple: "The space, clear of all unnecessary items, will take you to another dimension and help you to get tuned to a calm repose. Lot's of light and air."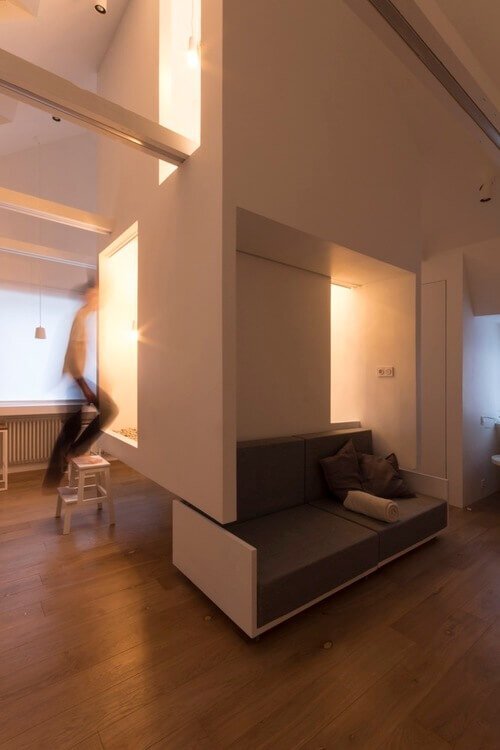 The various living areas and storage spaces are scattered around a central room – the relaxation area. It floats above the floor, and features a loose rounded stone base and more plants. The tea set suggests its used in a similar fashion to a Japanese tea house; a place for reflection and relaxation.
The space under the relaxation area is occupied by a series of movable modules. The modules can act as extra storage compartments and help form many of the living areas by doubling as furniture pieces. Using movable components allows the owners to chop and change the arrangement of the room(s) as they see fit.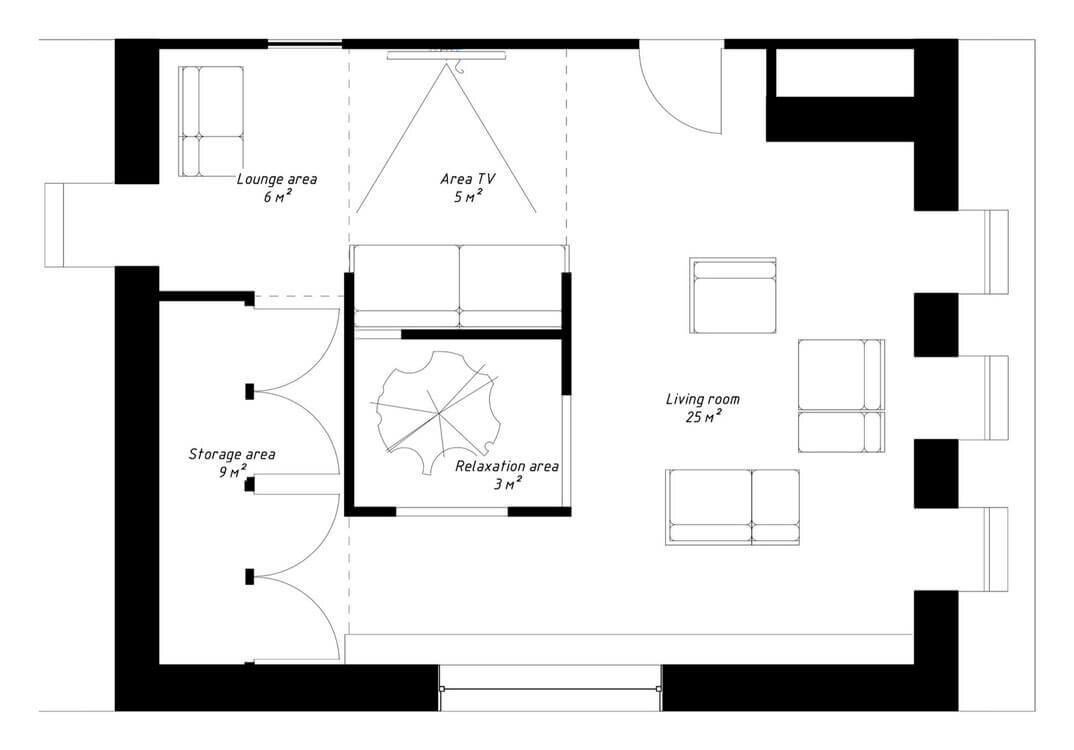 From Ruetemple: "Under the cube there are withdrawable soft modules, and inside the cube there is a live tree that is illuminated from the above roof window. This is a place for solitude, meditation and relaxation. Thus, with the help of withdrawable modules, you can create different zones for conversations, board games, and the one who needs to retire can go and have a rest under the tree."
For more apartments check out this apartment from Porto Alegre in Brazil that gets a contemporary redesign. Or, this Taipei property that gets an industrial makeover by ST Studio. See all apartments.