Designed by Johnsen Schmaling Architects, this contemporary cabin can be found among the woods of St. Germain in Wisconsin. It's been built as a weekend retreat for a family and is set in Northwoods, not far from Lake Bluff.
The project was completed in 2015 and encompasses a total area of 900-square-feet (84-square-meters), spread over 5 distinct sections that make up the cabin as a whole.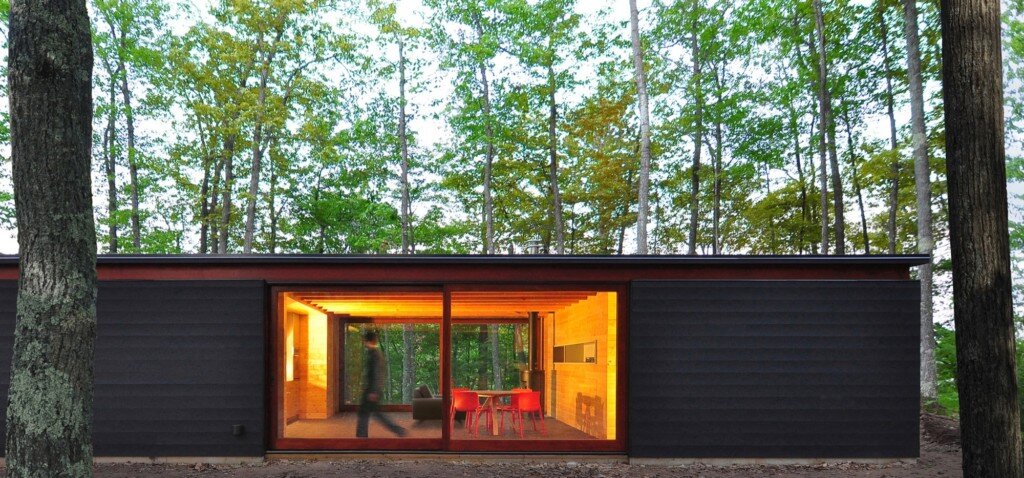 Wisconsin is well-known for its cabin architecture and this project attempts to add to its legacy. Here, they've gone down the route of a contemporary low-profile design that's sympathetic to its surroundings. Its simple understated form has lead Johnsen Schmaling Architects to dub the project Linear Cabin.
Emphasis is placed on detailing and quality materials. The dark wood cladding of the exterior is contrasted by the much lighter wood finishes found on the inside. The walls and ceilings are lined with wood, and in some areas, like the living room, the timber joists and OSB sheathing are exposed – there's an element of "back to basics" here.
The cabin is divvied up into 5 sections that are approximately equal in size. The far right section contains the home's bedrooms. Following on from this is the living room/dining area which backs onto a galley kitchen. A wood-burning stove is set along the dividing wall of the living room and bedrooms.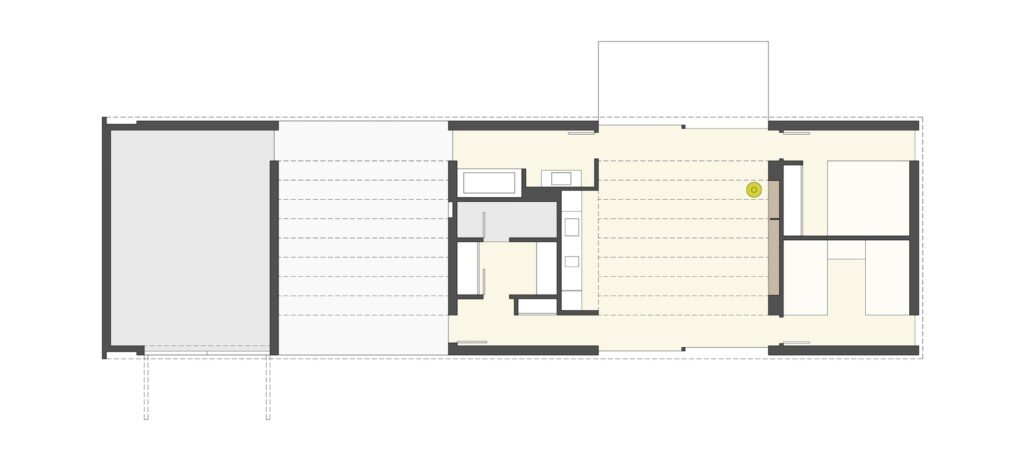 The next section contains the entrance and a utility/bathroom. The last two segments of the cabin are dedicated to a sheltered porch and a semi-enclosed room with a set of large patio doors.
From the architects: "The cabin's discreet material palette is based on regionally sourced materials, including a variety of timber products harvested in Wisconsin's vast northern forests. The opaque boxes are clad with blackened pine planks, their somber darkness echoing the weathered monochrome of traditional Wisconsin cabins."
For more cabins check out Summerhouse T, a 431-square-foot cabin set among the Stockholm Archipelago. Or, Simon Steffensen's tiny cabin that embraces Scandnavian design. See all cabins.
Via ArchDaily
Photos: Johnsen Schmaling