This amazing survival retreat is set amongst the snow-capped peaks of the Alps. Called "New Refuge Gervasutti", the "sky high" retreat has been designed by the Italian firm LEAPfactory, a company that specializes in the construction of the modular buildings for extreme environments.
The modular design allowed LEAPfactory to prefabricate sections of the structure, which were then helicoptered to the site and assembled in a matter of hours. The modular approach allows LEAPfactory to customize each retreat specifically to the needs of the client and the location.
The New Refuge Gervasutti cantilevers over the edge of the mountainside. The cantilevered end of the pod features an all glass facade that creates an uninterrupted view of the surroundings. The interior contains a simple open plan living/dining room, kitchen, and a separate area that acts as the sleeping quarters.
The exterior of the tubular unit has been painted with a bright red to help climbers identify it from a distance and an integrated computer system that provides detailed information about the local weather conditions and climate. The solar panels mounted on the structures roof cater for the electrical needs of the occupants and produce 2.5 Kwh of energy.
The alpine retreat contains just 30 square meters (323 square feet) and is able to accommodate up to 10 people. The total cost of the build and installation amounted to 250,000 Euros ($338,250).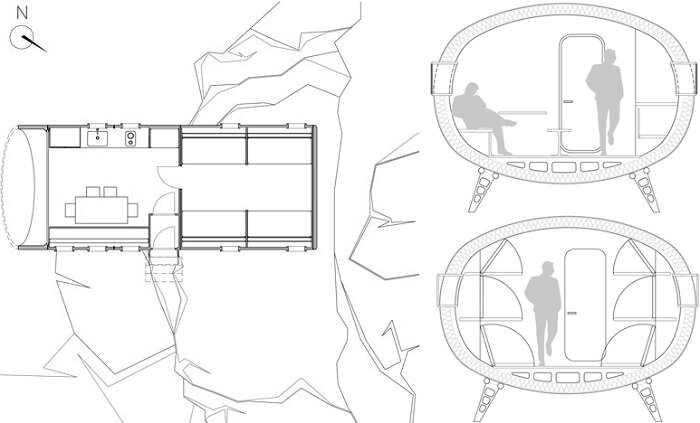 According to Dezeen, LEAPfactory are currently tackling one of the greatest problems faced by mountaineers and protected environments – developing a disposal safe for human waste and other refuse.
For more retreats check out the Salt Creek Rural Retreat by ARKit, or this modern studio retreat in New York by Workshop/adp. See all retreats.
Via Dezeen
Photos: Gughi Fassino