This small building, called Atelier Kitchen Haidacher, is just 40 square meters (or 430 square feet) and has been restored by the Italian architecture studio, Lukas Mayr Architekt. Lukas Mayr was responsible for overseeing the conversion of the building from a small cabin to a showroom. Although considering all its missing is a bed, it could easily be used as a small house.
The building was previously used as a Hüttl, which is a small guest house or cabin (please correct me if I'm wrong). The client specifically asked for the original structure to be incorporated into the new one, and so, the existing roof was removed and the walls were extended upwards to create a much more generous internal ceiling height.
Unlike some builds which try to hide or cover-up modifications, the new wall line in the Hüttl is clearly visible, but it complements the existing wall, almost acting as a "cap". The existing openings were incorporated into the redesign in a "very organic way".
Usually in a small space its best to paint the surfaces a light colour to reflect as much light as possible. However the ceiling and floor of Atelier Kitchen Haidacher was burnished using a black epoxy resin in an attempt to absorb light. The overall effect is "an atmosphere that becomes almost sacred in this context, with the focus strongly trained on the essential elements."
According to the architect, the main focus of the project was about meeting the needs and requirements of the client, and creating an atmospheric space in which they could carry out their work. As such, the main focus of the interior is the huge kitchen island. The island is made from a cherry tree that's native to the area, and it's light tones against the black backdrop immediately draw your eyes to it.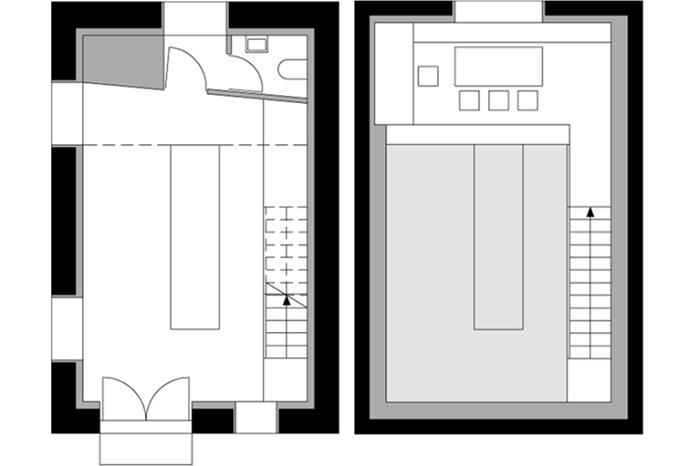 For more spaces check out this amazing small garden library that was built with a budget of just 4,500 Euros. Or this elegant treehouse-like retreat from Japan by the architecture firm Koji Kakiuchi/Yaomitsu. See all spaces.
Via ArchDaily
Photos: Marion Lafogler