Dr. Jeff Wilson made his name after living out of a converted dumpster for a year. Now, the Texas-based environmental science professor has launched a prefab housing concept.
The project, dubbed Kasita, aims to resolve the difficulties people face when attempting to get on the housing market. Its inception also reflects society's changing attitude towards home ownership.
Described as "housing-as-a-service", Kasita is composed of a prefab module which can be transported by truck from one location to another. Different sites would be setup to act as hubs – a place where Kasita's can be "plugged in" to a vertical rack of homes. Its kind of like a vertical trailer park.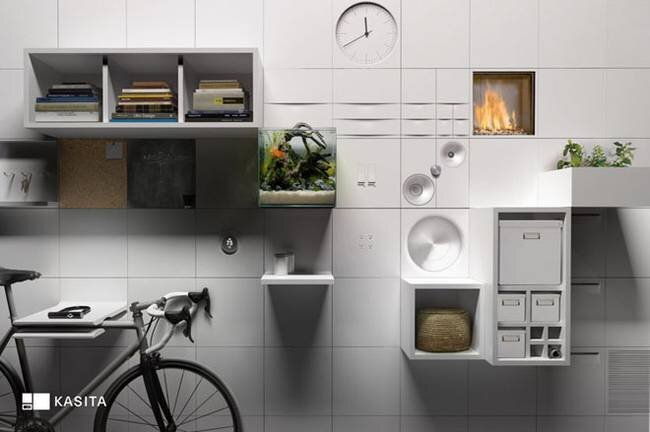 The Kasita contains a 208 square foot (19.3 square meters) living space with an interior kitted out with space-saving furniture and storage units. There's a sofa-bed that can be rolled under a platform, as well as flexible storage wall that allows you to swap out tiles in place of shelves, storage boxes, or hanging pins.
Being a home of the future, it's also equipped with several smart technologies that will allow the occupant to control a host of features from their smartphone. Technologies slated for use include a Nest thermostat, wifi-enabled lighting and dichromic glass in the solarium to control light levels.
The concept opens up doors for new ways of living. You could own a Kasita module itself, or perhaps a rack in the steel tower which could be rented out when it's not in use. A reoccurring theme among these projects is the ability to live in different places – you find it in tiny houses, the recent co-living buildings and now with Kasita.
If you're interested, you can visit the prototype in Austin, Texas. The team behind the project are also intending to create a 320 square foot version, along with a wheelchair-accessible model. The aim is to create the homes in large quantities on a production line in order to reduce the cost. The pricing has yet to be revealed.
For more tiny houses check out The Basecamp, a tiny house built for and by a pair of mountaineers. Or, Alpha, a luxurious tiny house on wheels by New Frontier Tiny Homes. See all tiny houses.
Via TreeHugger
Photos: Kasita, Video: Fair Companies