Japanese architecture studio A.un Architects designed this small house for a family with 3 children. Called Kamo House, its set in the Gifu prefecture of Japan, with construction being completed in 2014. The architects were primarily tasked with creating a bright and spacious home, despite its limited footprint.
The house and its surrounding garden (which has yet to be planted in the pictures) occupy a site that's just 431 square feet (40 square meters) in size. The garden space is a bit of a rarity among the Japanese houses I've featured; usually designers attempt to introduce some form of nature into the houses when there isn't any, whereas here it wasn't necessary.
The garden was clearly a priority for the clients as they asked the architects to make the home as small as possible so as to capitalize on the garden. The exterior looks to be clad wholly in seam metal sheeting, from the walls, to the balcony, and the roof.
The interior features a mix of white-painted drywall and wood clad walls. The wood helps provide a warm atmosphere, with the white being used to prevent it from becoming overbearing. The first floor contains an open plan living room, dining area (in the form of a breakfast bar) and kitchen. Unlike a lot of small Japanese homes, priority seems to have been given to the kitchen, with the living room being allocated whatever space was left.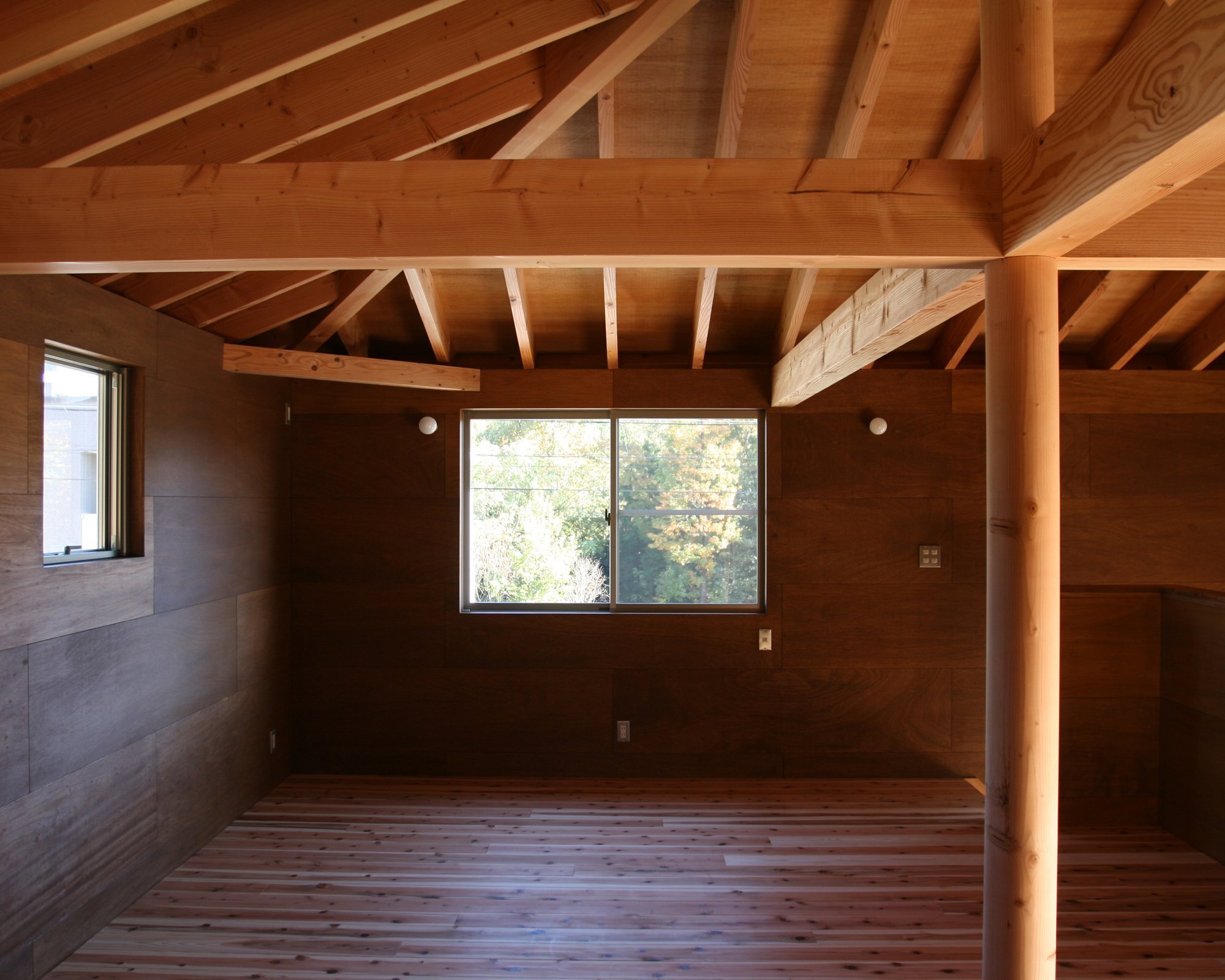 The main bathroom/washroom can also be found on the first floor. Between the first and second floors there's a small landing that contains access to the wrap-around balcony. The upper level is dedicated to the bedrooms and has a second toilet for convenience.
The upper floor is finished almost entirely in wood which has the effect of creating a much darker space. It also reveals the rafters, beams and columns supporting the roof. Opening up the ceiling allows the rooms to maintain a sense of spaciousness while also providing some character.
For more Japanese houses check out Nord, a minimalist home inspired by religious architecture. Or, this simple family home that features cathedral ceilings. See all Japanese houses.