This contemporary timber clad cabin was designed and built for a family from Helsinki. The cabin, which is intended to be used as a summer retreat, can be found on the Finnish island of Lepäinen. The building was designed by K2S Architects and construction was completed back in 2009.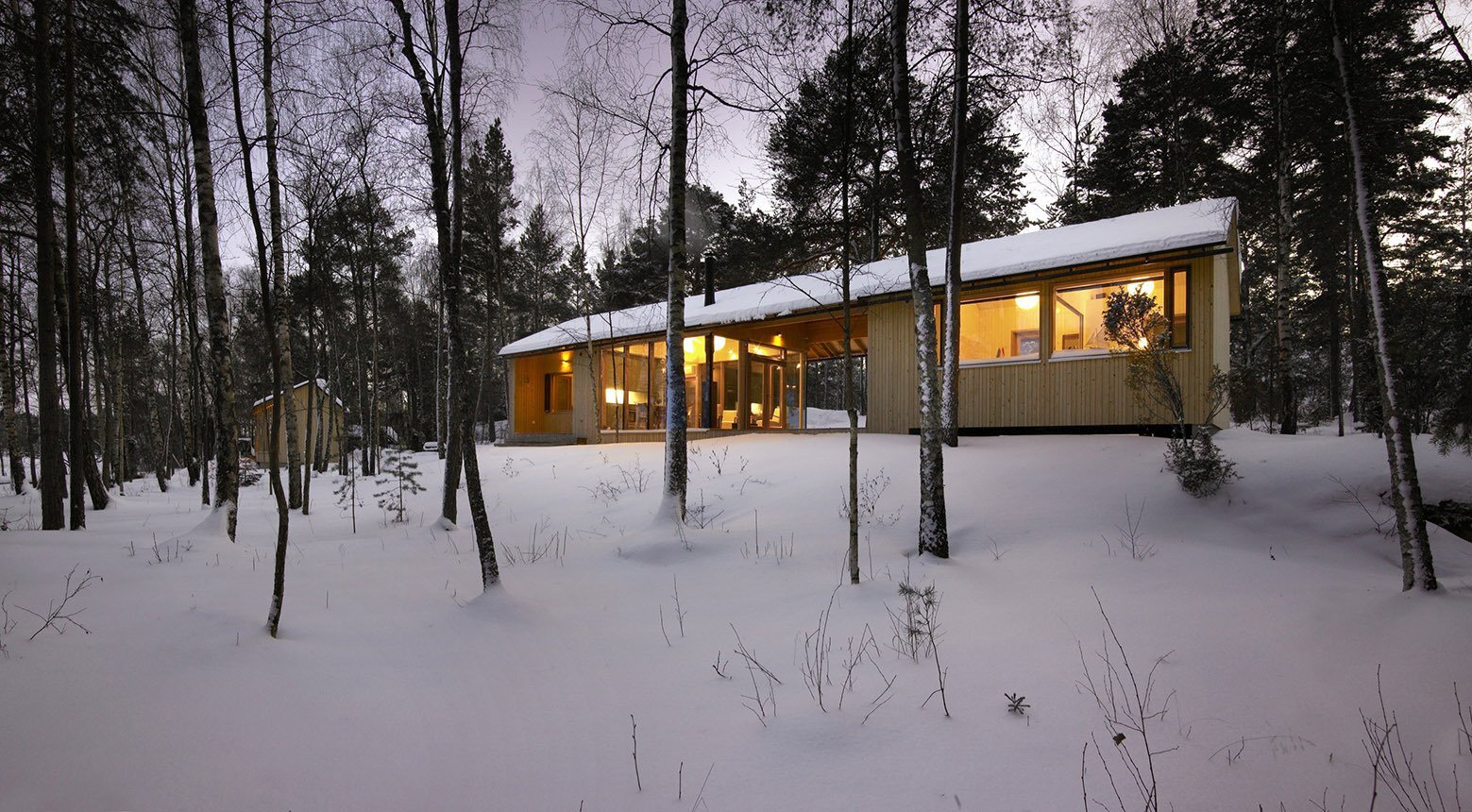 The plot is set along the eastern shore of the island, and features views of the surrounding sea and landscape. The cabin is set among a scattering of pine trees and backs onto a forest. The exterior is finished with light wood, and is, according to the architects, "consciously simple, referring to the Finnish building tradition."
The cabin is long and narrow in form, and contains 97 square meters (1,044 square feet) of usable floor space. Large glass windows can be found through the different rooms, brightening the interior and providing views of the surrounding forest, and sea.
Given the buildings simple form, the floor plan and division of space is also relatively straightforward. The living spaces are effectively cut into two areas, separated by a sheltered porch that continues out and around the front face of the cabin.
The master bedroom is found on the south end of the building (behind the kitchen) and the smaller children's bedrooms are located at the opposite end of the cabin. The kitchen is the only other enclosed space, and it presumably serves as a dining area, as well as a living room with it's large wood-burner.
During the summer the sheltered porch area is intended to act as a living room. The interior finish is simple and features a concrete or wood floor, and walls clad with white-painted wood. There's no sign of a bathroom in the floor plan, but the architects did mention a small service building which may well contain it.
For more cabins check out Mason St. Peters reclaimed timber cabin built with the help of friends. Or, this tiny house that's set on a lake in The Netherlands. See all cabins.
Via ArchDaily
Photos: Marko Huttunen