This beautifully crafted small house has been built by Kayak instructor Brian Schulz. Brian based the design and overall aesthetic of his house on Japanese architecture. Typically the fine woodwork of traditional Japanese buildings costs a pretty penny. This is due to the level of craftsmanship involved, but Brian has been able to replicate different elements of Japanese architecture, and on a budget too.
The entire cabin is made from locally sourced salvaged wood, which helped to reduce the overall cost – approximately $11,000. Schulz also carried out all of the building work, allowing him to save on costs associated with labour. The woodland cottage can be found immersed in the forests of Nehalem, Oregon. It measures just 14′ by 16′, giving it an approximate footprint of 224 square feet.
Taking after traditional Japanese architecture, Schulz has gone for a simple interior, leaving the structural joints on show, incorporating low-level wooden furniture and paper lanterns. The exterior features vertical cladding made with boards of cedar siding.
The walls are filled with cotton insulation, and the interior surfaces have been clad with roughsawn spruce lath, providing a surface for the "real plaster", which was applied in two coatings. The first coat was a mix of sand, clay and straw that could then be finished with an earth plaster and painted with milk paint.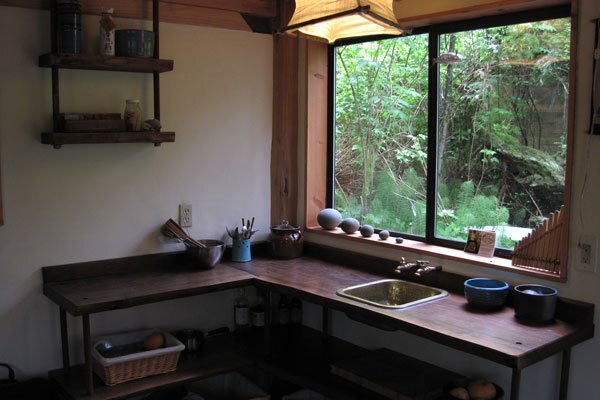 From Schulz: "What I love about this structure is that it is architecturally honest, meaning that where a lag bolt or a deck screw or a 16 penny nail was used, no attempt to was made to conceal them… This ethic reflects my general dislike for the veneers of all sorts that seek to mimic things that they are not. Moving outwards, the structure compliments, rather than dominates the landscape."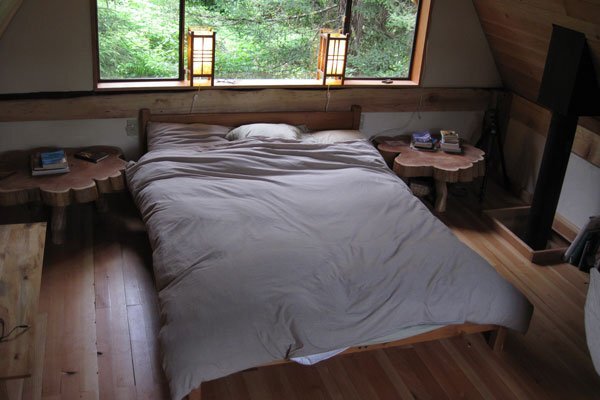 Schulz's resourcefulness isn't just limited to sourcing timber, it also extends to some of the interior décor: "The deer skull is from a deer I shot and ate last year."
It took Schulz about a year and a half to complete the construction of his Japanese-inspired cabin, although he admits it will be an on-going project with which he will be constantly tinkering and adjusting. Perhaps the best part of this project is that you can actually stay in the cabin – it's available for rent through AirBnB.
For more cabins check out this small cabin built on the peak of the Julian Alps. Or the Methow Cabin by Eggleston Farkas Architects. See all cabins.
Via Inhabitat
Photos: Brian Schulz