This affordable apartment makeover has been carried out by Russian architecture firm INT2architecture. The project has been named Interior AK, and is set in Saint Petersburg, Russia. Much of the finish and furniture has been created from used pieces, or cobbled together from various items.
The apartment contains a total of 667 square feet (62 square meters) that's divided up between the main living area, a bedroom, a walk-in closet, a bathroom, and a balcony. The finish has a minimalist feel thanks to it's bare bones approach (like the exposed concrete ceiling and the use of materials like concrete blockwork).
There's a small entrance hallway which provides access to the main living area, and the walk-in closet. The closet is lit with the aid of the ventilation blocks, found at the upper end of the partition wall. The open plan living area contains a kitchen in the corner followed by a dining area, and a living room that's arranged to face the blockwork partition wall.
The bedroom is a rather simple affair, and thanks to the existing structural walls, is generously proportioned. The bedside tables are created from steel heating stoves and have integrated lamps made from copper pipe and other fittings.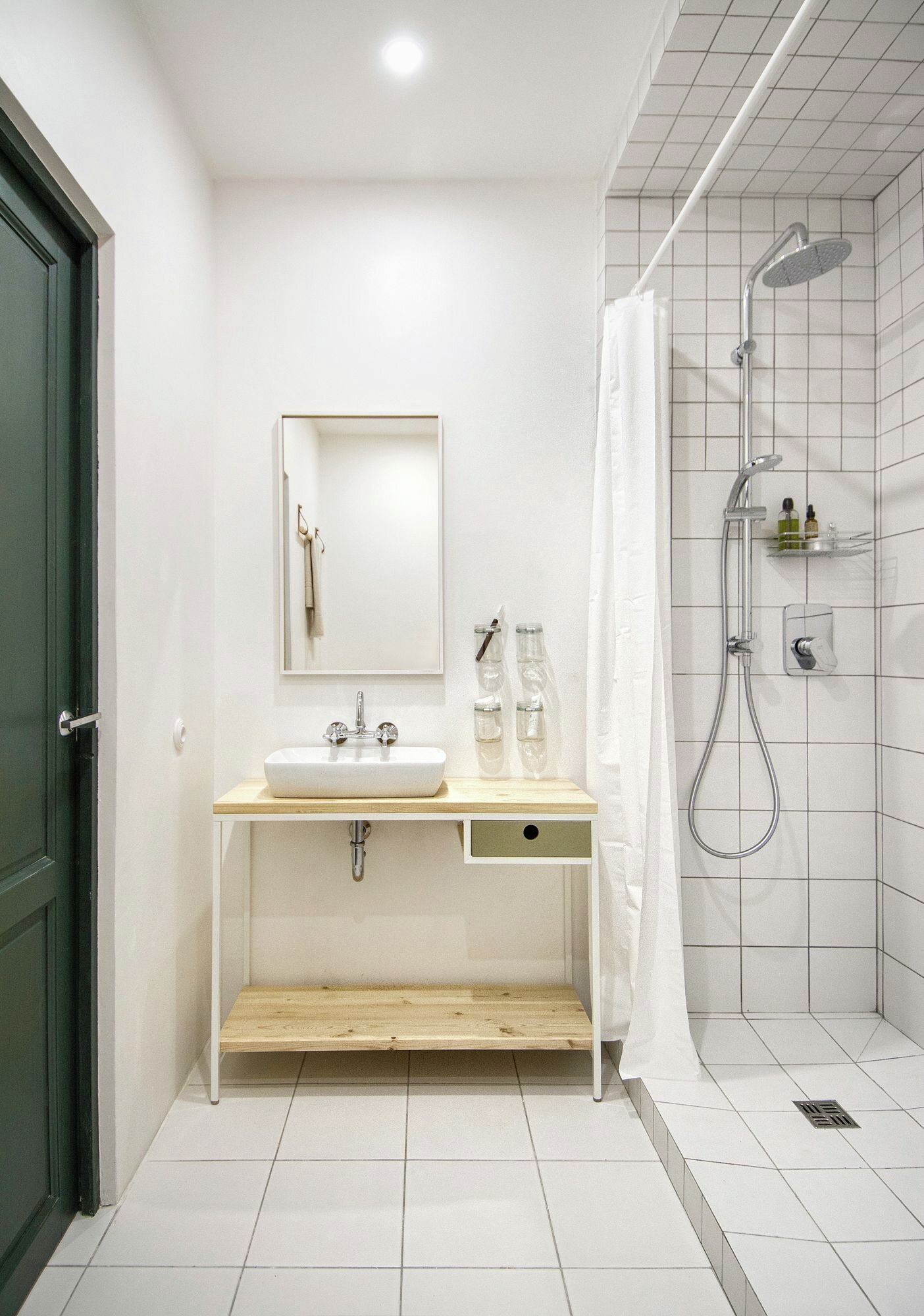 The bathroom is all-white bar the wood table top of the cabinet, and contains a walk-in shower, toilet and sink. Throughout the home there are various pieces of custom-made furniture, be it created from existing items (like the dining table which is composed of pine furniture board and balusters for legs), or just tailored from plywood.
The use of salvaged materials and upcycling of different odds and ends helps give the Interior AK apartment an unusual atmosphere; it's modern, fresh and funky/retro-chic. The only aspect of the redesign which the architects haven't really touched on is the balcony – they've decided to let the future inhabitants put that to use as they please (as a breakfast area, or bike storage, for example).
For more small apartments check out Attic for an Architect, an industrial-chic tiny abode also from Russia. Or, Ellii Architects multi-functional room that makes use of timber pull-outs and gizmo's. See all apartments.
Via Via ArchDaily
Photos: INT2architecture