Located in what was essentially a small side road, this house from Beijing manages to cater for a family of 6. The house is sandwiched between a two-storey building and a hutong wall.
A Beijing-based firm, by the name of B.L.U.E Architecture, was responsible for developing a feasible living solution on what looks to be one of the most awkward sites I've seen.
At 463-square-feet (43-square-meters) there isn't much space to spare, especially for a family of 6. That, combined with the awkward L-shape, made for a difficult project. But it would seem the designers have risen to the challenge – the finished house features a number of space-saving solutions and manages to maintain a sense of space and privacy between each room in the open plan home.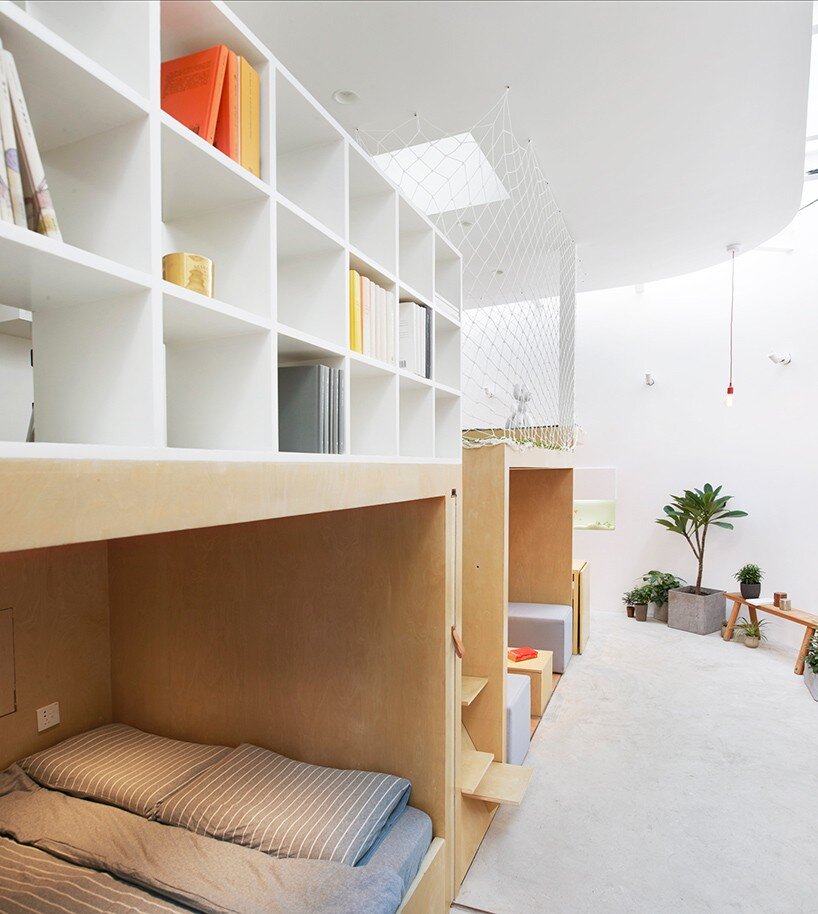 To get maximum utility out of the space, a number of sliding partitions and movable components have been employed. It seems each living area is able to play double duty, whether it's simply a case of expanding the size of the room, revealing something entirely new, or changing its function.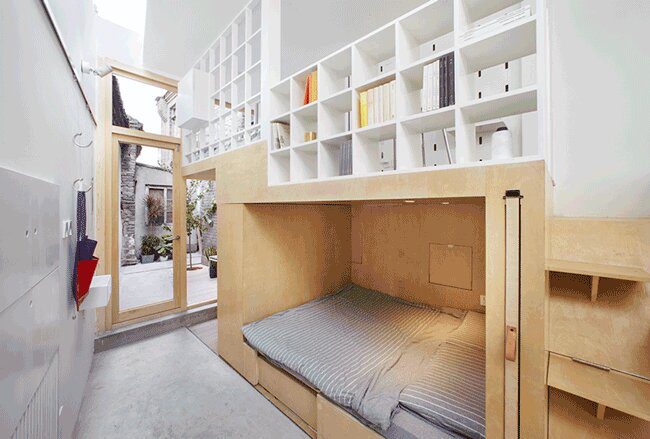 Rooms are set out sequentially and allocated to the inside face of the building. This permitted the architects to introduce a corridor that runs the length of the home. The corridor is used as circulation to connect the various rooms, but it also acts as an overflow, allowing the rooms to extend out into it, like in the living room which required more depth.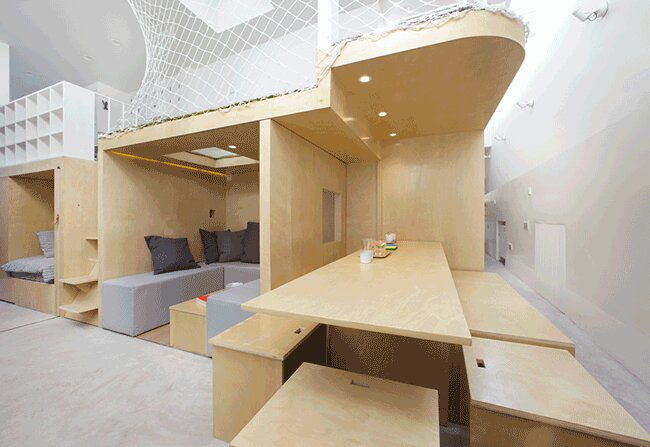 A lack of space wasn't the only challenge the architects faced. Being flanked on both sides, introducing enough natural light was also an issue. The solution in this case was relatively obvious – skylights. The home contains a number of skylights, particularly over the main corridor, which has windows following its meandering course through the home.
There aren't many outward views from the home, spare for those available from the entrance and end of the building. The entire entrance wall acts like a giant door and can be swung outwards, promoting air flow and bridging the barrier between interior and exterior spaces.
For more small houses, check out the Fincube, a high-tech, low-footprint tiny home. Or, the Soleta Zero One, a tiny sustainable home with a host of tech embedded into it. See all small houses.
Via DesignBoom
Photos: Ruijing Photo, B.L.U.E. Architecture Studio