Set in Kashiba, Japan, this small family home has been designed by Horibe Naoko Architect Office. The sleek black box exterior practically screams minimalist, and it's this simplicity, both inside and out, that appeals most to me. Less is more, no?
Located in a quiet residential district, the house has considerably more space surrounding it than some of its Tokyo-based counterparts. Split over two floors, the owners have 86 square meters (926 square feet) of living space.
With a limited site area, the clients wanted an exterior courtyard that would serve as a place of relaxation and somewhere to gaze out upon. The courtyard is visible from both the kitchen/dining area and the bathroom, and contains a single tree that acts as a visual break from the otherwise man-made environment.
There's a small second storey decking area that's also enclosed within the confines of the courtyard. As with most Japanese houses built in dense residential districts, privacy is a high priority, and as such, the courtyard is almost completely sealed off from public view, bar a single rectangular opening.
The first floor of the home contains the more private living areas. You'll find the main bedroom, a large walk-through closet with access to the courtyard, and a separate toilet, wash room and bathroom. The second floor contains the functional/mechanical aspects of the home, with an open plan kitchen, dining and living area. There's also a "free space" and of course the sheltered balcony.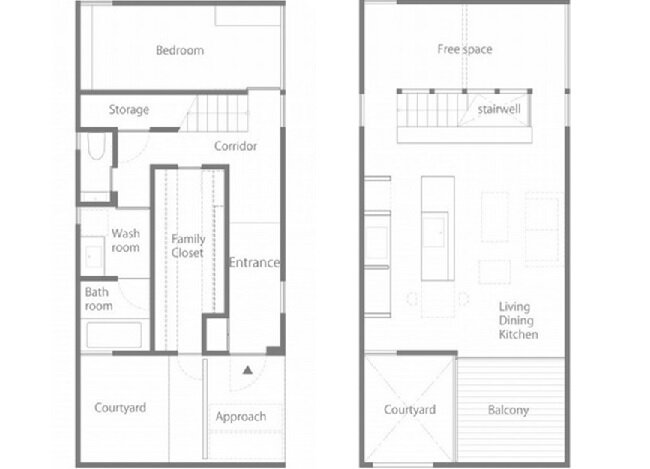 While the front façade of the building contains very little windows, the southward-facing face of the building features a number of windows to bring in natural light. Smaller rooms on the ground floor, like the toilet and wash room, feature smaller windows, facilitating a compromise between light and privacy.
For more Japanese houses check out this oddly-shaped house in Iizuka by Rhythmdesign that features a central living hub. Or this other family home that's designed for adaptability so it can suit the needs of the owners over time. See more Japanese houses.
Via Freshome
Photos: Horibe Naoko Architect Office