This project, dubbed House in an Orchard, resembles something out of a sci-fi movie. It's set on a sloping plot of land surrounded by trees in Prague, Czech Republic.
The unusual home was built for a family and, according to the architects, it attempts to integrate itself with its surroundings through its small size and character.
A local Czech firm by the name of ŠÉPKA ARCHITEKTI were responsible for the design of the home. All told, it contains three floors with a combined total footprint of 861-square-feet (80-square-meters). The site and its garden influenced the shape and layout of the home.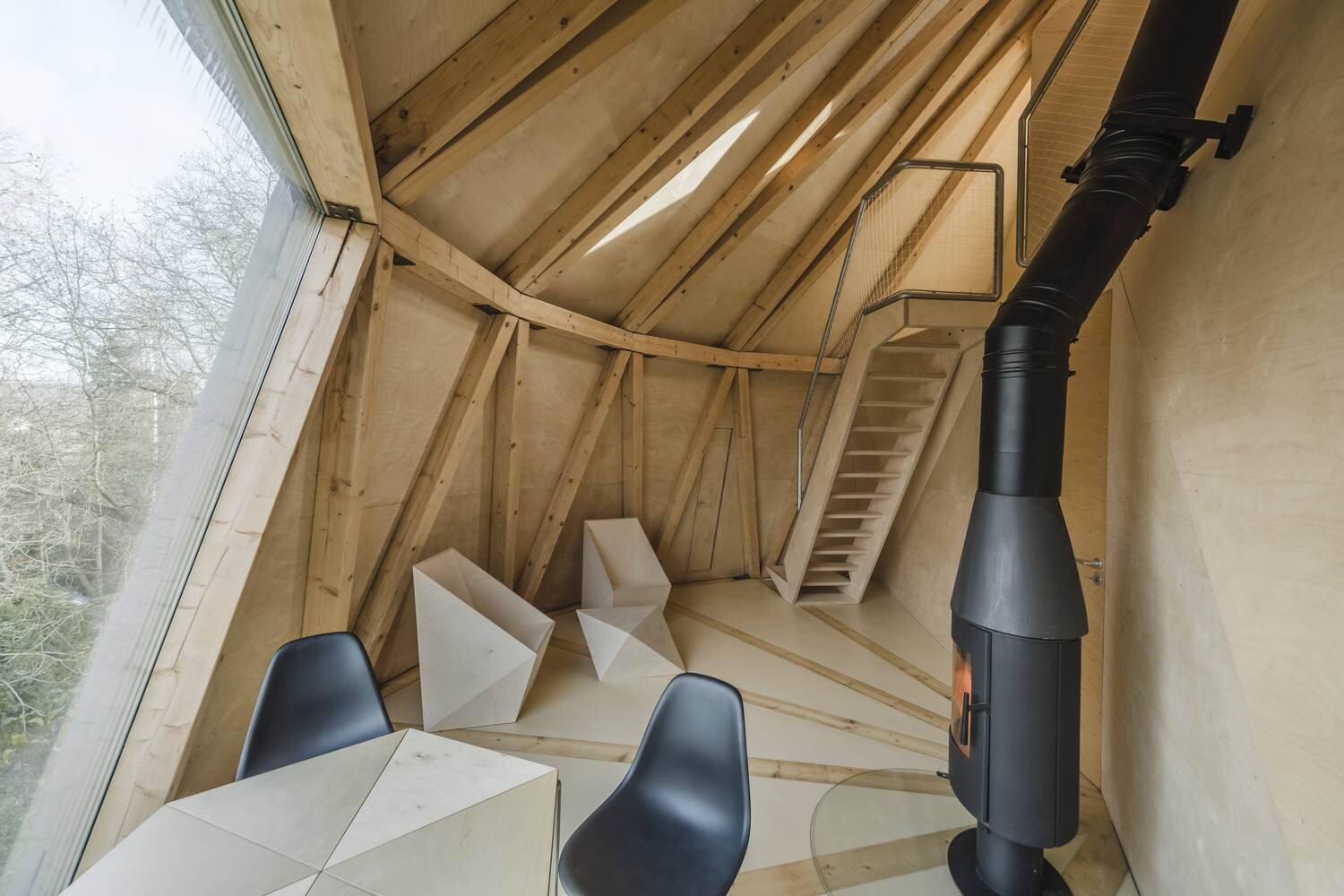 Despite its outward appearance, the interior of the house is actually finished in timber, not concrete. From the inside you can see both the plywood sheathing and the timber columns and beams that make up the oddly-shaped structure. The use of wood extends to the furniture, with geometric tables and chairs being constructed from plywood.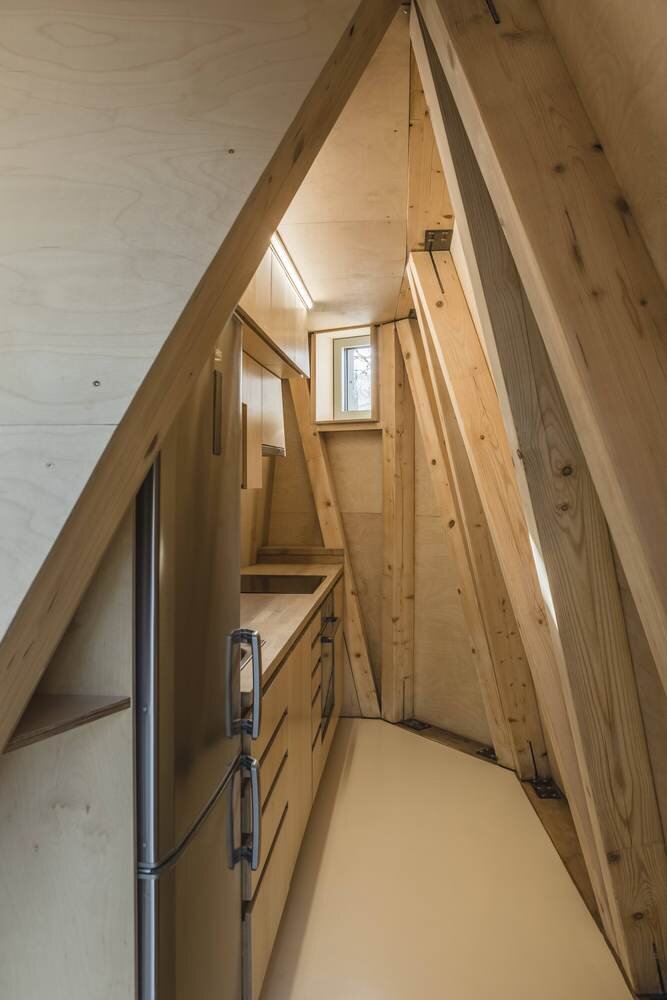 In places, House in an Orchard features some large picture and operable windows. The windows are aimed at not only providing adequate light levels, but also at capturing the views of the immediate landscape: "The view from the living room is pointed to the valley towards the Brook Rokytka, the other rooms are oriented to the east and south."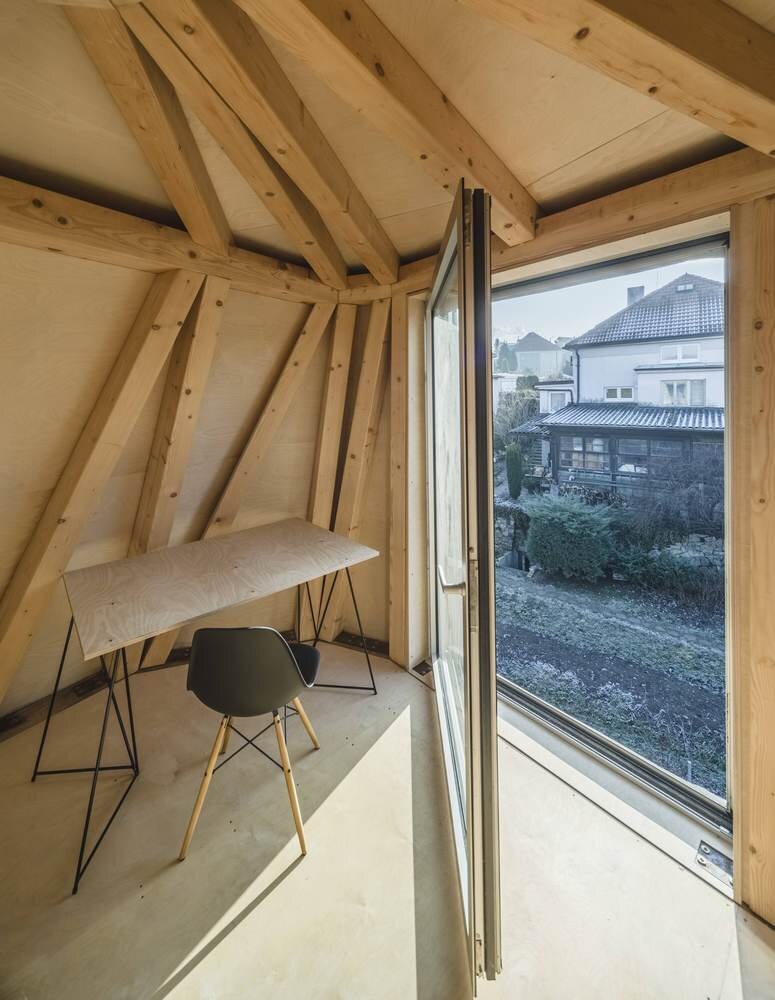 The first floor of the house contains an open plan living room/dining room that meanders round to a kitchen. Other rooms, including a bedroom and a bathroom with a separate toilet, have been partitioned off from the main space. A wood-burner, found approximately at the center of the house, keeps the entire home warm.
The next floor up is almost entirely dedicated to a second bedroom, complete with it's own bathroom. Another flight of steps takes you up to the third and final floor – a private study. Access to the house is provided for through a steel footbridge.
From the architects: "The wooden construction was completely prepared as a whole in a computer. Before the implementation, the beams were precisely cut on a 3D milling machine and the construction was merely assembled like a construction set on site."
For more small houses check out SH House by Paulo Martins, which sees the transformation of a rustic cottage to a contemporary home. Or, living small in Seattle, a ravenna remodel. See all small houses.
Via ArchDaily
Photos: Tomáš Malý