This modern Japanese house has been designed by one of my favourite architecture studios, Suppose Design Office. The house goes beyond the boundary wall for a reservoir and follows the slope of the bank. Set in the city of Fukuoka, it allows the occupants to get as close to the water as possible.
The aim with this project was to allow the clients to feel as close to nature as possible, despite being located in a bustling city. To do so, they placed the house equally as far from the road as it is from the reservoir, and provided views focused solely on the water.
From the architects: "We would like to make a place that enables you to see the scenery of the waterside, relaxing with the multiple experiences in our life. The site makes us feel the richness and comfortableness of nature, trees and flowers are grown well, and various creatures peek out from the shore."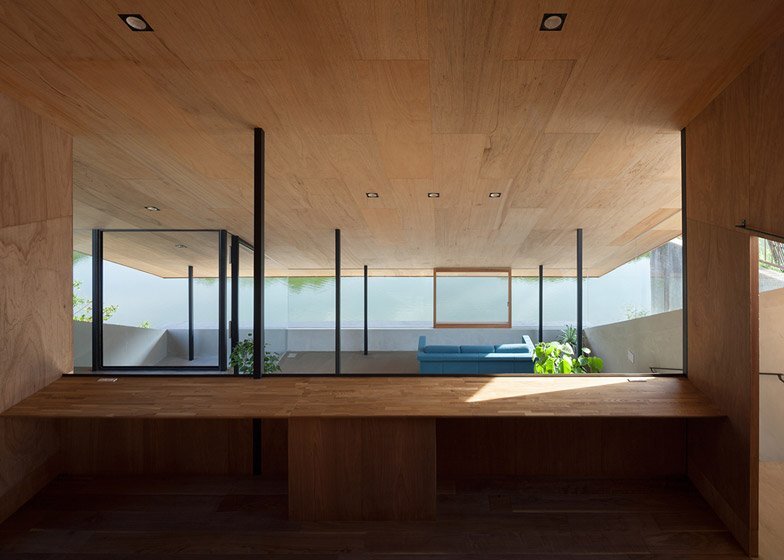 Suppose Design Studio have dubbed it the "House in Hibaru". It features three levels which step down gradually from one another before reaching the living room with the water views. From the outside the building looks rather diminutive and simple, with its sloping roof acting as a focal point for the eyes.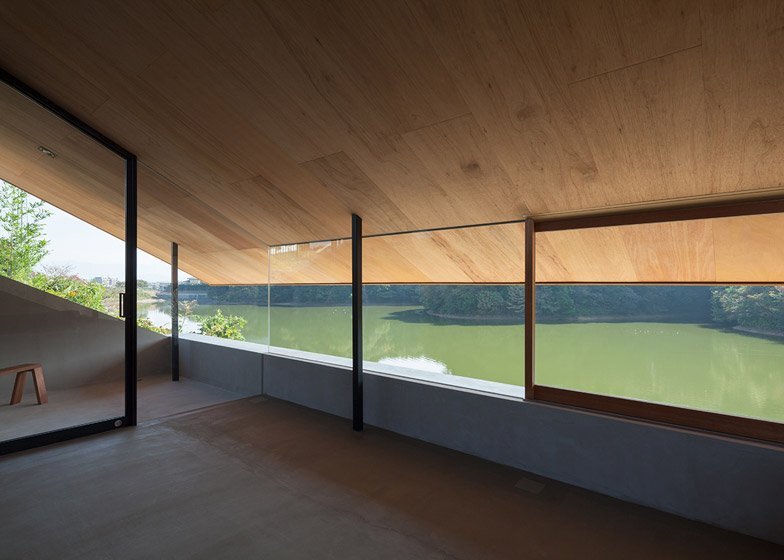 The inside of House in Hibaru is finished in a mix of wood and concrete: wood for the partitions and roof ceiling, and concrete for the perimeter walls and floor. The water-facing wall and its side-walls have been glazed along their length, creating a panoramic view of the reservoir.
The living/dining room features the best views of the water. The kitchen is also tucked away in the corner of the lowest level. The next floor up features the kid's room and a bedroom. The final floor contains a separate toilet, washroom and bathroom, along with a stock room for extra storage space. Thanks to its open layout there are views of the reservoir on every level.
For more Japanese houses check out this contemporary house/workplace by SNARK. Or, the OH! House, a functional family home in Niigata. See all Japanese houses.
Via Dezeen
Photos: Toshiyuki Yano