Standing proud of the snow covered hills of Quebec, Canada, this bright white gabled house acts as a private chalet for its owners. The entire structure is raised off the ground level, creating a semi-sheltered space below.
The owners of the property contacted the architecture studio, Delordinaire, to make their dream retreat a reality. Delordinaire have subsequently dubbed the project "High House".
The structure of the home is composed mainly of steel and timber. A thin, visibly lightweight, steel frame supports the main body of the home with a few columns and cross-bracing elements. A simple steel staircase, set under the base of the house, provides access to the minimalist retreat.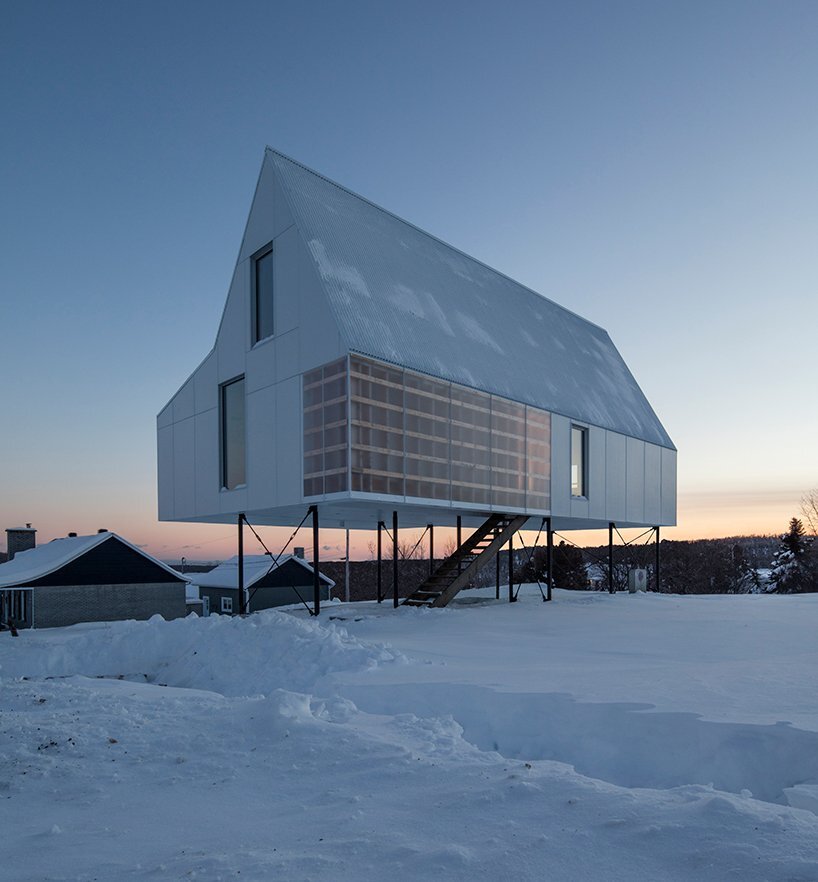 High House features a number of large picture windows that allow the inhabitants to soak up the views, regardless of which room they're in. There's also an open-air section of the home over the staircase. It's been lined with translucent sheeting to ensure people always have adequate levels of light when accessing the home.
Unfortunately there doesn't appear to be any internal pictures of the home, but the architects have provided a floor plan. The inside of the home is split up into four areas. The largest being the living room, which takes advantage of the large picture window to the front, followed by a much more compact kitchen, bathroom, and two bedrooms.
For more small houses check out this contemporary retreat from Ogulin in Croatia by Pro S. Or, Landhouse, a small home that's nestled into the hills of Iceland. See all small houses.
Via DesignBoom
Photos: Olivier Blouin