An ideal retreat for those that love to read, this small black cabin can be found among the woods up upstate New York. It serves as a guest house and a library for the owner.
The US-based firm Studio Padron were responsible for the design of the cabin. It's been dubbed Hemmelig Rom by the architects and translates as "secret room" in Norwegian.
Much of the cabins construction makes use of salvaged or re-purposed materials: "The strategy for the cottage centered on preserving and transforming a material that would otherwise have become construction waste." This approach meant a long time was spent planning, accumulating and acclimatising materials.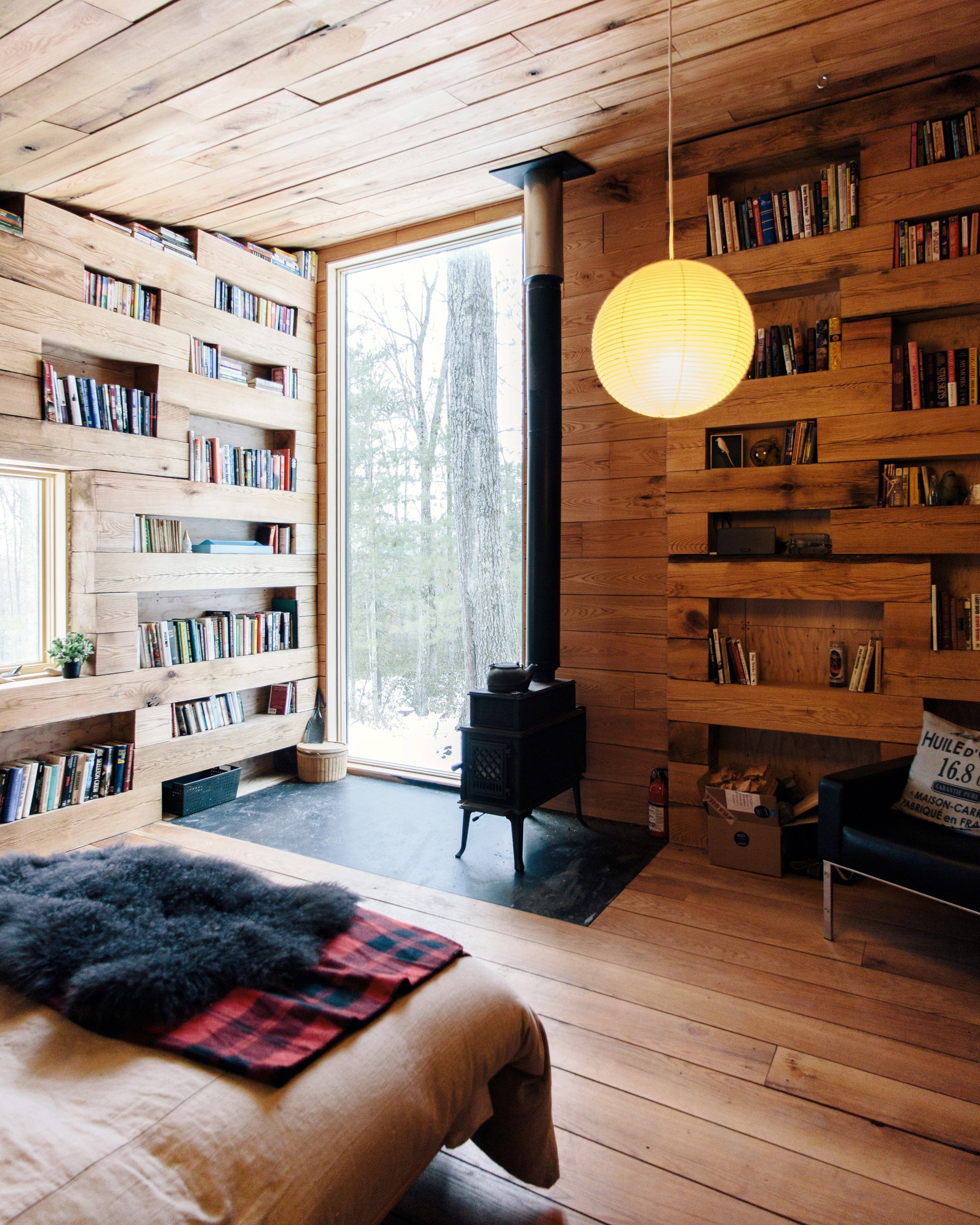 Mature oak trees that were felled during the construction of the main home were used to create the retreat. The wood was cut into a series of logs and allowed to dry-out for several years. The walls were then built by stacking the logs. It was this stacking technique that allowed them to incorporate the bookshelves into the very structure of the cabin.
From the architects: "A logic of stacking was developed that created a varied lining of shelving on all faces of the room." The shelves can be found on all four walls, bar the sections that are reserved for windows, including a large floor-to-ceiling window that appears like a large doorway to the exterior.
Given its size and the insulating properties of the wood walls, only a small wood-burning stove is required to keep the cabin cozy during the cold winter months. It's been designed as a single room space containing only a bed, an armchair, a small desk and, of course, the books.
The warm golden-brown interior turns to a deep black on the outside; the exterior is clad with black vertical boards: "The monolithic black exterior strikes a strong figure in the landscape, creating an enigmatic presence in the winter terrain."
For more cabins and retreats check out this house by Alex Schweder and Ward Shelley that can tilt and rotate. Or, Tree House, a simple garage-cum-studio by Nick Waldman. See all spaces.
Via Dezeen
Photos: Jason Koxvold