This temporary sleeping unit has been designed by the Portuguese architect Nuno Pimenta. Called "The Hedonist Hotel", the dwelling seeks to reinterpret "local dichotomy into a transformative physical volume", and has been selected to serve as one of Hotel Shabbyshabby's rooms for Theater der Welt.
Theater der Welt is a festival in Mannheim that involves 20 temporary units being built in public spaces. There are certain restrictions placed on each of the designs; they must be constructed from reused, recycled or recyclable materials, with a budget of only $250.
The Hedonist Hotel is situated at the confluence of two rivers, and is built largely from pallets, steel supports and polycarbonate sheeting. At night the unit is illuminated with red artificial lighting that seeps through the white privacy curtains, and sheeting.
From the architect: "The hedonist adapts itself to the user, his interpretation of happiness or simply to a transitory state of mind, whether it means waking up with a beautiful panoramic view of a natural landscape or having a hot one night stand. It offers the pleasure of being alone or the joy of showing off, the delight of a warmth bed or the relish of a joint venture."
On the inside the space is (during the day) brightly lit thanks to all the translucent sheeting. A single bed can be found to one end of the living space, set on a series of pallets. A curtain rail follows the perimeter of the room, providing privacy when needed.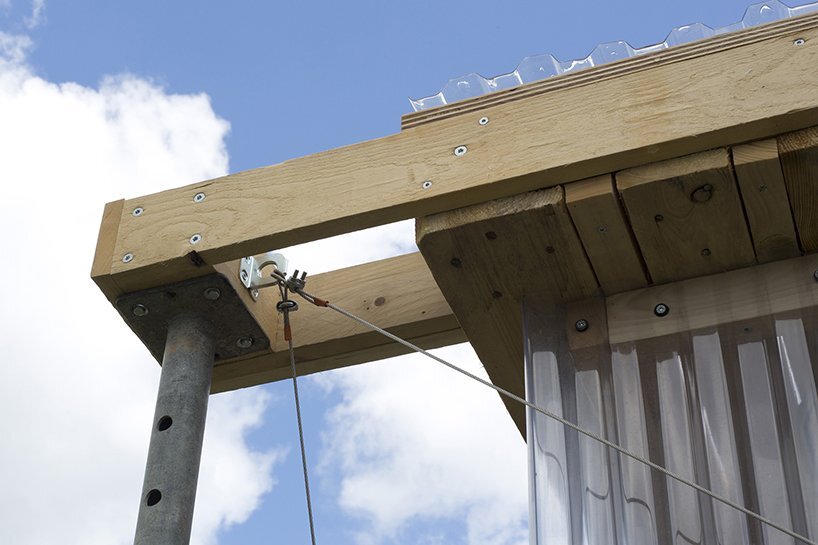 Symbolism and interpretations aside, it's a good example of how a simple dwelling can be constructed from reused, recycled and unusual materials on a tiny budget.
For more spaces check out the Taku Tanku tiny house that's made from water tanks. Or, these modern teepee-style cabins designed by Antony Gibbon. See all spaces.
Via DesignBoom
Photos: Miguel Tavares, Rui Vieira and Nuno Pimenta