This small guest house from Navidad, Chile has been designed by the Santiago-based firm, AATA Architects. The house has been built with of natural and locally sourced materials, and is topped off with a green roof. The architect's vernacular approach helps the structure to blend in not only with the wild landscape, but also the local buildings.
AATA were conscious of the building impact on the site and attempted to reduce the cabin's carbon footprint by introducing a number of energy efficient features. The site and building orientation were the first factors for them to consider, in order to take advantage of the suns path and solar energy.
The windows have been positioned not only to take advantage of the views, but also to allow for natural ventilation during the summer, and solar gain during the winter. Physically, the house has a footprint of just 280 square feet (26 square meters), and contains two levels, so less materials were used when compared against your average build.
The roof is partially insulated by a green roof. The wall insulation is composed of mud-coated straw bales, a traditional technique that, thermally, performs extremely well. The bales themselves are protected from the elements by transparent polycarbonate sheeting.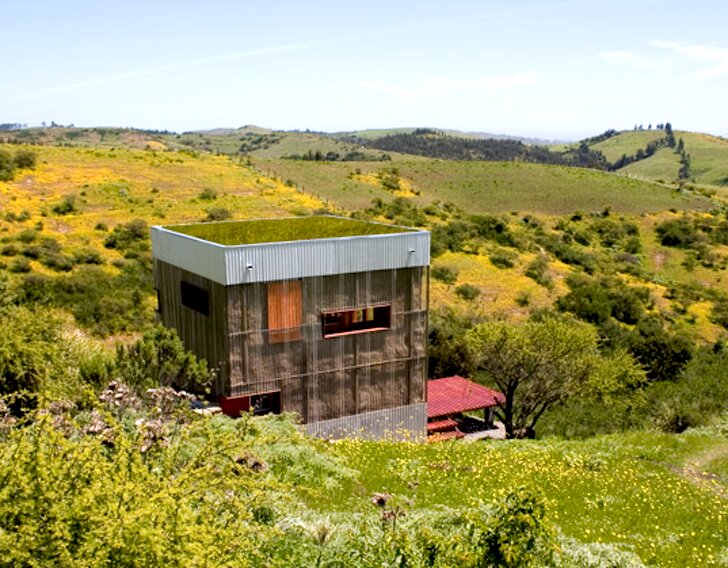 On the inside, the guest house looks like it's been finished with a white-painted render, with elements of dark wood creating some accents of colour. The ground floor serves as the main living area, with the upper floor acting as the sleeping space, accessible by a small wood ladder.
For more small houses and cabins check out this cluster of cabins from Norway that create a single home. Or, this modern, contemporary small house in Czech by Domesi. See all small houses.
Via Inhabitat
Photos: AATA Associate Architects