This small, stylish apartment is set in Sweden's second largest city, Göteborg. The apartment is part of a Landshövdingehus (Governor's House); a building type unique to Göteborg which were first introduced at end of the 19th century.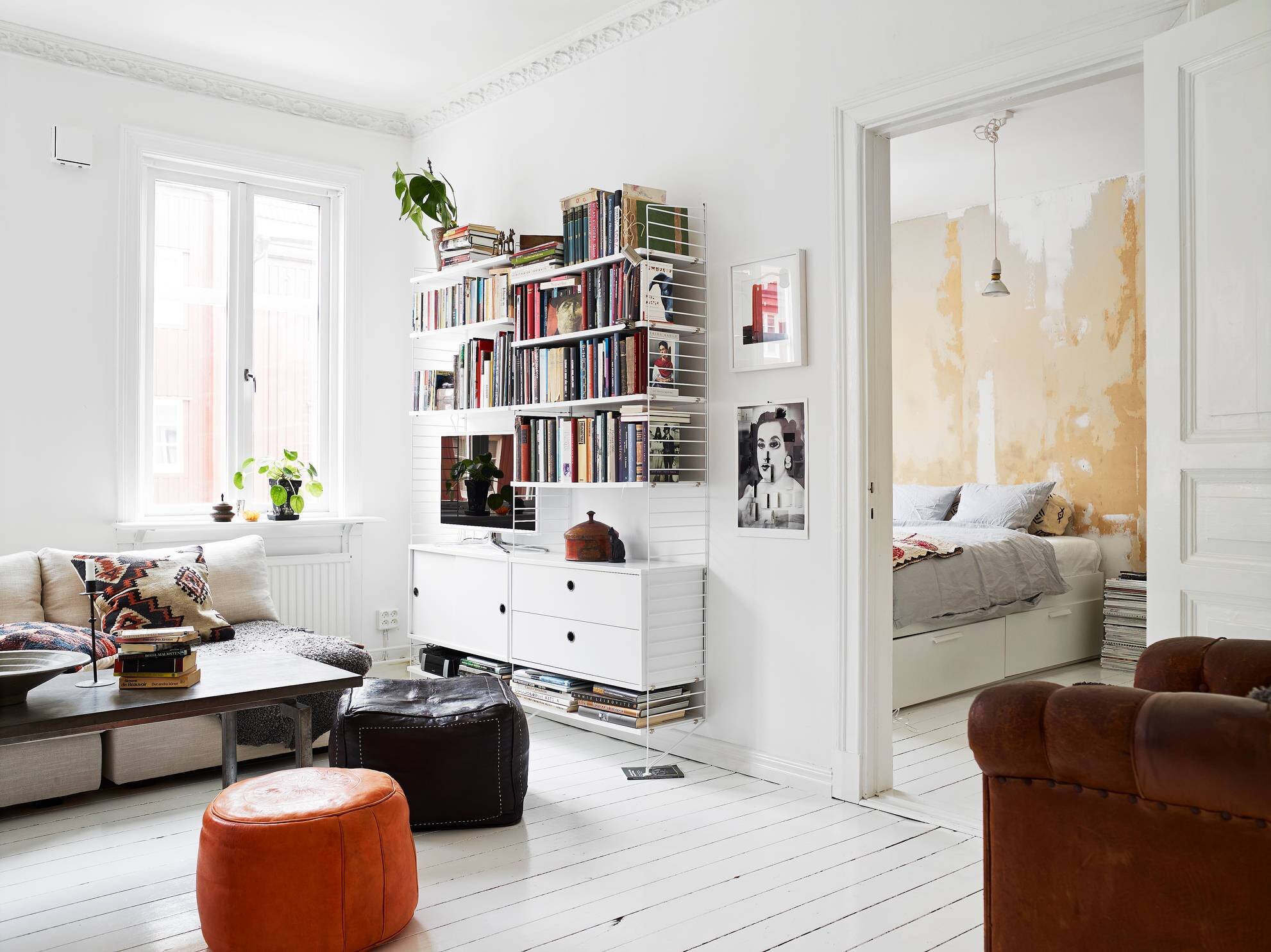 The one-bedroom apartment is 55 square meters (592 square feet) in size and was originally built back in 1897 – not that you'd be able to tell with the modern finish. The walls, floors and ceilings of the home have been finished in a white palette that is offset by the more colorful furniture pieces.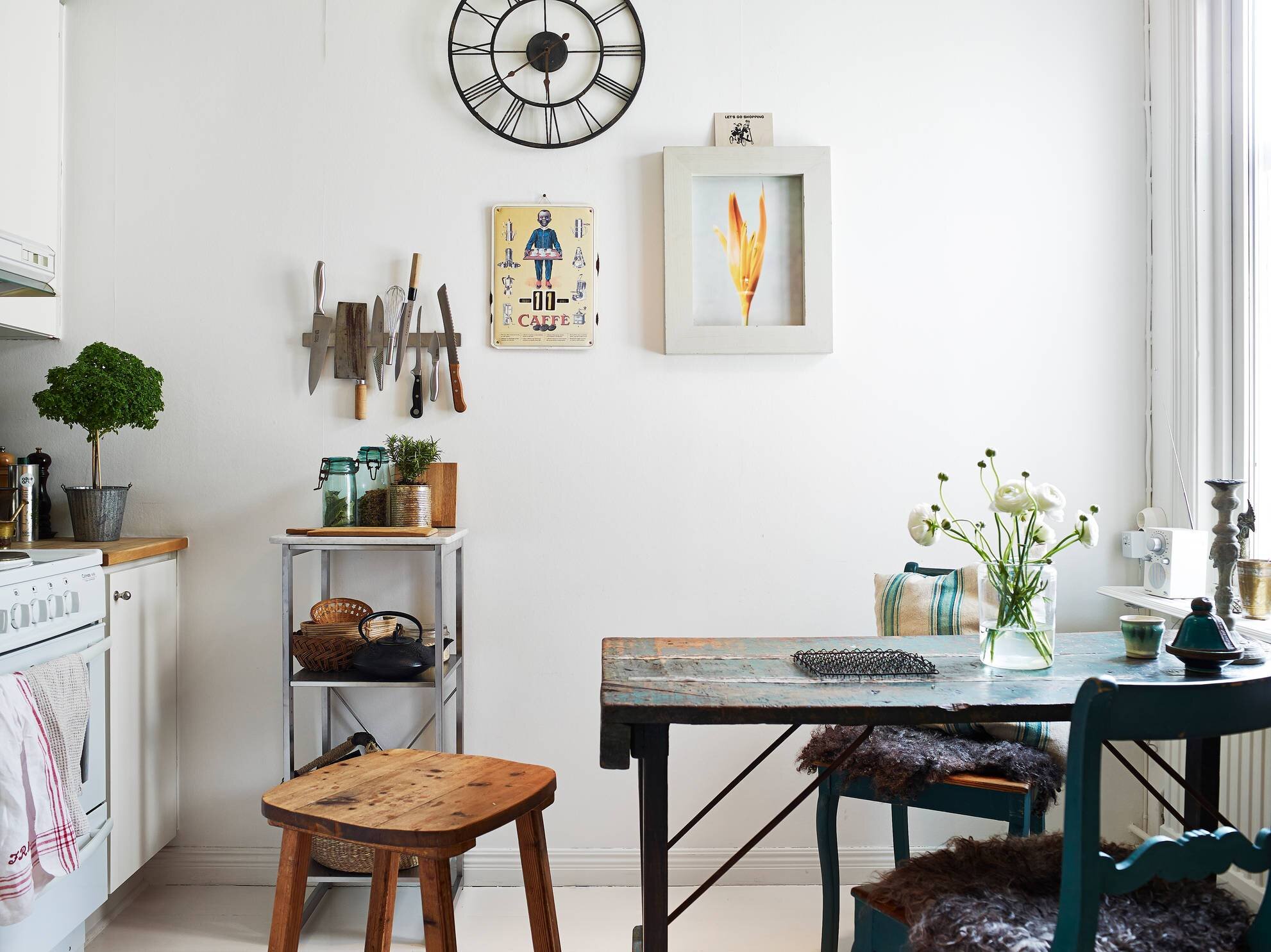 The apartment contains a mix of old and new furniture scattered thoughtfully throughout the home, creating a "lived in" atmosphere in an otherwise modern renovation. Like the HB6B Apartment in Stockholm by Karin Matz, this one also features an unfinished wall with patches of wallpaper and paint serving as a visible backdrop for the bedroom.
There are five main rooms within the apartment – the entryway, kitchen/dining room, bathroom, living room and bedroom. The floor plan looks like it hasn't changed over the buildings lifetime. Instead, the focus is on creating a comfortably living environment through cozy furniture and clever interior design.
The kitchen is compact but homey, with a variety of open and closed cabinets, and appliances, as well as a rather aged looking dining table and chairs. Counter space is limited so the dining table probably serves double duty. In the living room the sofa is positioned so as to focus on the centre piece of the room, the fireplace not the TV.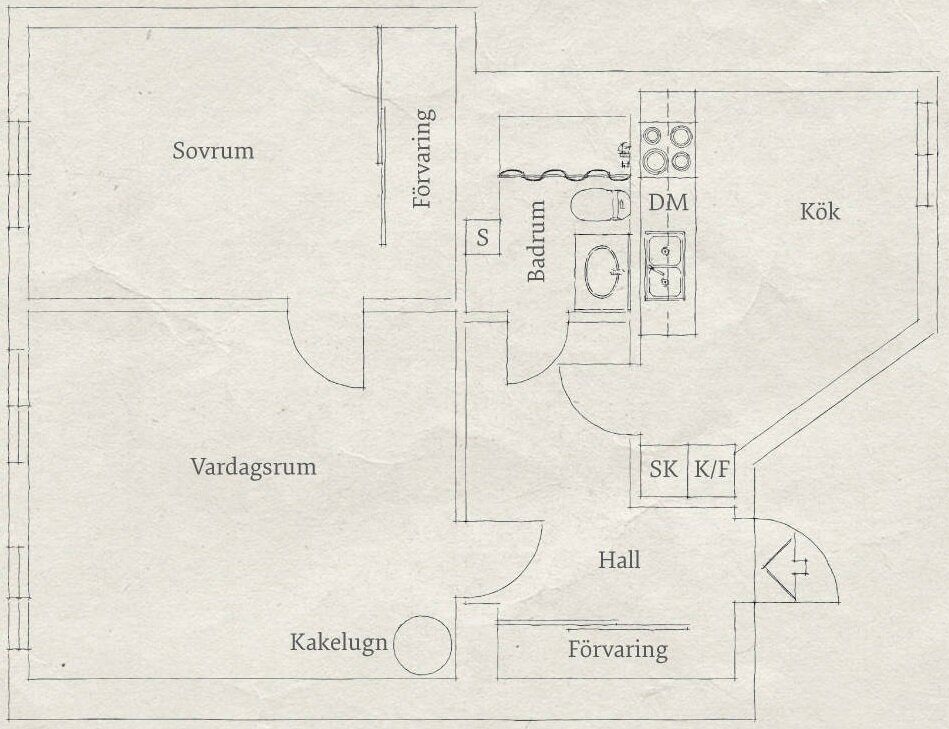 Until recently the apartment was for sale through the Swedish realtor, Stadshem, which features a number of similarly styled apartments. All in all, this home is easy on the eye and decorated to draw in a potential buyer, but there are areas for improvement, particularly when it comes to the kitchen/entryway.
For more apartments check out Appartement Spectral, a minimalist apartment in Paris which uses lighting to inject warmth into an otherwise white living space. Or Denis Svirid's tiny apartment in Odessa, Ukraine which features smart multifunctional living spaces. See all apartments.
Photos: Stadshem