We've featured a few garden libraries in the past, but I don't think any have been quite as nice as this one by Mjölk Architekti, a Czech-based architecture studio. Mjölk Architekti designed and built the library on the behalf of a client located in Zadní Třebáň.
The entire structure is composed of wood; timber studs provide are used to frame the building, and plywood is used to brace it from the wind while also acting as the interior wall finish. On the inside a secondary frame is tied into the external timber frame, and is used to provide shelving for the books of the mini library.
The exterior has been clad with a transparent fibreglass, revealing the timber structure and its insulation. Two large windows (large relative to its overall size) create a bright interior and provide amazing views of the surrounding countryside.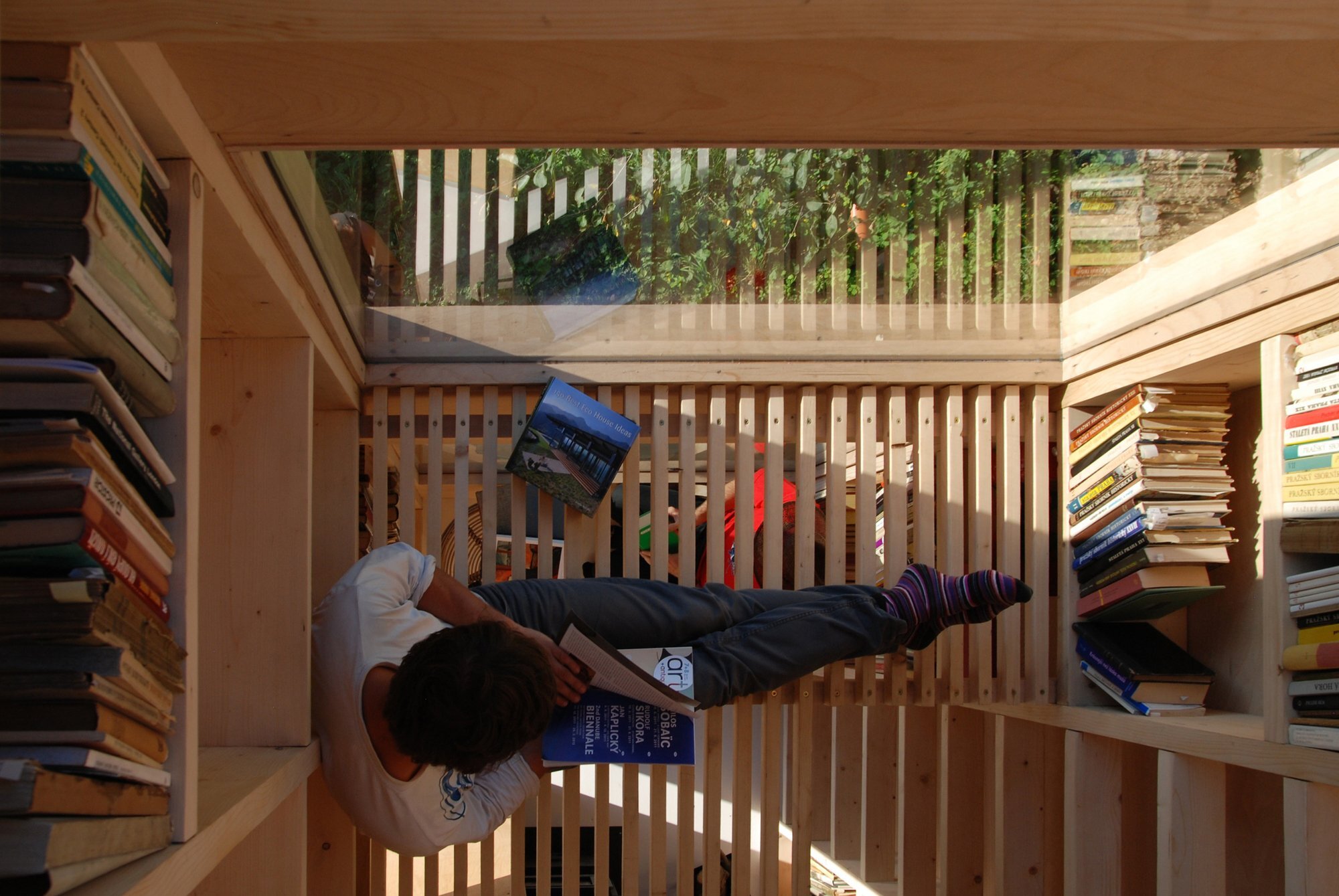 The first floor acts as a reading room and contains a wood-burning stove with a single chair and a small coffee table. The second floor is accessed via the timber ladders that have been built in to the books shelving. According to the architects, the second level acts as a sleeping space, or a sit-down read room. The coolest feature of this unusual little library is its roof, which can be opened up and used as an observatory.
Apparently the library was due to be completed back in early 2012, but it was burned down due to "technical problems". They salvaged and repaired what they could after the fire, and after a 6 month delay the library was finally completed. It measures just 2.25 meters square (7.4 feet) by 4.78 meters high (15.6 feet). The total cost for the design/build came to 4,500 Euros ($6,160).
For more spaces check out modern Glamping site in South Korea by ArchiWorkshop. Or this nearly all-glass garage in Seattle by the architecture studio Graypants. See all spaces.
Via ArchDaily
Photos: Barbora Kuklíková