With the trend of single person occupancy on the rise, and the current move towards small and tiny houses, not everyone needs a large and luxurious kitchen with all the bells and whistles. Gali, a standalone kitchen by designer Ana Arana, attempts to address the issue, providing all the basic functions in a single compact unit.
The Gali kitchen contains a two-burner cooktop, a sink, a refrigerator, a variety of storage drawers and a fold-away prep area that doubles as a table. If you're the nomadic type and want to take your Gali kitchen with you wherever you go, it can be split up into four separate components, making it easier to store and transport.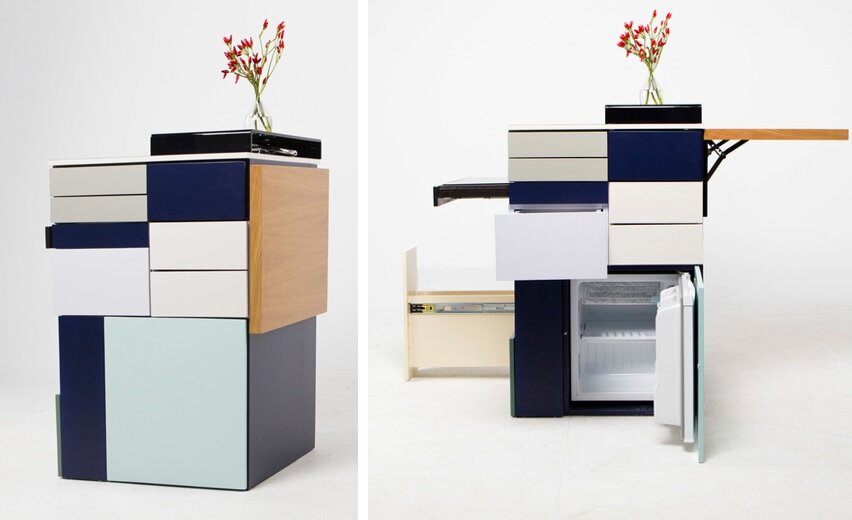 According to Arana, the kitchen is the result of research into how we consume food with respect to social and living arrangements. From Arana's website: "As a response to this growing trend of compact, changeable lifestyles in small apartments of single living people I would like to make a revision of the kitchen."
"It is a part of the house that is essential but it occupies a big space and not everybody uses it the same way. The Gali kitchen is the intention of letting each individual distribute their space as they want having everything necessary to cook when wanted or needed but allowing the living space to embrace new possibilities."
I've seen a number of these compact kitchens come and go over the years. Some of them, like this circular kitchen from Compact Concepts, have had moderate success. However, it seems larger more permanent, or fitted kitchens are generally preferred over these alternatives, despite spacial restrictions.
For more furniture posts, check out this space-saving furniture from Atelier Opa. Or, this ingenious fold-out dining table that can be stored in a single compact unit. See all furniture.