Nature has acted as the inspiration for this unusual glamping tent called the Froute Pod. The pod, which has been designed the Australia studio Giant Grass, is currently a prototype, however Giant Grass are hoping to move forward into production within the next few months.
Froute Pod can serve many purposes including use as accommodation, a garden studio, or gazebo. Although it's most likely to be used for glamping – glamorous camping.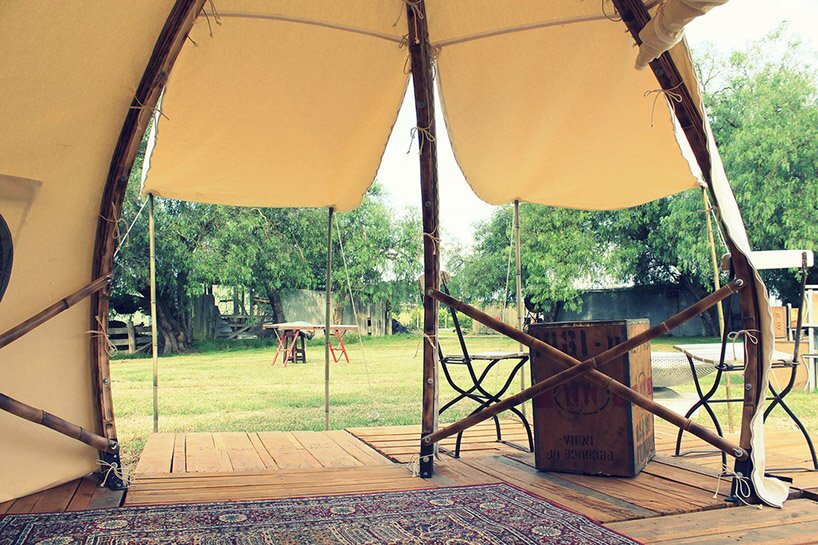 The pod has a diameter of 9.8 feet and a maximum height of 7.8 feet (3 meters and 2.4 meters respectively), making it quite spacious with plenty of head room. It features an octagonal floor plan, with two side flaps that can be used to create an awning, extending the living area outwards its surroundings.
The Froute Pod is composed of a water-proof canvas that's draped over a bamboo structure, with allowances made for two circular side windows, and a third skylight window at the pinnacle of the roof. The entire pod is set upon a raised timber deck that's made of recycled wooden pallets.
All told, it takes approximately 45 minutes for two people to set up the Froute Pod. It's more substantial structure makes it cumbersome to transport when compared to some of the alternatives, but I don't think the designers intended for it to be regularly shipped from place to place.
For more camping, or glamorous camping check out Conquerors UEV440, a luxurious camper trailer that will set you back $62,000. Or, this set geodesic dome tents in the UK that feature wood-burning stoves. See all camping.
Via DesignBoom
Photos: Giant Grass