This apartment from Kawasaki in the Kanagawa Prefecture of Japan attempts to introduce elements of nature into its redesign. The owners have a love of the outdoors, and it was this that the architects attempted to instil in the 34 year old property.
A local firm by the name of Peak Studio were responsible for the overhaul. They've dubbed the project Frame House; a suitable title given its interior.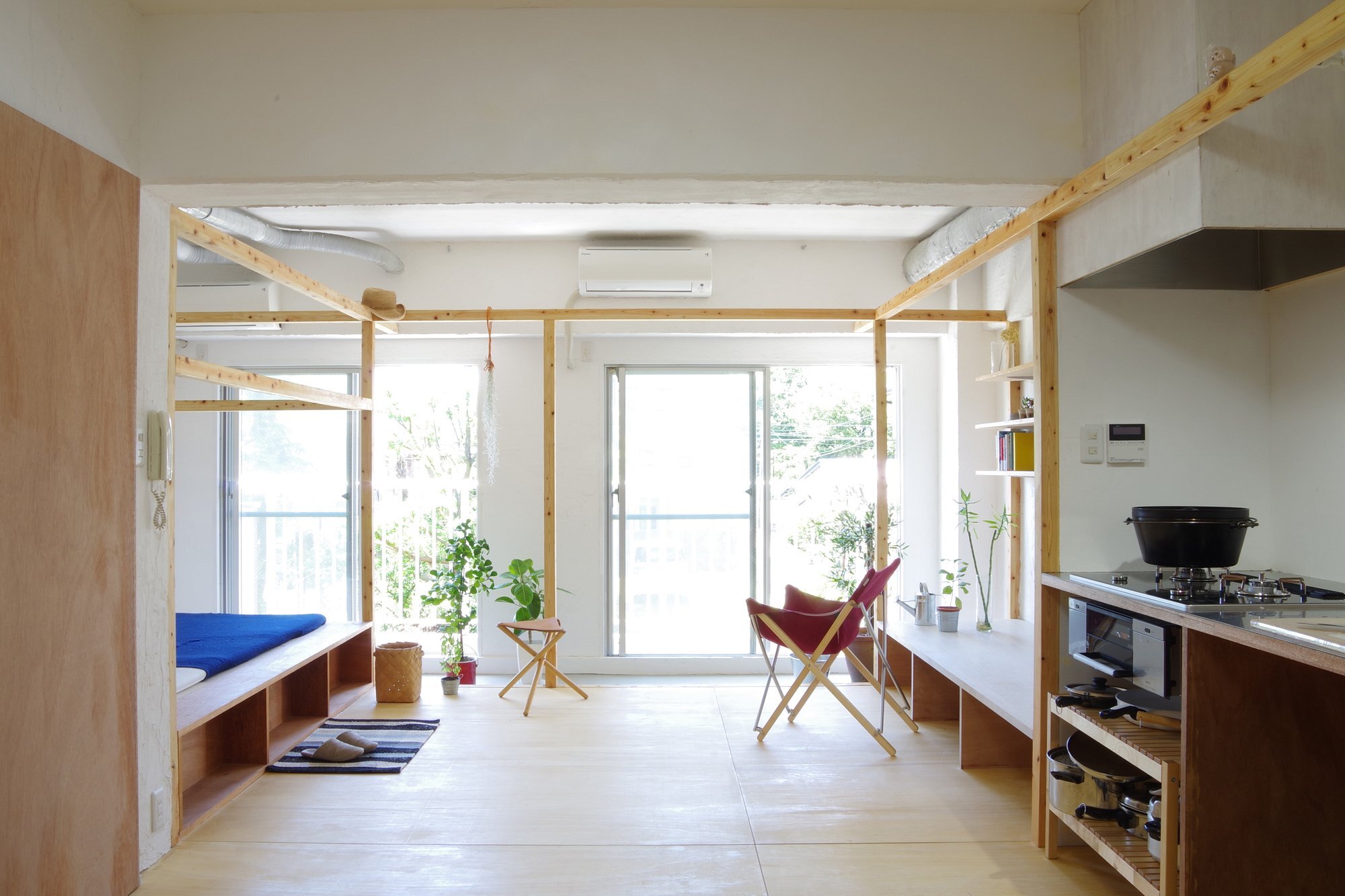 The apartment block was originally built in 198, and – prior to the renovation – was sub-divided into a number of smaller poorly lit rooms. Peak Studio have removed all partitions were possible, creating a much brighter, open plan space for all the family to enjoy.
With a plan of only 581 square feet (54 square meters) there wasn't a lot of leeway in the reallocation of space. The "rooms" have been kept largely the same, except a timber frame now runs through the home, subtly defining different areas. They've also attempted to incorporate elements of nature with a "dirt floor" found at the entrance and on the balcony.
The dirt floor is an attempt by the architects to mediate the transition between the inside and out. The wooden frame is another attempt to introduce the outdoors. You're able to hang a hammock from the frame, as well as plants or a curtain if some extra privacy is required between the open plan rooms.
The entryway leads into a "front courtyard" (with the dirt floor) which steps up to the main living space. The room contains the kitchen along the right-hand-side, while the left-hand-side is occupied by the bathroom. The bathroom is split into three sections – a room for the sink, the toilet and the bath.
Beyond the kitchen lies the living room and the bedroom. The bedroom occupies a small corner of the property, and, like the rest of the main living space, is completely open. A strip in front of the patio doors has been reserved for an "inner balcony" and leads out to a small exterior balcony.
For more Japanese properties check out this home with no less than 5 separate staircases. Or, this compact contemporary home that's designed for several generations. See all Japanese houses.
Via ArchDaily
Photos: Peak Studio